Description
Can you recall a time recently when somebody did something nice for you?

Remember how it made you feel?

What if YOUR clients felt that way every time they did business with you?

Do you think they would return?

Do you think they would tell their friends about you?

Research shows that personal gestures with an element of surprise will delight your customers! And these strategies don't have to be costly or take a lot of effort.
In this workshop, Lesley and Veronica will share with you a 4 step process to WOW your customers so they come back again, and again, and again, and become your raving fans!

In the first part of the workshop, Veronica will present the key principles of the neurology (brain science) behind the "feel good" customer experience, with tips on how to apply these in your business.
Part two of the presentation will show you how to use one of the world's most loved and appreciated "relationship marketing" systems that is cost effective and will surprise and delight your customers everytime they receive a personalised card and/or gift from you in the mail. Yes! We mean "snail" mail!
Send Out Cards, Senior Manager, Lesley King, will share with you a system that you can implement straight away and will increase your customer retention immediately!
So, our question to you is:
Can you afford NOT to know how to KEEP your customers and INCREASE your profit?
Can you afford NOT to create a competitive EDGE in your industry?
Can you afford NOT to shower your new and old customers with APPRECIATION?
This workshop includes supper and is an opportunity to impress your favourite customer so please bring your laptop, mobile or other device.
We look forward to seeing you :)

Veronica and Lesley


About the Presenters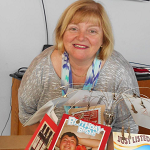 Lesley King is a Senior Manager with her own successful Send Out Cards business. Having used the system for 9 years Lesley is an expert in SendOutCards and how it can help businesses to both appreciate their customers as well as get repeat and referral business from existing customers.
Lesley has a background in customer service and has been involved in a number of community and charitable projects. In a world where our lives seem busier than ever and increasingly our communication is via technology, Lesley is very committed to helping people stay connected in a more personal way.
Over the years that Lesley has used SendOutCards both personally and as a business, she has come to realise that it's not what we say or do, but it's how we make people feel that really matters. Her mission is to help people, through using the SendOutCards system, celebrate life and make others feel appreciated, whether it be in our personal lives or in our work or business.

Veronica Smith is a qualified and experienced business educator, trainer, coach and mentor with a passion for understanding human behaviour and applying the latest principles to business and enterprise.
Very early in her career, Veronica recognised the value in growing strong, positive and authentic relationships with her clients and team. As a result, she has developed an incredible range of strategic systems that can be implemented into any business type.
Twelve months ago, Veronica began using the Send Out Card system and it has become a favourite for everyone that recieves a personalised card and/or gift in their mailbox. And guess what? Although her emails will sometimes go unopened, the card in the letterbox is opened and read EVERY SINGLE time!!