Description
2aT Startup, a Melbourne based digital & design agency bring you their Small Business Workshop: Intro into SEO.
Your website is your digital storefront, ensuring that your potential customers can find you on Google and that your website is user-friendly are vital steps for marketing efficiency. That is why we have designed this intro to SEO workshop for beginners.
WHO IS THIS FOR?
Suitable for beginners and ideal for small business owners wanting to gain knowledge and practical tips they can take to improve their online presence or for anyone wanting to understand how to improve or set up a website to be google and user-friendly.

We will explore everything from keywords and algorithm explanations to how social media can help your website and so much more!
KEY TOPICS INCLUDE:
Intro to Google and SEO.
Understanding organic vs paid SEO.

Making your website user-friendly / your customer journey
Key digital terms defined (in plain English).

What is an algorithm?!
The role social media plays in your online presence.
Keywords and key phrases, what they mean and how to find yours.

Q&A time throughout the workshop
This workshop will be held at One Roof Co-working in South Bank, Melbourne.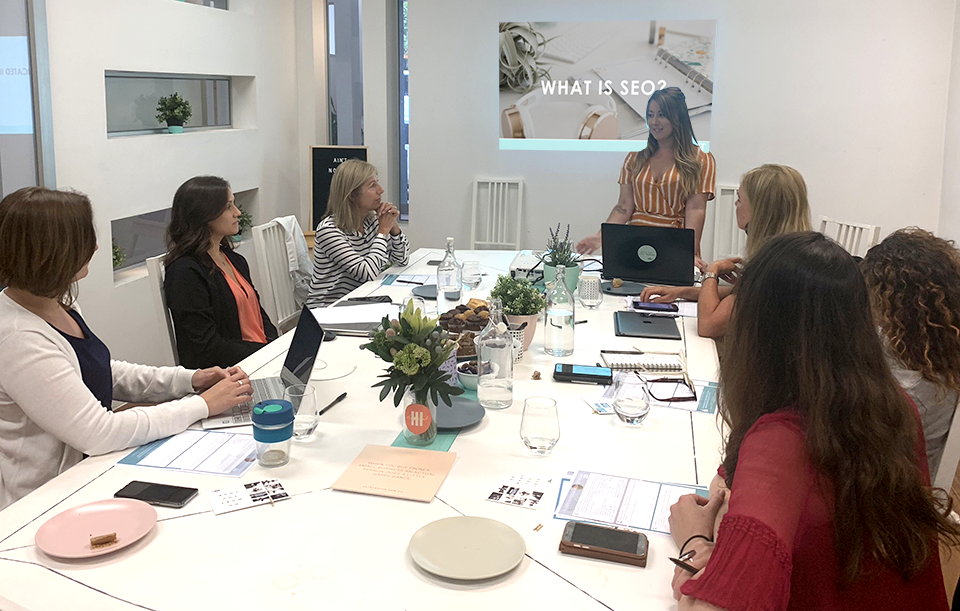 INCLUSIONS & KEY TAKEAWAYS:
To ensure this workshop is interactive and tailored to the group, all participants will be asked to complete a short q&a to help us better understand you and your online business goals.
You will walk away with an understanding of how organic SEO works, practical steps to move forward more effectively online.
So the next time your web developer throws some digital jibberish at you, you won't feel like such a deer in the headlights!
Inclusions overview:
2 hours of practical advice and training from a Digital Marketing Specialist
6 steps to an SEO take-home worksheet - your homework
In class activity: Keyword/Keyphrase list for your business
A light Morning tea.
Tea and coffee facilities are available.
A chance to connect with other participants.
Time has been allowed for questions and answers as well as time to mingle and connect with fellow participants.
We like to keep our group intimate to ensure everyone gets the best value which is why we only offer limited seating of up to 10 at each workshop.
-----
KIND WORDS:
"A big thanks to Toni and the team at 2aT!
We were very impressed with the SEO support provided by 2aT at our workshop. The idea of SEO strategy used to be scary but since Toni's customised support, attention to detail and easy to implement tactics, we are now on track making the right steps and decisions to climb that Google ladder."
- Lauren, Founder @Nanager


"Myself and the One Roof team have benefited immensely from the support and strategy workshop 2aT has provided.

Toni and the 2aT team talked through the plan with us, analysing our current strategy and also helping us to understand what is working well and where we can make improvements to see better conversions…
2aT was able to answer all our questions, refine our messaging, better understand our target audience, help us in pre-planning and, most importantly, increase our brand awareness and conversion rate.

I highly recommend the 2aT Startup team to business owners and entrepreneurs who use social media as a tool for marketing and building their brand"

– SHEREE RUBINSTEIN, CEO OF ONE ROOF