Skiffle is high energy upbeat American roots music in the style of UK proto-rockers Lonnie Donegan, Chris Barber & the Vipers Skiffle Group.
About this event
IMPORTANT NOTICE BEFORE BOOKING YOUR TICKET
COVID-19 safety at Open Studio and the Victorian Vaccination Mandate.
As per the Public Health Order and the Victorian Vaccination Mandate, all staff, musicians and patrons are required to scan the Open Studio QR code, and show proof of double vaccination status before entry. It is mandatory to wear masks whilst moving through the venue. SEATED SERVICE ONLY - NON-CONTACTABLE ORDERING.
Non-contactable ordering with smartphone available with Mr Yum.
Staff will assist with table service as required.
PLEASE NOTE ON BOOKING THERE IS INDOOR SEATING AND OUTDOOR SEATING AVAILABLE.
All events specify the music event is inside or outside.
Note, if you are booked in the COURTYARD for a late show, depending on neighbouring activity, you may not be able to hear or see the show. If space becomes available inside staff will move you inside.
Early shows are generally in the COURTYARD, weather dependent.
Early piano events are inside the venue.
All late shows are inside the venue.
PAYF Events - you can make your contribution to the event on arrival through the MR YUM app or directly at the bar. All PAYF contributions go toward Open Studio continuing to offer affordable and accessible events.
PAYF tickets from show start time, are held for 10 minutes only.
Thanks for understanding.
UNABLE TO MAKE A SHOW?
As our capacity is limited, please email us directly here openstudiovenue@gmail.com so we can free up the tickets.
We look forward to hosting you at Open Studio!
LIVE MUSIC 9.00 - 11.00 pm (INSIDE)
DOORS OPEN from 6.30pm
CREPES SERVED UNTIL 9PM come by for a pre-show crepe & cocktail anytime from opening.
OPEN till late
SKIFFLE PARTY
American Roots. British Style.
Skiffle is high energy upbeat American roots music in the style of UK proto-rockers Lonnie Donegan, Chris Barber and the Vipers Skiffle Group. It was the birth of British rock.
Donegan's blistering 1954 hit recording of Leadbelly's 'Rock Island Line' started the UK skiffle craze that inspired countless musicians to pick up the guitar, an instrument that was hitherto largely ignored by British popular music. The Beatles, Van Morrison, Mick Jagger, Jimmy Page and the BeeGees all started their musical career as skifflers, exploring the rich tradition of American hillbilly and blues music from Leadbelly to Woody Guthrie. Classic skiffle tunes include upbeat sing-along versions of many well-known traditional folk songs including John Henry, Stewball, Cumberland Gap, Lost John, Midnight Special and Maggie May.
Floyd Thursby (vocals/guitar), Tom Flenady (double bass/vocals) and Adam Russo (guitar/vocals) are rediscovering the excitement and intensity of this critically influential but largely overlooked genre.FB: https://www.facebook.com/SkiffleParty Insta: https://www.instagram.com/SkiffleParty/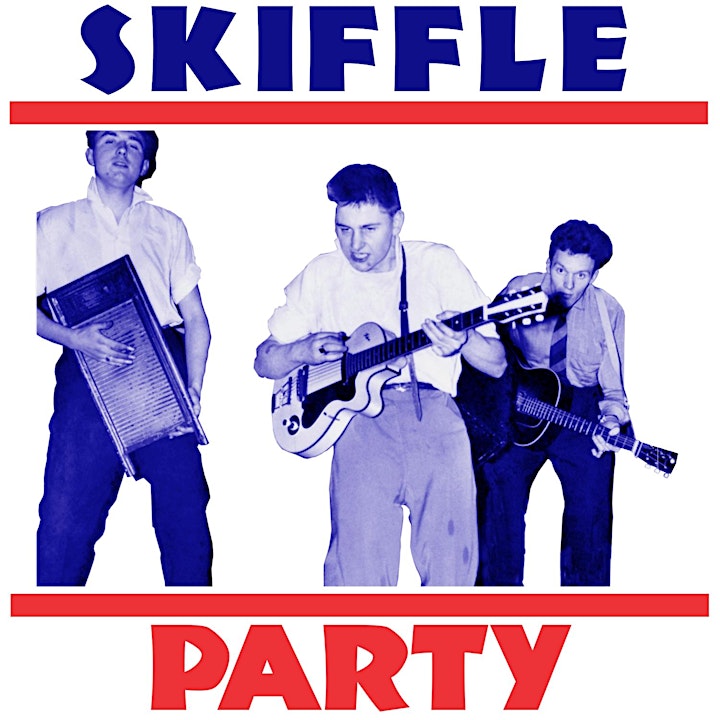 Organiser of SKIFFLE PARTY: American Roots. British Style - PAYF Event Inside