Description
This workshop will explain how to draw and paint buildings and their surroundings in ink and watercolour.

In this workshop you will learn:
How to simplify buildings into a few boxes (volumes) so that they are easier to sketch

How to see and measure angles and lengths
How to apply watercolour in a spontaneous way - thinking about values and harmonious colour

How to control how much detail to add to your sketch

How to deal with building texture and how to stop drawing every brick
How to draw in perspective even if the vanishing points are off the page

How to draw building elements (such as windows or roofs) with or without perspective
How to have the confidence to sketch any building using a variety of fun techniques

How to add trees, skies and surrounding elements to your building sketches.
I will share lots of tricks for sketching buildings and urban scenes in a fun and lively way!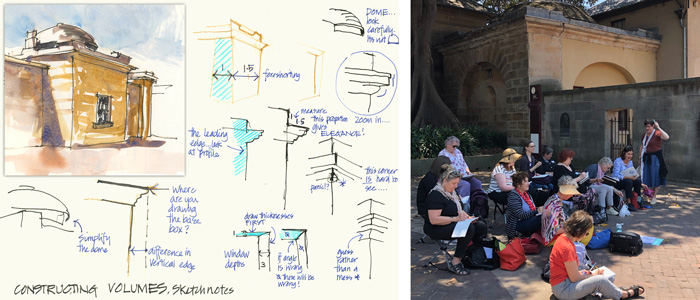 I'll be sharing my experience from 20 years as an architect and over 200 sketchbooks of applying this knowledge to real-life sketching on-location.
This workshop will be a summary of the content taught in a number of my SketchingNow online courses including Buildings, Watercolour and Watercolour On Location.
If you have done some (or all) of these courses, this workshop will be a great way to put the concepts together out on location in the lovely Macquarie St and Hyde Park precincts with a great group of fellow sketchers.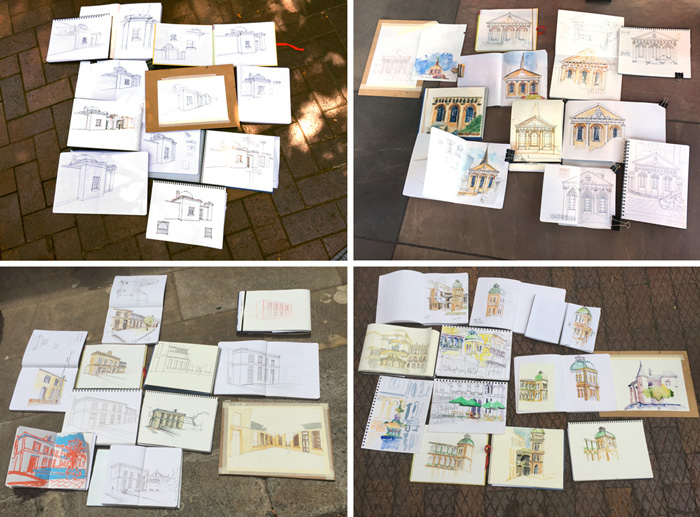 This workshop combines the most crucial parts of two 2-day workshops which I taught in 2019: a 2-day Sketching Architecture workshop and a 2-day Watercolour on Location workshop. It will be a great way to really develop your urban sketching skills.

Participants will receive an extensive detailed PDF handout after the workshop with a summary of the concepts taught in the workshop and a copy of all my demos, sketches and notes.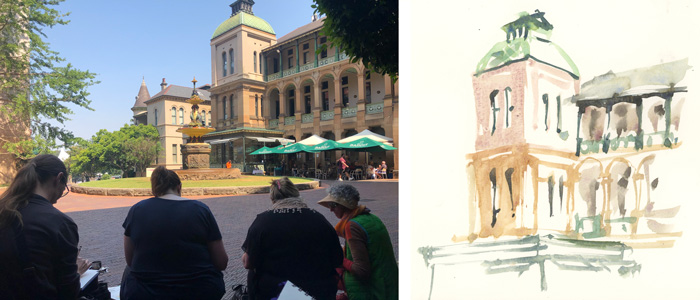 ---
3 day Urban Sketching Workshop: Buildings and Watercolour

Price: $473 AUD ($430 plus GST)
Time: 9.30 am – 4.00pm
Minimum Participants: 6
Maximum Participants: 12
---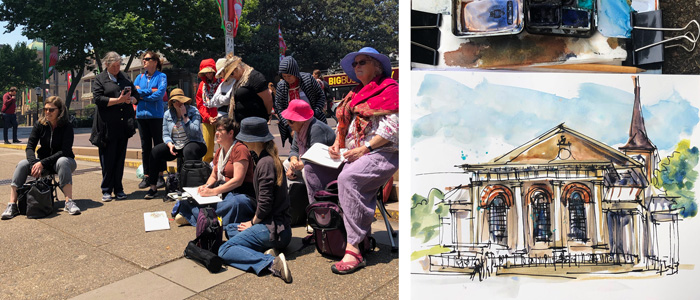 Programme

Day 1
Morning: Foundational skills for sketching architecture and how to use edges and shapes to sketch complex buildings in a fun way.
Afternoon: How to see buildings as boxes (volumes) with elements added and subtracted. We will also explore some watercolour tricks for sketching on location and then sketch a simple building incorporating these drawing and painting techniques.

Day 2
Morning: How to sketch complex buildings using a structural method - starting with measuring the big shapes, adding structure, windows, details and then texture. How to apply watercolour simply, leaving areas of white and determining the best way to add texture.

Afternoon: Adding colour and thinking about values - mapping light and dark to create lively building sketches. How to add skies, trees and other surrounding elements.

Day 3
Morning: Basics of perspective, positioning the eye height line and sketching buildings when the vanishing points are not on the page.
Afternoon: How to put all the concepts together and have fun sketching buildings in watercolour - starting with painting the shadow shapes first. We will look about how to sketch with direct watercolour and/or when to add lines.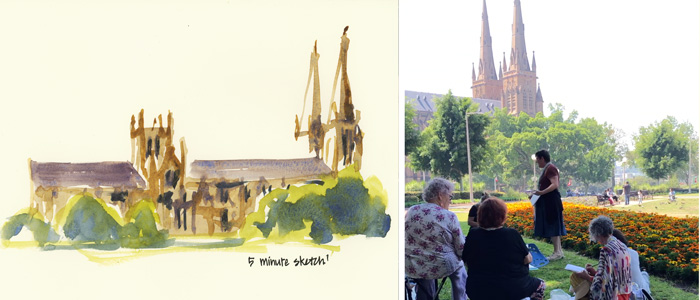 Optional Meet and greet
As there are normally a number of participants attending from afar (interstate or international), we will have an (optional) meet and greet with a chance to do a warmup sketch on Tuesday evening in The Rocks area. More details will be emailed to participants closer to the event.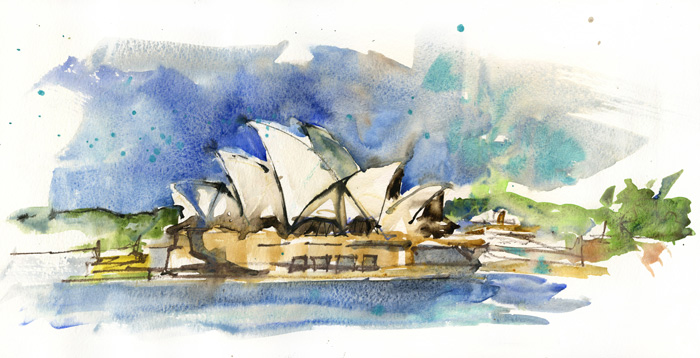 Materials List
Paper/sketchbook suitable for ink and wash – A5-A4 size.
Permanent ink pen
I suggest that you bring two different pencils for setup lines. A mechanical pencil with HB/H
leads or a HB or H pencil, and a brown/yellow ochre coloured watercolour pencil.
Coloured media: Watercolour is the preferred medium. Bring your normal watercolour kit – there are no special requirements for specific colours. You might also want to bring some watercolour pencils if you have some as these are great for texture.

Waterbrush or sable brush and water container.
Any other materials you have in your bag!
Small portable stool or something to sit on.
Hat, sunscreen, extra layer, rain protection etc.

---