Description
A Site Tour presented by SIRF Roundtables SA.
Attendance is free for people from member companies of SIRF Roundtables in SA.
Hosted by the Australian Advanced Materials Manufacturing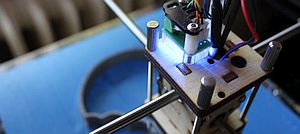 The most advanced commercially available metal 3D printing facility in Australia, the Australian Advanced Materials Manufacturing facility (AAMM), is now open, and SIRF is proudly sponsoring a site tour!
The facility is located just outside the Edinburgh Parks industrial centre in Edinburgh, in the Century complex, and it enables local companies to manufacture parts for any industry, currently including a range of defense, medical and dental devices.
The AAMM facility forms part of the Additive Manufacturing Applied Research Network (AMARN) and will be able to print various metals including titanium, stainless steel, aluminium and cobalt chrome into complex metal parts. At the moment, AAMM is the only metal additive manufacturing centre in Australia available to industry on a commercial basis and removes significant costs and barriers for local manufacturers.

Whether you are ready to jump into 3D metal printing for your company, or just want to understand where the state of the art it with this tech, you will definitely take home some good information. Don't miss out on this exciting opportunity to see world class 3D metal printing technology!
Agenda
8:40 am - Arrive and check in
9:00 am - Prompt start with safety information and introductions
9:30 am - Presentation by host and site tour
Followed by group discussion
11:45 pm - Wrap up & event feedback
12:00 pm - Event ends. Lunch is NOT provided
Who Should Attend?
SIRF Roundtable Site Tours are for anyone interested in the industry or topic of the tour, and are fabulous for "seeing how others are succeeding". Depending on the topic you will meet people from all levels, from team leader to general manager. So if you are interested, you should attend!

About SIRF Rt Site Tours

All SIRF Rt events are designed to provide a safe environment for open discussion with peers on the topic of interest they are working on, in and around. SIRF Rt Site Tours are often organised around a topic or theme, and hosts do their best to show off what they have accomplished around the topic. These are great learning opportunities, but also have limits to number of attendees, so you should register early!

FAQs
What are my parking options for the event?
The AAMM is located in the Century Engineering building, and there is parking available.
What are the PPE requirements?
Long pants, long sleeves, enclosed shoes.
When do I need to register by?
Registration typically closes three business days before the event for Site Tours
Investment?
This event is included in SIRF Roundtables membership

Who can I contact for further information?
Sean Lewis 0466 256 736 sean.lewis@sirfrt.com.au