Description
This April, Wholesale Investor is taking some of Australasia's leading high-growth emerging technology, advanced technology, crypto and blockchain companies to
Singapore
.
You will discover unique opportunities from a range of sectors including Artificial Intelligence & Machine Learning, Life Science, Medical Device, Fintech, Robotics, Cyber Security, Agritech and businesses built around SaaS, Marketplace, Platform and Peer to Peer Models.
Across the 2 days, you will uncover how investors, family offices, crypto funds, venture capital firms and fund managers are approaching investments today.
It will give you unprecedented access to Australasian investment offerings from some of the leading technology, advanced technologies, blockchain and crypto talent and build your portfolio.
What you can expect at ATBIC Singapore 2019:
Keynotes and panels from our high-profile world-class guest speakers that will give you an insight into their perspective and experience in the investment and capital raising space
Education sessions for Founders, Investors and Directors – workshops exploring how to source high-quality opportunities, how to uncover opportunities which the market has missed, and the continued expansion of advanced tech and blockchain investments across Asia
Up to 40 of Australasia's high growth advanced technology, blockchain and crypto investment opportunities all raising capital.
Exclusive networking sessions with the guest speakers, panelists and the C-level executives of the presenting companies
Over 500 like-minded investors in attendance
Wholesale Investor aims to create opportunities for tomorrow by showcasing the impact these companies have on the ecosystem in front of Singaporean investors of today. There is a limited number of tickets for this event, so register now to guarantee your seat at SATBIC.
Registration and Pre-Event Networking: 9:30 am
Session Times: 10:00 am - 3:00 pm
Post-Event Networking: 3:00 pm - 4:00 pm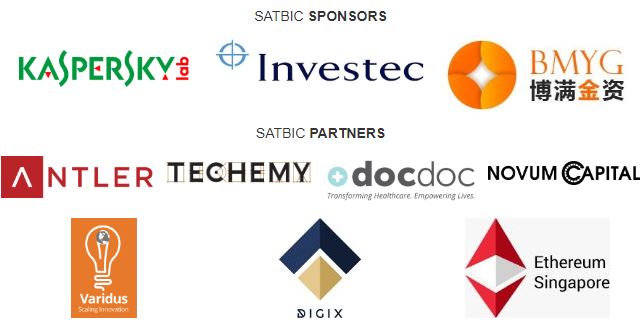 EVENT SCHEDULE DAY 1:

10.10am Introduction: Steve Torso, Managing Director at Wholesale Investor
10.20am Guest Speaker: Kai C. Chng, CEO of DigixGlobal "Navigating the ICO and STO Space an Investor and Startup Perspective"
Session One: Presenting Companies
10.40am Mad Paws
10.50am The LifeArt Company Pty Ltd
11.00am Nihao Global Corporation Limited
11.10am Luckbox
11.20am Bitcoin Australia
11.30am Guest Speaker: Markus Bruderer, Director of Antler Group "The Recruitment Process"
11.50am LUNCH & NETWORKING
Session Two: Presenting Companies
01.00pm Guest Speaker: Wee Meng Thoo, Head of Investments of Leonie Hill Capital "Advanced Technology: Building the Ecosystem to Fund the Future"
01.20pm Booktopia
01.30pm Cirrus Material
01.40pm Robin
01.50pm Josudo
02.00pm Cognicept Systems
02.10pm Guest Speaker: Vitaly Mzokov, Head of Verification of Kaspersky Lab
"Cyber-Safety for Crypto-Economy"

2.30pm Closing Remarks
2.40pm NETWORKING
EVENT SCHEDULE DAY 2:

10.10am Introduction: Steve Torso, Managing Director at Wholesale Investor
10.20am Guest Speaker: Hui Jie Lim, CEO of ITF Corp "The Future of Neo Banks: The Opportunity for Investors"
Session One: Presenting Companies
10.40am Ivvy
10.50am Supastructure
11.00am Zucero Therapeutics Limited
11.10am Order
11.20am Jupiter Labs
11.30am Guest Speaker: Hayden Hughes, Head of Distribution of Techemy
" Real World Blockchain Use Cases"
11.50am LUNCH & NETWORKING
Session Two: Presenting Companies
01.00pm Guest Speaker: Hayk Hakobyan, Business Development of Vision Capital
"The Economics and Psychology of Blockchain Opportunities - An Investors Perspective"
01.20pm Barteos
01.30pm Instarent
01.40pm European Moving Technologies
01.50pm Grow Alpha Capital
02.00pm Guest Speaker: Matthias Yeo, Chief Innovation Officer of Fund Technologies
"The Future of Capital Raising"
2.20pm Guest Speaker: Fong Jek, Founding & Managing Partner of Jubilee "Investment Trends in ASEAN"
2.40pm Closing Remarks
2.50pm NETWORKING