Description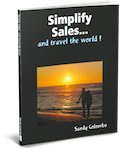 You are just only missing half a step....you are doing 97% fabulous its just not quite there yet and why ?
Because you can"t see the forest for the trees - come join me for one day and explore working on your
business (rather than in it)
#1 Sales is not a dirty word !
Everyone everyday sells and if you think your not – why ? What is your perception of sales as this is holding you back ? Every business needs sales and no matter where you sit in a company you are selling. A business with no sales is not a business its a charity. I reverse engineer the process of sales success so you can see exactly how important your sales strategy is to keep everyone on the same page and how simple it is to increase sales…..and how this will save you time and money


#2 Small changes - Sales increase
There are many sales strategies that require no additional money being spent in your business. For example you will learn how one small change can increase productivity, an easy way to close the sale, how to supersede your clients expectations (under promise and over deliver) how to sell more to your existing clients and how to easily focus on proactive tasks that get sales. All of these strategies you can successfully implement without spending a single cent and in fact how you can save money by implementing them


#3 How booking your holiday will increase your sales
You are full of good intentions for making your business really successful. You are working long hours 7 days a week…..learn how your good intentions are driving sales away from your business. Understanding the law of attraction and abundance makes a big difference in business and the difference between success and failure is your mindset !
Book your holiday now (I know a great travel agent) and know that your success will increase dramatically because you are being proactive like never before !


#4 There is gold outside of social media too
The majority of frustrations in small business is starting that database. Getting known, getting clients, getting sales. If you are spending huge amounts of time in your business doing what you think you "should" do on social media but your not really getting anywhere what is it costing you in dollars ?
Many businesses can be very successful outside social media. In fact business boomed before the Internet (or did you forget that) Social media is fabulous for building contacts but once you have them what's next ?
Learn where to put your limited resources and time to build your hungry crowd in the easiest and fastest way for you. And without another free webinar on "how" that promises everything and delivers nothing !


#5 Discover the simplest and easiest way to keep your successful business on track, increase sales and give you time to do stuff that you want like travel !



AND you will have time for the important things in life like family, friends…..........and travel !
Come join me for the day and start building your business on strong foundations !
Sandy Colombo
Facilitator, Coach, Author & Speaker
PS If you are interested in buying my book or other workshop dates please visit http://colomboconsulting.com.au/simplify-sales/