Description

6:00pm for a 6:30pm start
Registrations required by 22 April
Schedule

- 15 min – People to arrive and register, Nibbles provided on arrival.
- 15 min – General Welcome, Introduction to Sikorsky Helitech and Design Engineering Section.
- 15 min – Quick facility Tour.
- 60 min – Wheelchair presentation.
- 30 min – Questions and networking, Tea/Coffee.

Speaker
Sikorsky Helitech has developed a fully certified wheelchair system for use in Part 29 Rotary Wing aircraft. The system comprises of a wheelchair and locking mechanism that allows an occupant to be wheeled into the aircraft and the wheelchair securely fixed for flight without the need to change seats. The locking mechanism remains in the aircraft and the while not in the aircraft, the wheelchair can be used as a normal executive wheelchair.

The wheelchair system meets all the requirements of FAR Part 29 and TSO C127a for aircraft seating, including the FAR29.562 Emergency Landing Dynamic Conditions. The system can be easily adapted for use on aircraft with different width seat tracks.
Engineers at Sikorsky Helitech, designed the system over the course of 18 months, with a series of iterations. Numerous dynamic crash tests were performed to develop and prove the effectiveness of the integral Energy Attenuation devices. Now, research is being conducted into adapting the design into an EMS configuration to be used for patient transport.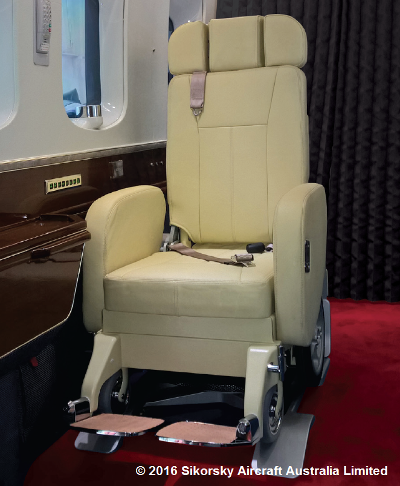 Continuing Professional Development (CPD)
The Royal Aeronautical Society Australian Division is a Technical Society of Engineers Australia. Attendance at this event can contribute towards your personal CPD. Please check the website for more details.