SIGNV/S + Raccoon City + Tunnel Vision + Swordfish Trombone
About this event
Since starting in late 2020 SIGNV/S has managed to achieve what many other push hard towards for years and in the past year have managed to land on line ups with Life Pilot, Relapse, Inhibitor (VIC), Nicholas Cage Fighter (VIC), Wolf & Chain and Alt.
Focusing on themes of self-loathing, depression and frustration SIGNV/S debut EP 'DISGRACE' is a very personal release but it is done with the intention of being a cathartic release for listeners. The 7-track release includes previously released songs 'Burden' and 'Bury Your Dreams' as well as 5 completely new songs, DISGRACE is the new era of SIGNV/S.
SIGNV/S is:
Calem (Vocals)
Tyler (Guitar)
Kynan (Bass)
Dylan (Drums)
'DISGRACE'
available on all platforms October 8th
Line up:
SIGNV/S
Raccoon City
Tunnel Vision
Swordfish Trombone
We would like to acknowledge that this show is being held on stolen Kaurna land and we pay our respects to the traditional custodians of the land and respect their past, present and ongoing connection to the land and cultural beliefs.
We also strive to create a space free of any racism, sexism, ableism, homophobia, transphobia or discriminatory behaviour of any kind.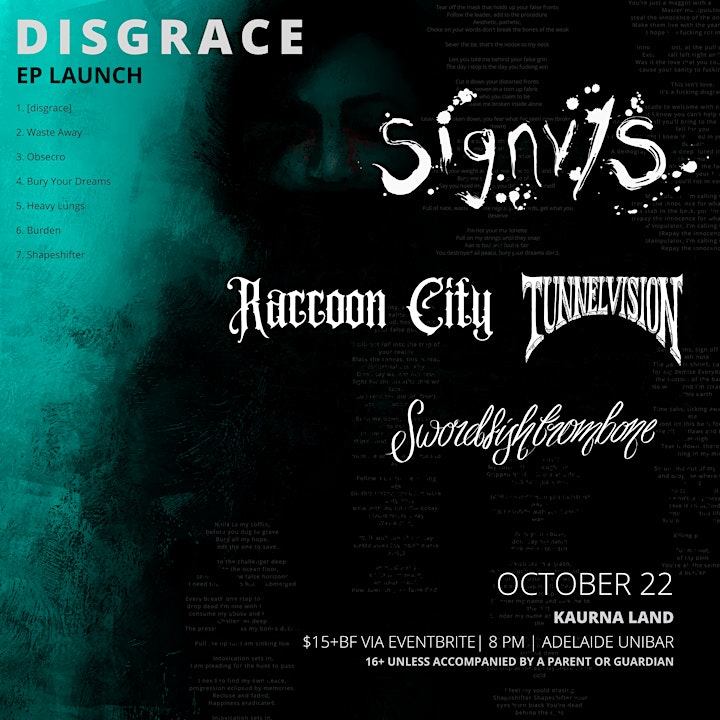 Organiser of SIGNV/S 'Disgrace' EP Launch