Description
Join us for a full day of Shut-Up & Write.
These days are offered every month to support HDR students make progress with their thesis. We will use the Pomodoro Technique (25 minutes writing; 5-minute breaks) to make the day as productive as possible. You can work on anything you like, so long as you are writing.
To ensure you get the most out of this day, we ask you must commit to attending the whole day (from 9am-5pm) at registration. Morning and afternoon tea and a light lunch will be provided. There will be vegetarian and gluten-free options available. If you have special dietary requirements, please feel free to bring your own food on the day.
What to bring?
1. Laptop computer
This Write-a-thon is about getting as many words written as possible. While you may choose to write by hand on paper for some of the time during the day, you will need a laptop to get the most out of the day. If you do not own your own laptop, you may ask to borrow one from a friend or family member or your College IT people. Note: You will be able to charge your laptop during Write-a-thon.

2. Key texts only
If you were stranded on a desert island and had to write your chosen thesis section, what three books or journal articles would you take with you? This is how you should think of Write-a-thon – you do not require backpacks full of tomes.
3. Things that make you comfy
We do our best to provide you with a safe and comfortable environment for the duration of Write-a-thon. Remember, however, that you will be sitting down for many hours on the day - though we highly encourage regular stretching and short breaks.
Have questions? Please email researchtraining@anu.edu.au
The location for the day is Molly Huxley Room at University House, the entrance is at the arrow below.
PLEASE NOTE THIS ROOM IS ACCESSIBLE BY STAIRS ONLY.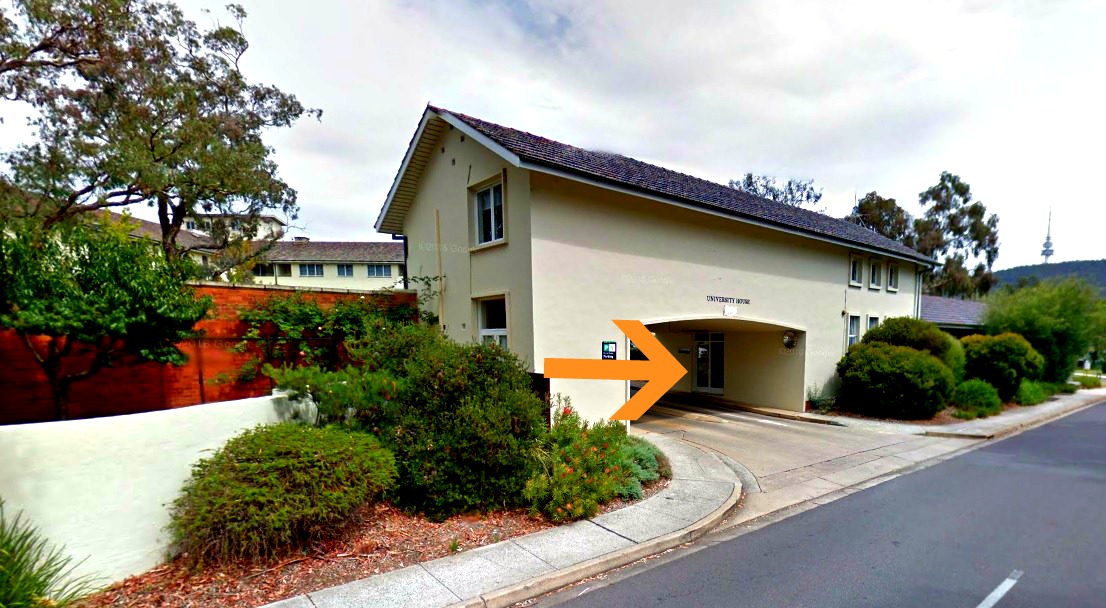 Registrations close 31 March, strictly limited places.
ANU Research Skills and Training team
researchtraining@anu.edu.au
By registering for this event you are committing to attendance, there is a $50.00 penalty payment for non-attendance! This event is very popular if you cannot make the event, please CANCEL your registration in Eventbrite.
We impose this $50 penalty to people who do not attend our programmes. If we do not get advance notice of non-attendance, it disadvantages your colleagues. If after booking you are unable to attend this event, please self-cancel your reservation on Eventbrite 48 hours prior to the event so we can release your spot to someone on the waiting list.