Description
ONE OF AUSTRALIA'S BIGGEST DOMESTIC VIOLENCE FUNDRAISING EVENTS




Amazing stalls!! Everything you need!!


Henna, Candles, Bowen Therapy, Health and Wellness, Psychic Readings, Organic Make Up, Workshops, Nutritionalist, Handmade Soaps, Essential Oils, Lingerie, Shoes, Jewellery, Art, Kinesiology AND SO MUCH MORE!!!




PLUS $1000's in raffle prizes to be WON!!!!
**PAY IT FORWARD LIKE YOU HAVE NEVER DONE BEFORE**
REGISTER YOUR TICKET TODAY TO RECEIVE A SPECIAL $2O GIFT VOUCHER FROM OUR EXQUISITE FRENCH LINGEIRE SPONSOR SIMONE PERELE plus 2 EXTRA FREE TICKETS TO GO INTO THE LUCKY DOOR PRIZE ENTRY!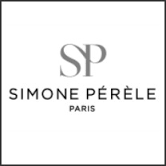 Breaking the Cycle of Domestic and Family Violence
---
FREE ENTRY
with a gold coin donation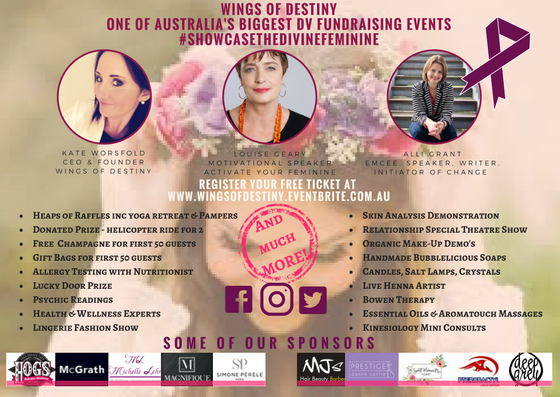 Wings of Destiny, is a charitable foundation dedicated to empowering women after domestic violence and helping those in need.

---
** AN OPPORUTNITY TO CHANGE SOMEONE'S LIFE THAT HAS BEEN EFFECTED BY DOMESTIC VIOLENCE


** FREE Gift BAG for THE FIRST 50 people through the door!


** FREE GLASS of champange for FIRST 50 people through the door!
** $1000's worth of Raffle Prizes TO BE WON
**Motivational Speaker
**Awesome FREE WORKSHOPS and DEMONSTRATIONS
**FREE Entry to win Lucky Door Prize
**GIVEAWAYS


**MASSIVE Entertainment with our very own ALLI GRANT as our amazing MC from TWO FLAWED GIRLS!
---


This EVENT is a NATIONAL EXHIBITION of business owners and sole traders whose products and services along with their hearts and life's purpose has a passion and deep desire to –
• Showcase the DIVINE FEMININE
• Celebrate the POWER OF THE WOMAN
• Shine a light on empowering the WOMAN
• Sharing ways to help us lead a healthier, lighter, awakened life
• BREAK THE CYCLE of Domestic and Family Violence

BE PART OF THE CHANGE YOU WANT TO SEE IN THE WORLD
>ALL funds raised will be injected into taking Wings of Destiny's 6 week unique program throughout Australia to all women at NO COST.<
A MASSIVE THANK YOU TO OUR SPONSORS -
McGRATH REAL ESTATE SPRINGFIELD

MJ'S HAIR BEAUTY BARBER IPSWICH

PRESTIGE DANCE CENTRE SPRINGFIELD

HOGS BREATH AUSTRALIA

SWEET MOMENT FLORIST SPRINGFIELD ORION

MICHELLE LEHR PHOTOGRAPHY

MULLIEN PHARMACY SPRINGFIELD CENTRAL ORION

REVIVE YOGA AND WELLNESS CENTRE SPRINGFIELD ORION

MAGNIFIQUE HAIR SALON SPRINGFIELD ORION

DEEP GREY PHOTOGRAPHY

ZERO K PRODUCTIONS AUSTRALIA

SIMONE PERELE PARIS

PTERODACTYL HELICOPTERS

BALLOON CREATIONS IPSWICH

OBSESSION SHOES IPSWICH

RAZOR LEGAL BRISBANE

WOMEN WITH WOW PHOTOGRAPHY

CODES OF TRANSITION SUNSHINE COAST

BROTHERS LEAGUES CLUB IPSWICH