Description
Spoil yourself or someone else with this amazing photo shoot deal from Empress Eyrie with 80% Off Photo shoot and model coaching packages!!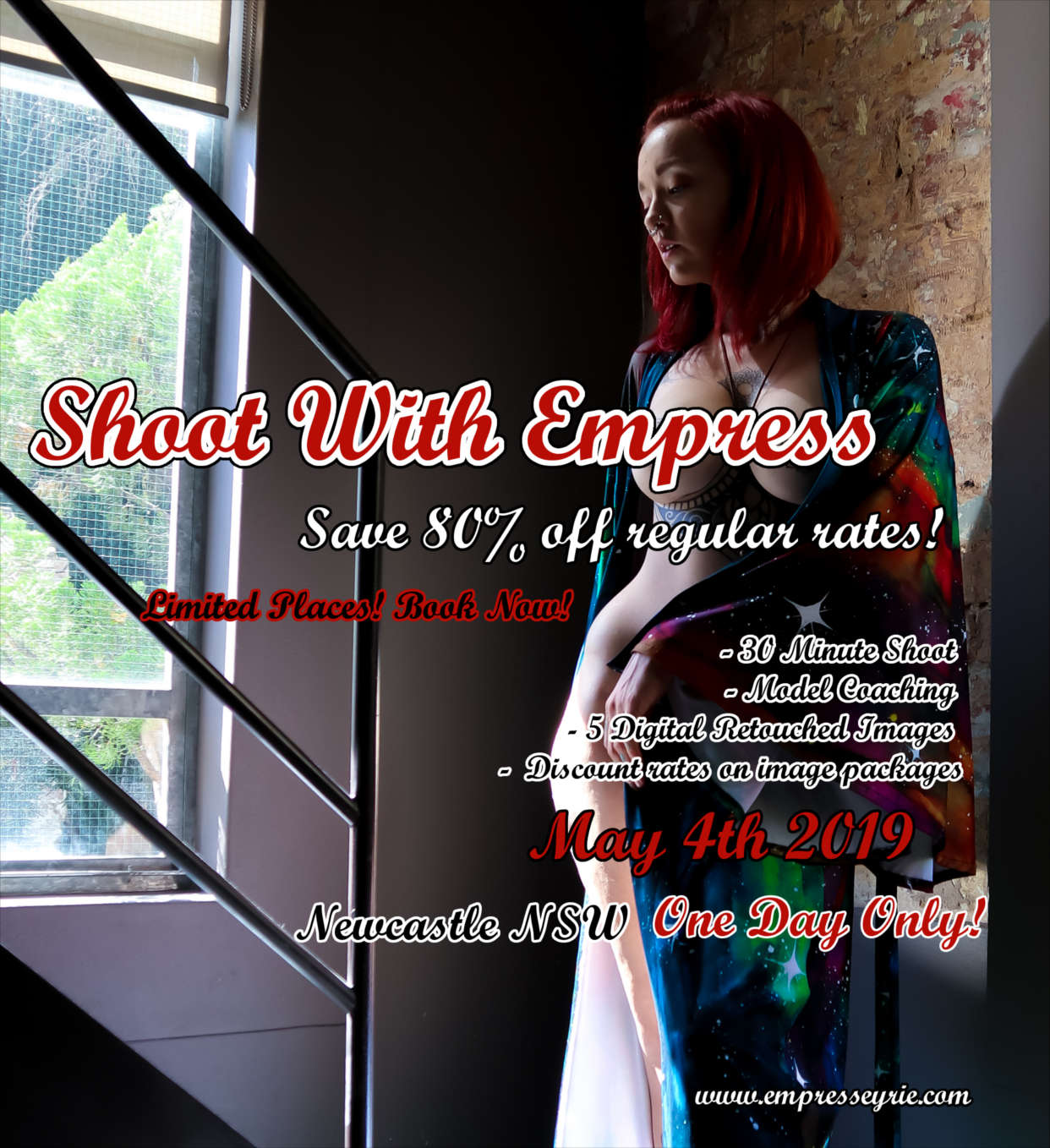 Empress Eyrie is a multi-published and exhibited photographer and model coach with almost 10 years experience on both sides of the camera and is bringing her skills to Newcastle NSW for one day exclusive shoots!
Save over $350 on full price photo shoots with this AMAZING special deal!
* 30 min shoot time with multipuplished model and photographer Empress Eyrie
* Model coaching during your shoot with Empress Eyrie
* Your selection of 5 digital retouched images
* Discount rates on image packages
Shooting at a gorgeous indoor location in central Newcastle, address given to clients closer to date.
These shoots are open to models, performers, families, head shots, boudoir and more, get in touch with any questions you may have.
What to bring/how to arrive
– On time! Please do not be late, we have a timetable we need to stick to
– Bring along one or two of your favourite outfits/costumes and accessories (or a collection of things and we can help you choose on the day), one or two changes permitted per shoot within reason and time frame
– With hair and makeup completed or able to be ready by booking time, please as little getting ready on set as possible as it will be busy.
* T&C No limit on bookings, multi sessions permitted.
Not valid to be used with any other deal or special offer.
Timetable will be fairly structured so when you receive your booking time you may request a time change once and no later than 1 week before shoot day and we will do our best to accommodate that. Please arrive on time or your booking may be forfeit. This payment is non-refundable unless shoot day is cancelled, if you are unable to attend booking name may be changed if place is sold or passed on. Location address released closer to shoot date to confirmed bookings.
All images are edited then sent to clients to select final shots from, this will be provided within four weeks of shoot day via email provided upon booking.