Learn how to grow your own supply of shiitake mushrooms in this hands on workshop! Includes an inoculated log to take home & get started!
About this Event
Our long awaited Shiitake Log workshop has finally arrived!
Thought about growing mushrooms at home? This is a great way to get started, with a low tech, low maintenance method of growing on logs. In this half-day workshop you will join, Kat and Dan, from Mountaintop Mushrooms and take a dive into the incredible world of fungi. We will take a look at the fungi kingdom, and explore how to cultivate a variety of mushrooms at home on logs. We will focus how to grow shiitake mushrooms, while also covering how to grow many other varieties including; oyster mushrooms, lion's mane, coral tooth, reishi and turkey tail.
The morning will be a mix of classroom learning followed by hands on practical application, where you will make your very own shiitake log to take home and get you started on your home cultivation journey. You will learn the process from start to finish and come away with the knowledge on how to provide a sustainable supply of gourmet and medicinal mushrooms for your household!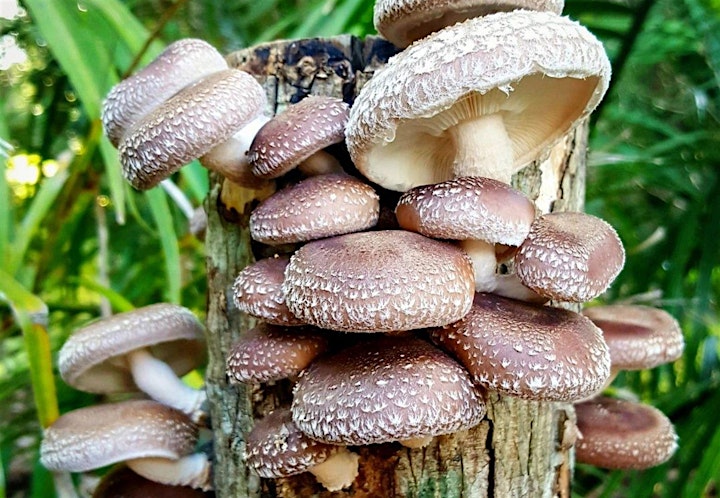 What we will explore:
Fungi - the living organism and its kingdom
Ancient to modern cultivation techniques
Equipment and tools needed
How to choose the right timber and where to find it
Specifics of inoculation and incubation
How to get your first harvest and maintain production
Tricks, tips and troubleshooting for the best results
Common problems and how to avoid them
What you take home:
Step by step guide how to replicate the process at home
Information handouts with our recommendations for wood species and suppliers
Inoculated Shiitake Log
Access to the closed Facebook group of Mountaintop Mushrooms student alumni where you will receive support and advice from us as well as fellow students