Description
Clip of previous event: https://www.youtube.com/watch?v=AypwMStYBgM
Curious about life outside the mainstream? PolyFinda, the global dating and events app for people who are open, polyamorous and poly-curious, invites you to Melbourne's Golden Monkey bar for cocktails and intriguing shibari performances.
This December event curators Ash Snare @Ash_Snare and Harley Okami @harley_okami have a vision to make this Shibari and Cocktails the end of year celebration you will definitely remember.
Inspired by their work furnishing Melbourne's premier play event 'Fantastic', Ash Snare will be creating one of his amazing enveloping rope art installations.
We can also announce that returning favourite Tifereth from Canada will join the line-up of featured artists!
Join us to celebrate love, sexuality, desire and that powerful intimate connection so many of us are seeking. Sip on asian inspired cocktails while shibari performances emerge from the hidden corners of the 1920s Shanghai themed basement bar.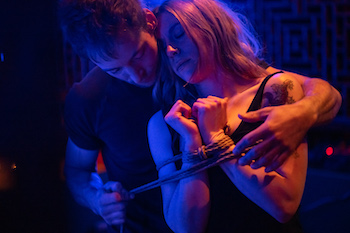 In shibari, the art of erotic bondage, the model is the canvas, the rope is the paintbrush, the rigger is the artist and each element collaborates to create powerful beauty. Observe the intense connection—the trust, the submission, the tension and the desire—between the rigger and model as the rope creates intricate and beautiful patterns on—and with—the curves of the model.
(Can't make this date? Join the PolyFinda app at www.polyfinda.com to be notified of discounted tickets for future events)
Enjoy a drink from the Golden Monkey Bar's extensive list of wines, beers, cocktails, specialty shots and have bamboo baskets of handmade steaming hot dumplings delivered to your table.
Arrive between 7.30-8.30pm to receive a free beer, wine or shot.
NOTE: This is a non-play meetup. Swingers welcome but it's just a meet and greet event. Tempting as it is, please do not try to touch or interact with the performers unless invited. Please remember we are a consent based community and always ask permission before making physical contact - including a hug. Let the event hosts know if you have any problems.

Event photo credits:
Photographer: @thealtproject
Artists: Rigger @Ash_Snare with models (L to R) afFlux and Harley Okami @harley_okami