Sales Have Ended
Ticket sales have ended
YAY! You have don't it. Now sit back and let us take care of the rest. See you Soon ॐ Shanti.
Sales Have Ended
Ticket sales have ended
YAY! You have don't it. Now sit back and let us take care of the rest. See you Soon ॐ Shanti.
Description

---
Shakti in San-Skrit is the physical manifestation of power. We believe Bali plays host to such power. Just as we have energy pathways so does the earth. Bali is said to be the seventh chakra of the world. Historically pilgrimed to by the hippie trail in the 60's. This land has a great age old culture about it. Meditating at any of the earths chakras is said to increase your cosmic connection with the earths energy, unlocking chakras or other energy points in your body on the pathway.
With this in mind...

We welcome you to the first ever, Wombling Yogis' International Retreat. This retreat will be held in the grounds of the Santi Mandala Villa in the Ubud valleys of Bali. Learn about great yogic food and practices. Whether advanced or just getting started in the age old art form of living, this retreat is the perfect getaway. Enjoy exploring your practice with the assistance of informative and practical asana classes, great food, workshops, culture days with included recreational activities. The highly trained yogis that have compiled this retreat have had only your continued practice in mind. This retreat will immerse the aspirant in the yogic life style from morning until night, for the duration of six days and six nights.
---
Accomodation
Welcome To Santi Mandala Villa & Spa
Nestled in the secluded 3.5 hectares of tropical hideaway in southern of Ubud, Santi Mandala Villa is a picturesque luxury Balinese-style villa for the ultimate wellness retreat in Bali. Aum Shakti offers a rejuvenating experience in a serene hillside at the Oos River's waterfall. Santi Mandala serve an authentic Balinese hospitality and provide an ideal accommodation for your tranquil yogic sadhana in Bali.

Experience the only floating Villas on top of lotus pond in Bali. Spacious 45 sqm tropical area which overlooks the valley from its own balcony. An exclusive in-room amenities to guarantee an enjoyable stay.

---
Food
In house chefs will work hard to provide a full yogic diet, ensured to make you feel vibrant and energized. Special dietary requirements available upon request.
There will be no alcohol - instead our in-house chefs will serve herbal teas and energising snacks in-between meal times.
---
Culture
Join us, as we dive deep into the culture of Bali with an evening filled with energy and ore. We are talking about the traditional fire ceremony which we will all be imersed into.

The adventure does not stop there as we have a choice to either spend the day cycling through the jungle, white water rafting, tropical trekking or racing around on some jungle buggies. After the adventure, we will all meet for lunch.

---
Sivananda Asana
Enjoy the traditional Hatha Yoga classes taught by Yogi Acharya Radha and Yogi Siroman Sumitra, These two are the Sivananda teachers of Melbourne Australia. Sivananda hatha yoga focuses on the twelve basic postures that strengthen the spine keeping us mobile well into our older years. Aspirants of all ages and ability respond well to this practical and holistical approach to learning yoga.

---
You will be able enjoy the following amenities at this fully inclusive retreat.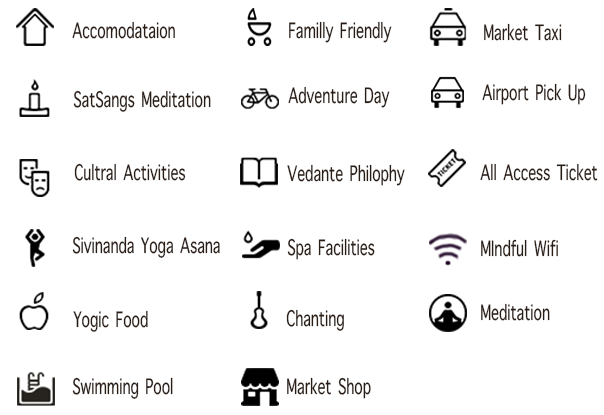 ---
Itinerary (subject to change)
Day 1
Arrive from Airport to Santi Mandala Villa & Spa via arranged Shuttle Service.
Evening Dinner
Introduction Satsang (devotional gathering and meditation).
Free Time, Bed
Day 2

Satsang
Chai
1.5 Hour Asana Class
Brunch
Free Time
Workshop- Headstand (Sirsasana)
Yogic snack & herbal tea
Workshop - Pranayama
1.5 Hour Asana and Yoga Nidra
Dinner
Satsang
Day 3
Satsang
Chai
1.5 Hour Asana Class
Brunch
Free Time
Workshop - Arm Balances
Yogic snack & herbal tea

1.5 Hour Asana and Yoga Nidra
Dinner
Satsang
Day 4
Chosen Adventure Day
1.5 Hour yin Asana and Yoga Nidra
Dinner
Satsang
Day 5
Satsang
Chai
1.5 Hour Asana Class
Brunch
Free Time
Yogic snack & herbal tea
1.5 Hour Asana and Yoga Nidra
Dinner
Satsang
Day 6
Pranayama practice followed by satsang
Chai
1.5 Hour Asana Class
Brunch
Free Time
Yogic snack & herbal tea
1.5 Hour Asana and Yoga Nidra
Dinner
Satsang
Day 7
Silent Walk (Meditation, mouna practice)
Herbal tea
Kriyas practice
1.5 Hour Asana Class
Brunch
Good Bye Chai & Satsang + meditation
---
Contribution?
Why is this retreat so affordable?
We believe yoga should be accesable to as many people as possible, this retreat is treated no different.
Is There a payment plan option?
Yes using paypal. There will be a non refunable deposit of A$300 to secure your place the ballance to be paid before commencement of retreat. Please contact us if you would like this option. info@thewomblingyogi.com
---
FAQs
Is there a minimum age requirement to join this retreat?
No, there is no minimum age requirement to attent the retreat, however, some of the yogic practices require one to be able to hold attention for a 90 minute class. There may be some limitations on the adventure day, but there are many day trips to choose from which will be inclusive for you and your family. Children under the age of 16 will need to be accompanied by an adult.
What are my transport/parking options for getting to and from the venue?
You will need to make your way to Denpasar airport, Bali, arriving no later that 1st of April 2019. We have arranged for a shuttle bus to meet you at the airport and take you to the resort and to the Aum Shakti Retreat.
What should I bring to the retreat?
Please bring a yoga mat, if you don't have one, there is an option to buy one at the time of your ticket purchase. You will also need your neti pot, nauli sutra & tongue scraper as there will be workshops on these ancient cleansing techniques. Please also bring a shawl & cushion for meditation. If you choose the white water rafting for your adventure day, you will need an extra change of clothes & protective foot wear. For the hiking/walking/bike trail please have closed shoes.
How can I contact the organiser with any questions?
If you have any questions, please contact The Wombling Yogi team at info@thewomblingyogi.com
Can I get a refund?
Included in your ticket is a non-refundable 20% admin fee. If you cancel 30 prior to the retreat, you will receive an 80% refund (minus bank charges). If you cancel less than 30 days in advance, no refund will be granted however, tickets are transferable, as long at we are notified in advance.
Do I have to bring my printed ticket to the event?
No, you will not need to bring your tickt to the event. We want you to save as many trees as you can.
Can I update my registration information?
Yes, to update your information, making sure we have accurate information please email us the old and new to info@thewomblingyogi.com
Is my registration fee or ticket transferrable?
Yes, however, we require at least 7 days notice. Please notify us as soon as possible with these changes by contacting info@thewomblingyogi.com.
Is it ok if the name on my ticket or registration does not match the person who attends?
No, we will not accept any unregistered guests at the retreat. Please notify us know if there are any changes at least 7 days prior to the retreat.
Do I need to bring any identification (ID) to the retreat?

Yes, for some of the day trip options, you will need identification.
As I am coming on the retreat with my partner/friend, am I able to share accommodation with them?
Yes, we will endeavour to ensure you are partnered up as you request. (please contact info@the wombling yogi to informs us of your requirments). Please note that each villa has 3 bedrooms so the maximum capacity for each villa is 3 people.