Description
THIS EVENT IS SOLD OUT - There may be 1-2 tix available at the door. Best arrive 7pm to claim them if you're keen, or call the bar on 6162 2947 after 5pm Thursday to check.
$20 online & @ The Door (if seats available).
Ascend our stage-lit stairs, brush past the gold chain curtain, and enter a secret cavern of glamour & elegance, burlesque & cabaret.
Transport yourself to another time & space.
Be Shaken & Stirred.
Enter our not-so-secret cavern of glamour and elegance always filled with delectable artists and creatures of the night...
This May warm up with our very own Venus-in-fur URSULA WOLFE.
The breeze from Bris Vegas, the seasonally appropriate AUTUMN TEMPTRESS.
AND welcoming two Sass and Tease alum to the stage at Polit Bar for the very first time; VALENTINA SILK and RITA RAE SIN.
Lastly and by no means least, alt-country duo BLACK HORSES will be joining us.
Kept in questionable control by IVY AMBROSIA. Book now this event regularly sells out.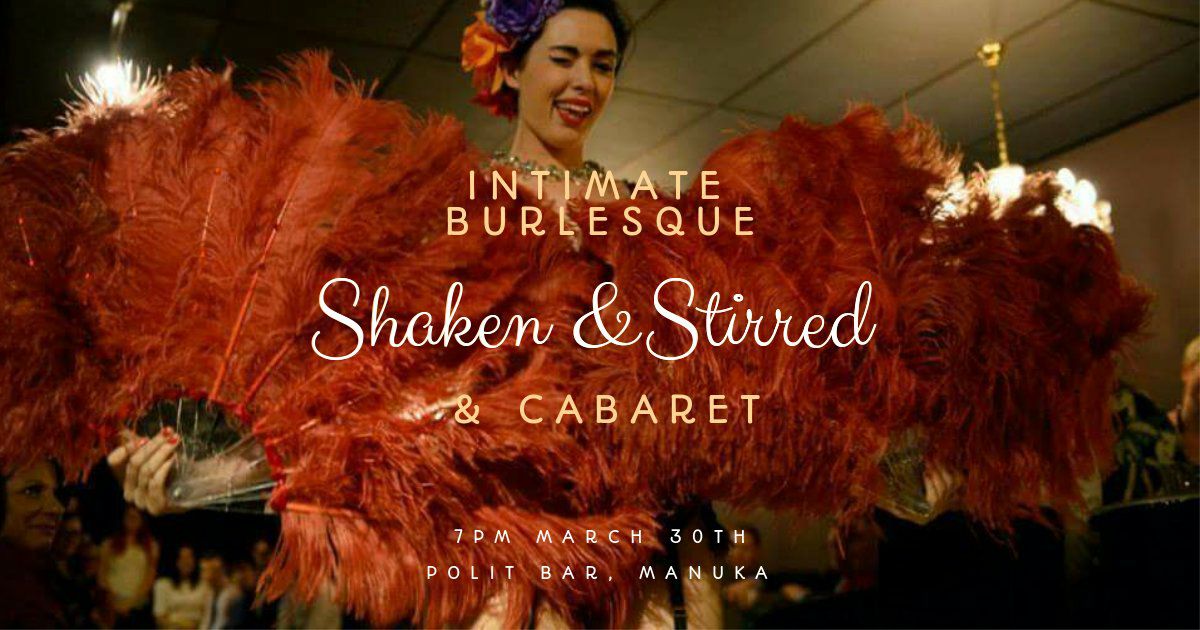 ***
Sales end at 4pm on show day. Some tix are usually available at the door.
CALL 02-6162-2947 TO CHECK AVAILABILITY IF TICKET SALES HAVE ENDED ONLINE. If you purchase a ticket online here, and would like to reserve a seating area for 4 or more of your friends, please email mypolitbar@gmail.com with names and total number of your group.
To claim these reserved seats, please arrive no later than 7pm. If you are running late, please call to let us know, otherwise we will reallocate available seats to guests who have arrived.
Note, we serve a wide variety of food suitable for dinner, including authentic stone baked thin crust Italian style pizzas and various vegetarian and GF options. If you prefer to dine somewhere else before the show, we recommend starting no later than 6:30pm to avoid disappointment.
***
Produced by Canberra's own Sass & Tease Collective
Ticket proceeds go entirely to the performers.
***
Please note this is a burlesque show and may contain some partial nudity. In accordance with ACT Liquor Licence regulations, it will NOT contain any explicit or full nudity.
This is a performance by independent artists. Please note that everything the performers do is play. Like naughty children they may tease you gently. That is the nature of the show. Nothing is designed or intended to offend.
If you think you may be offended by any aspect of this show, including partial nudity, gentle teasing, sexual or suggestive jokes or anything at all, we recommend you do not attend this show and welcome you at any other time.
SEXUAL HARRASSMENT IN ANY FORM IS NOT CONDONED.
The performers are providing a show for your enjoyment. The show is not an invitation for guests to touch the performers or to make lewd or suggestive comments. Do not offer to place 'tips' on, under or around performers' clothing. Sexual harressment of any kind will not be tolerated and you will be asked to leave immediately.
The performers would be delighted if you'd like to tip them, and ask that all tips be placed in the Burlesque Tip Jar, which will be shared among all the performers at the end of the show.
Thank you for your understanding.
***