Sales Have Ended
Registrations are closed
Thank you for taking the time to express your interest in our event. We noticed that you accessed the purchase gateway but did not complete a reservation for the seminar. If there is anything we can do improve your experience and assist in the confirmation of your ticket purchase, please let us know by emailing us as admin@bda.org.au'
Sales Have Ended
Registrations are closed
Thank you for taking the time to express your interest in our event. We noticed that you accessed the purchase gateway but did not complete a reservation for the seminar. If there is anything we can do improve your experience and assist in the confirmation of your ticket purchase, please let us know by emailing us as admin@bda.org.au'
Description
Are trees disappearing from our streets, our backyards and parks?
Our trees give Brisbane a unique character that is often taken for granted; look around, and you will discover they are an indispensable part of the city's landscape, ecological and economic value.
Being recognised as a new world city is important, but what does it say about our livability, character, and distinctive identity? The BDA believes Brisbane ought to further strengthen its celebration of subtropicality and brand itself, in an aspirational sense as the 'City of Trees'.
There is mounting evidence that mature tree cover can substantially improve air quality, increase and maintain property values, improve commercial outcomes in retail precincts (i.e. shoppers spend more), offset energy costs in buildings, reduce road maintenance and more.
The BDA's Shady Stories event on November 3 will seek to understand the complex issues around the greening of our city.
We've called on Australia's leading urban landscape planning and policy makers and the Brisbane City Council's Chairman of the Environment, Parks and Sustainability Committee, to help us unpack the issues around deep planting, road maintenance, insurance policies and premiums, drought, heat and climate change; and find solutions for a greener, better Brisbane.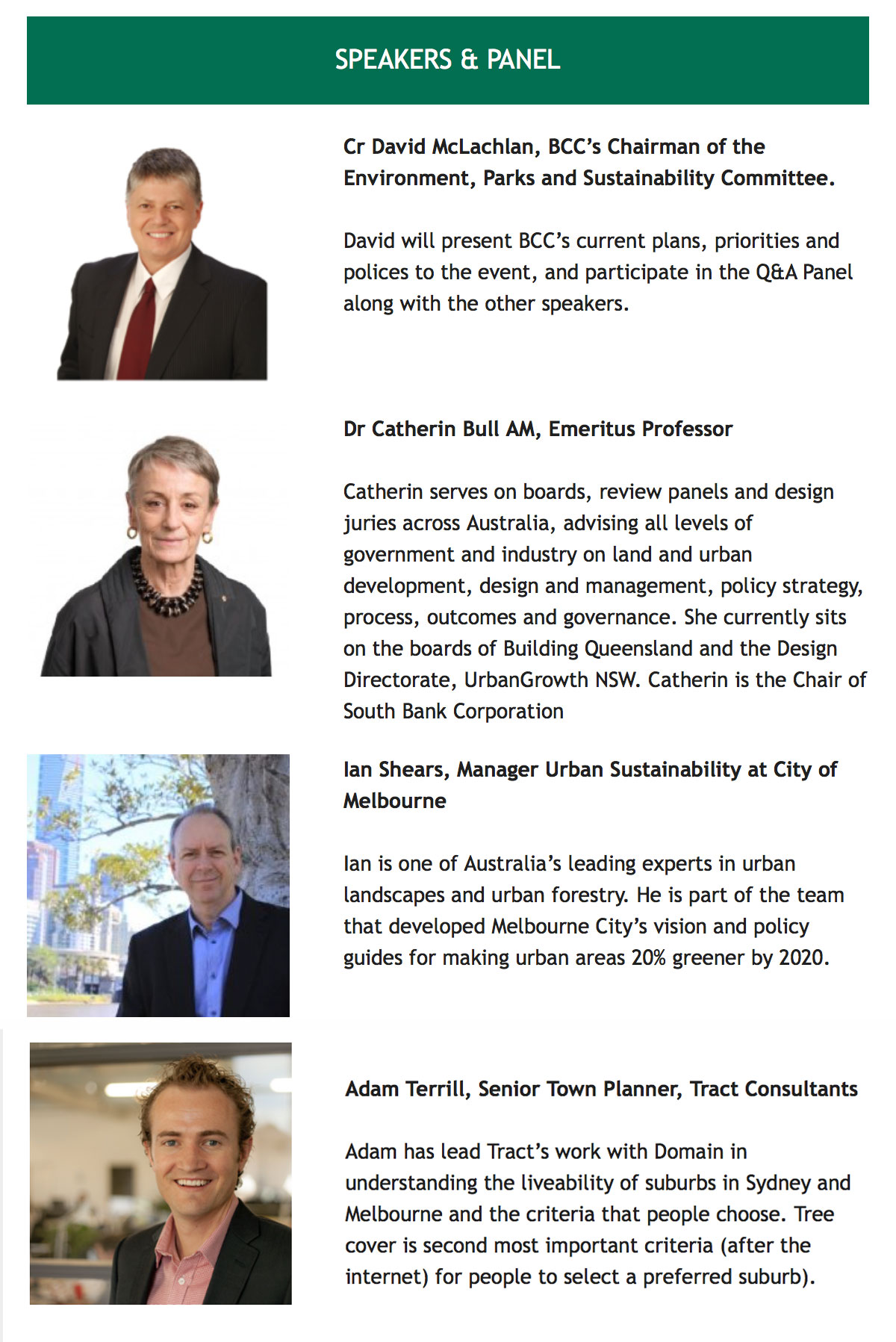 Money DOES grow on trees

This event will include an interactive Q&A session which will answer the question: 'Does money really grow on trees?'

The Guardian has recently reported that money really does grow on threes. With reference to New York:

"… trees do on average increase the value of property by 20% .... When the New York City park department measured the economic impact of its trees, the benefits added up to $120m a year. (Compare that to the $22m annual parks department expenditure.) There were $28m worth of energy savings, $5m worth of air quality improvements and $36m of costs avoided in mitigating storm water flooding. If you look at a big tree, says Jones, "it's intercepting 1,432 gallons of water in the course of a year."

The 2014 report "Benchmarking Australia's Urban Tree Canopy" produced by the 202020Vision initiative in partnership with the Institute for Sustainable Futures at the University of Technology Sydney found that while the Qld average has around 49% tree canopy cover in urban areas, the inner areas of Brisbane only rate at between 10%-19%.

Tirpadvisor's top 10 things to do in Brisbane: 7 of the top 10 things to do are being in a park, or in a building in a park. (the other 3 are being on the river)

EVENT DETAILS
Event timing:
7.00am for 7.30am start (concludes 9.00am)
Refunds and cancellations

Cancellations must be received in writing by 5.00pm two business days prior to the event.
Full payment will be required for all cancellations received after this time.
This registration form will be a TAX INVOICE for GST when you make payment. Prices on this sheet are inclusive of GST.
Dress code
Business Attire
Dietary needs
Please advise of any dietary requirements by contacting the BDA directly at admin@bda.org.au
CPD points
This event may attract CPD points. Please contact your relevant professional Institute or industry organization to confirm.
Privacy Statement – Collection Notice
The purpose for collecting this information is to process your registration. These details will not be made available to any third party outside those with an intrinsic interest in the event (eg, key speakers, sponsor, etc) to enhance the experience of the event, and are likely to be used by the BDA for promoting future BDA events and events of interest to BDA members and enthusiasts.
The person or organization paying the registration(s) agrees to provide the names, email addresses and mobile phone numbers of each person covered by this registration.

BDA Patron Members

The BDA Patron Members are: APP Corporation, Architectus, Arup, BDO, BHC, Brisbane Airport Corporation, Cardno HRP, Economic Development Qld, Devine Limited, GHD, ISPT, Lendlease, Minter Ellison, PDT Architects, Port of Brisbane, Rider Levett Bucknall, RNA, Three Plus, Tract Consultants, Urbis.