SGLBA exclusive showing, members receive 2 complimentary cocktail vouchers.
About this Event
SGLBA Excl. Premiere Broadway Dinner & Show
An immersive dining experience
Secure your place today at this exclusive event, upstairs at Universal, for SGLBA members & friends.
Following the success of the SGLBA's Christmas Twinkle Dinner & Show in November, we're thrilled to invite you to join us at Universal for "Broadway, an immersive dining experience" with all your Broadway and musical classics, Sydney's favourite drag and dine experience.
The evening includes:
A 3-Course Set-Menu (Entree, Main & Dessert),
Members receive a welcome drink on arrival (House bubbles, Soft drink or juice)
Table Service for Beverages
In addition:
Please provide any dietary requirements in your booking
Vegan, vegetarian, lactose & gluten-free options available
Seating arrangements:
There are tables of 10, 8, 6, 4 and 2 pax that we will allocate based on requests and do our best to accommodate seating preferences.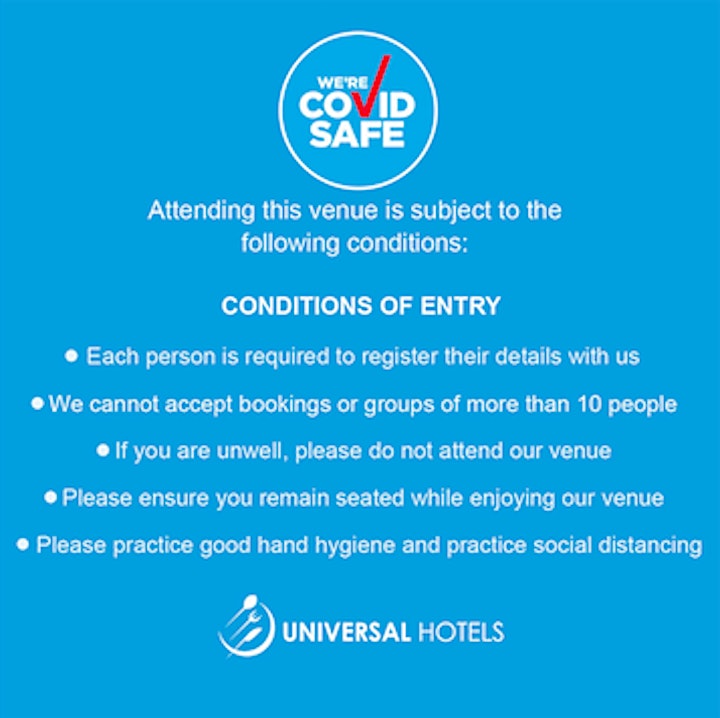 Terms & Conditions:
NSW RSA Standards Apply
Strict COVIDsafe policies in place, failure to comply will see you removed from the event
Premiere is a seated service event. Food and Drink request is fulfilled by our friendly waitstaff, orders cannot be placed at the bar
All packages are pre-paid. We are unable to upgrade your package if you change your mind after booking
Premiere operates on a 3-course set menu. Please provide us with any dietary requirements upon booking (in the 'special request' section)
Vegan & Gluten-Free options available