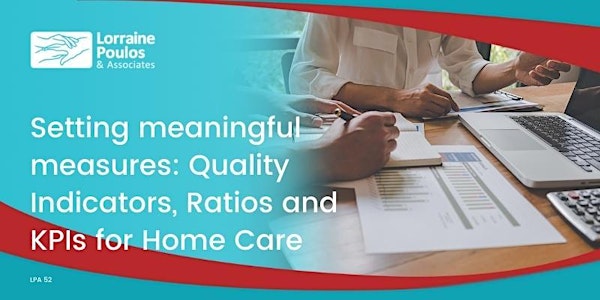 Setting meaningful measures: Quality Indicators, Ratios & KPIs for HC
Sales Have Ended
Registrations are closed
This course has finished however please contact us for further information of how to purchase off line recordings or on site training
Event Information
Refund policy
Contact the organiser to request a refund.
Eventbrite's fee is nonrefundable.
Sales Have Ended
Registrations are closed
This course has finished however please contact us for further information of how to purchase off line recordings or on site training
Setting meaningful measures: Quality Indicators, Ratios & KPIs for HC
About this event
Why are Quality Indicators and KPIs important?
Setting quality indicators and Key Performance Indicators (KPIs) is essential for success. Effective measures can drive efficiency and effectiveness of the workforce. Effective measures provide management and the workforce with clear, detailed and timely information, and most importantly, it enables the governing body to provide adequate oversight. It enables day-to-day decision making, and informs corrective actions on performance or a process.
Albert Einstein wisely said: "Not everything that can be counted counts, and not everything that counts can be counted." This is very true as if we get the measures wrong, it can prevent progress towards attainment of goals, objectives or fulfillment of a plan. At LPA in our work with clients, we have sometimes seen wasted effort and resources going into measuring aspects that really don't count.
The Royal Commission's Recommendation 108: Data governance and a National Aged Care Data Asset addresses the need for quality indicators. The Government has stated that this will be achieved through the new Aged Care Act, to commence from July 2023. However, quality indicators are too important to wait until then! From July 2021, residential aged care services already have to report on five quality indicators. Will home care providers be required to report on quality indicators and what are the likely indicators? These are questions we will explore. Regardless of requirements, our recommendation is that quality indicators and KPIs are essential for organisational governance.
Overview
This webinar will enable you to set appropriate KPIs that are well-defined performance measures. It will also enable you to develop quality indicators that inform and predict potential issues. These can be used to observe, analyze, optimize, and transform home care processes to increase satisfaction and improve organisational outcomes including financial sustainability alike.
According to the latest research by Wagner et (2020) Quality indicators (QIs) are increasingly used to measure, monitor and evaluate care quality by assessing particular structures, processes, or outcomes. QIs can point to areas where the quality of care is suboptimal, subsequently allowing priorities to be set for quality improvement . QIs are used for comparing health care quality across the organisation. This webinar will also assist you to develop meaningful quality indicators that are specific and relevant to home care.
Learning Outcomes
By the end of this webinar course, you will be able to:
✔ Explain the difference between a KPIs, key ratios and quality indicators and why these are essential for monitoring and measuring performance
✔ Describe the types of quality indicators, key ratios and KPIs that are useful for home care
✔ Critique a range of KPIs, key ratios and quality indicators to determine what is best for management and the governing body
✔ State key considerations when determining KPIs, key ratios and quality indicators
✔ Select KPIs, key ratios and quality indicators that are likely to improve the performance of teams
✔ List KPIs, key ratios and quality indicators that will provide trends, patterns and information valuable to your organisation
✔ Identify key factors that should be considered when implementing KPIs, key ratios and quality indicators
✔ Analyse data from KPIs, key ratios and quality indicators to draw meaningful conclusions and determine improvements.
✔ Assess the readiness of your organisation for current (and future mandated) data collection including IT, workforce requirements, data collection and management etc.
Recognition
All attendees will receive a Statement of Attendance upon completion of an assessment as evidence of Continuing Professional Development hours.
Who will benefit most from this webinar?
Those with responsibility for measuring and monitoring performance of organisational performance, clinical outcomes, workforce performance and organisational efficiency. This includes Chief Executive Officers, Service Managers and those who oversight Clinical Care.
How will it benefit providers and consumers?
It will assist providers to meet the Aged Care Quality Standards by equipping the workforce to manage clinical care risks and ensure consumers are provided with services that aim to maximise their wellness and health outcomes.
Date:
Times:
1.00pm - 4.00pm – New South Wales, Victoria, Tasmania and the Australian Capital Territory
12noon - 3.00pm Queensland
12.30pm -3.30pm - South Australia
11.30 -2.30pm - Northern Territory
10.00am - 1.00pm - Western Australia
Inclusions
PDF of PowerPoint presentation
Downloadable workbook
Downloadable tools and resources
Learner requirements
Computer or mobile device
A stable internet connection (broadband/4G+ recommended)
Speakers and a microphone are optional
Investment: $ 397 plus GST
Views of previous attendees
"I love Lorraines style of teaching. So thorough and engaging" - Erin Crocker (Team Leader, Australian Multicultural Community services)
"Lorraine is always a great presenter, keeps audience engaged and designs presentations at the right level for the audience she is presenting to." - Kathy Day (General Manager, Grampians community health)
Facilitators:
Lorraine Poulos - is a Registered Nurse, Grad Cert. Health Service Management, Fellow Case Management Society of Australia, Qualified Lead Auditor Quality Systems, Certificate 1V Workplace Training, and Education
Date and time
Location
Refund policy
Contact the organiser to request a refund.
Eventbrite's fee is nonrefundable.