Serve to Learn: The Australian Edition
About this event
For some, it will be a long-overdue reunion, for others, an opportunity to meet like-minded people who have served or hope to one day serve our brothers and sisters in Egypt.
We're talking sunshine, beach, activities, food, guest speakers, quiet reflection time, and for the Alumni, plenty of Serve to Learn reminiscing! Nermien Riad, the founder of Coptic Orphans will be there and would love to meet you all! Get your tickets quick - limited spots available!
Note on Accommodation
You are welcome to arrive at Star of the Sea, Terrigal any time on Friday 25th after 2 pm. During your time there, you will be staying in a three-bedroom apartment that sleeps six to eight people. Each apartment is fully equipped with a kitchen, laundry, a dining area, and three bedrooms. Some apartments may have additional amenities such as balconies, spas, ocean/garden views etc. Rooms with these extra amenities will be allocated on a first-come-first-serve basis.
Please bear in mind that you are likely to be sharing a bedroom with another person. Females will be allocated separate apartments to males (including those who come with their partners). We ask that you be mindful of this and be respectful to others during your stay. If you prefer to stay with someone you know, please indicate this when purchasing your ticket. We will endeavor to accommodate your request, however, it is not guaranteed.
Families:
Families are welcome to attend the event. Children will be the responsibility of parents and must not be left unattended. Each family member will need an individual ticket. Children who will not require their own bed and are under the age of 10 are welcome to attend for free. Children over the age of 10 will need their own tickets.
If you are a family and would prefer to stay in a separate apartment, you are welcome to purchase a family ticket. All apartments sleep a minimum of 6 people and the family price is based on the attendance of 6 people. If you are a family of less than 6, you are welcome to invite others, who will also be allowed to take part in the event's activities.
Note on Tickets
Day visitors:
Attendees wishing to come for one day but do not wish to stay the night must purchase a single day ticket. Door sale tickets are strictly prohibited as the number of visitors needs to be finalised in advance. Note that single-day visitor tickets are limited to 20 visitors per day.
Visitors wanting to stay for one night:
Note that if you are only able to stay 1 night, you must still purchase an all-inclusive: 3-day/2-night ticket.
Become an Event Sponsor!
Looking to help out more? Consider becoming an event sponsor! See the details below for the different sponsorship tiers.
Make sure to select the sponsorship ticket at checkout and we will be in touch to make further arrangements.
If you require further information about becoming an event sponsor, please contact Phoebe at piskander@copticorphans.org for more information.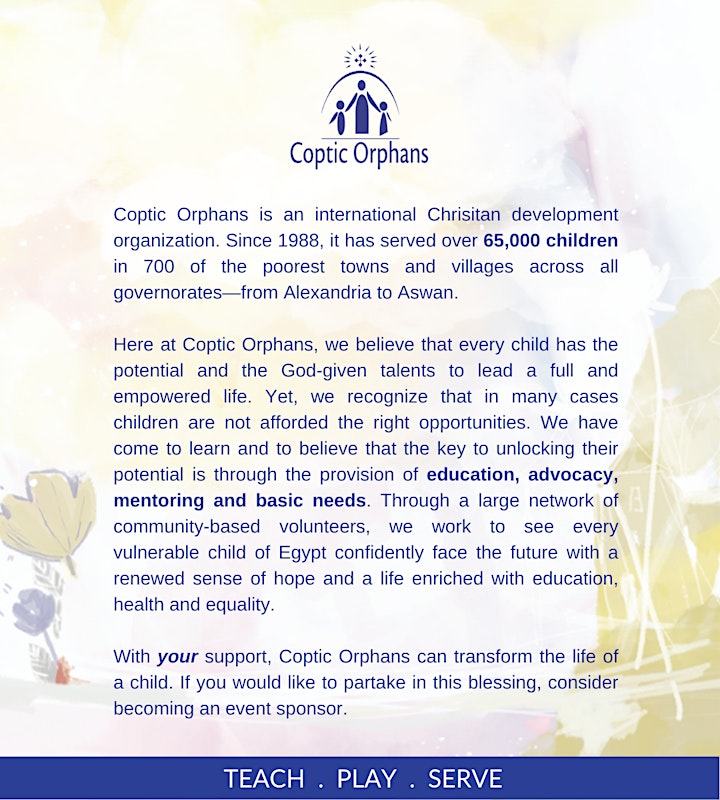 Organiser of Serve to Learn: The Australian Edition
WHO WE ARE
Coptic Orphans strives to unlock the God-given potential of the most vulnerable children in Egypt through the power of education. Working through grassroots partners and a network of over 500 specially trained Church-based volunteers, by God's grace, we empower thousands of Coptic children and young girls to reclaim their dignity and self-worth.