Description
Ignite Business Influence with Digital Branding
​
---
You're Invited - Thursday 16th February
Community Meets with Lee Ussher Co-founder and Digital Strategist of Buzz Web Media
---
When:
Tuesday 16th February
5.30pm - 7.00pm
Where:
Servcorp
Level 5
4 Columbia Court, Bauklham Hills
Parking is available onsite or in the Novotel across the road.
Tickets:
Free Entry - RSVP 15th February
We're all inspired by business heroes. We admire their earned community influence and the professional industry recognition bestowed upon them. This high level of brand credibility can't be bought, it's an earned public endorsement, and is the most powerful marketing tool you can develop to attract your target client.
Learn tips and tools to develop your own brand credibility and to help attract the right clients.
With dedicated networking time, you'll have the opportunity to promote your products and services with like-minded entrepreneurs while you enjoy a cool beverage and canapes.
About Lee:
Lee Ussher is co-founder of Buzz Web Media, a nationally recognised digital brand marketing agency specialised in servicing companies in establishing their brands and expanding customer reach online.
As an early adopter of social media and blogging, Lee has become one of Australia's leading digital marketing strategists, consulting and training within government and corporate sectors. She has showcased client examples of her innovative strategies at national conference presentations alongside marketing directors of Telstra, Optus, St George, NAB, ABC and is regularly interviewed in the media for her thoughts on future customer experience digital trends.
Lee is an established professional speaker, writer and media commentator, and is referenced internationally within her marketing industry, by authorities such as Randi Zuckerberg, former Marketing Director of Facebook.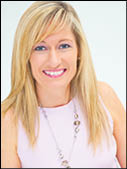 buzzwebmedia.com.au/ | linkedin.com/in/leeusshersocialmediababe
If you have any questions - please email ashleigh.marinovic@servcorp.com.au