Description
FITPRENEUR - How to be the CEO of your Business and your Life.
---
You're Invited - Wednesday 8th March 2017
Breakfast with Nikki Fogden-Moore CEO and co-founder of The Vitality Coach
---
When:
Wednesday 8th March
7.00am - 8.30am
Where:
Servcorp
Level 57, MLC Centre
19 - 29 Martin Place, Sydney
Tickets:
Free Entry
Learn the pillars of ultimate leadership with Nikki - Healthy, Wealthy and Wise.
Get Nikki's top tips on:
Building your brand

Balancing your health and your wealth

Creating an autehntic personal brand
Tangible, engaging and sustainable results - come join us for an express session including Q & A's with Nikki on being the ultimate leader in business and in life.
With dedicated networking time, you'll have the opportunity to promote your products and services with like-minded entrepreneurs while you enjoy breakfast canapes and beverages.
About Nikki:
Known as the Mojo Maker Author, Speaker and Global Coach, Nikki Fogden-Moore specialises in working with CEO's, entrepreneurs and high achievers in creating the life they want. She divides her time between private coaching, Corporate Vitality, Boardroom and bespoke retreats, workshops and presenting. With her Vitality Coach Podcast downloaded in over 80 countries and the Monday Mojo blog going out globally Nikki's mission is to inspire and empower high achievers to truly bring business and personal vitality to life.
Nikki's personal mantra: Think Like a CEO, Plan Like a Visionary, Act Like a Buddha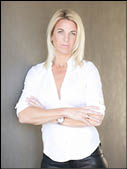 www.thevitalitycoach.com.au/ | au.linkedin.com/in/nfogdenmoore
If you have any questions - please email natasha.vella@servcorp.com.au