Sales Have Ended
Registrations are closed
thanks for registering
Sales Have Ended
Registrations are closed
thanks for registering
Description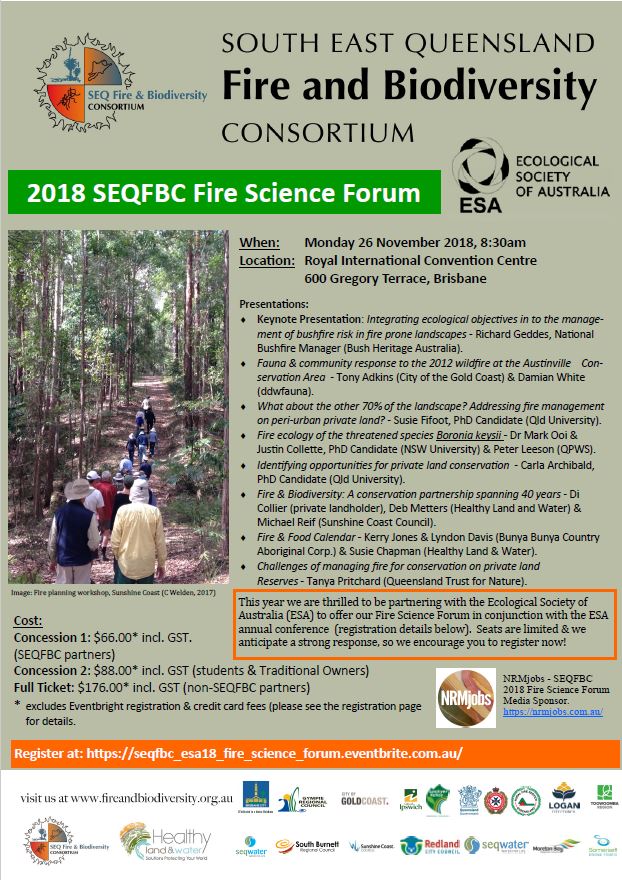 The South East Queensland Fire and Biodiversity Consortium (SEQFBC) are thrilled to be partnering with ESA to offer this specialist forum at ESA 2018 in Brisbane. Coordinated by the SEQFBC, the SEQFBC Fire Science Forum (the Forum) is squarely aimed at connecting fire scientists, ecologists and students with onground fire operators, land managers & other fire professionals. With a focus on local research, collaborative fire programs & the relationship between fire & private land conservation, the Forum will showcase applied fire ecology & management research & private land partnerships that translate science into practice for beneficial onground outcomes. he South East Queensland Fire and Biodiversity Consortium
Established in 1998, the SEQFBC partners together with 19 stakeholder organisations to support private landholders, public land managers, utility providers and fire agencies to improve onground fire management and biodiversity conservation, and build landholder/manager capacity through engagement, training, technical expertise and research. The SEQFBC strives to translate science into practice for onground land and fire managers by facilitating fire science in the SEQ region, supporting student research (via a Research Student Scholarship Program) and providing regular fire science updates. In 2016, the SEQFBC hosted and coordinated the national bushfire conference, Bushfire 2016: Connecting Science, People and Practice, sponsored by ESA, the event was highly successful and attended by over 330 people. For more information visit: www.fireandbiodiversity.org.au
Keynote Speaker: Richard Geddes, National Fire Program Manager with Bush Heritage Australia (see flier above for featured speakers).
Program
Page 1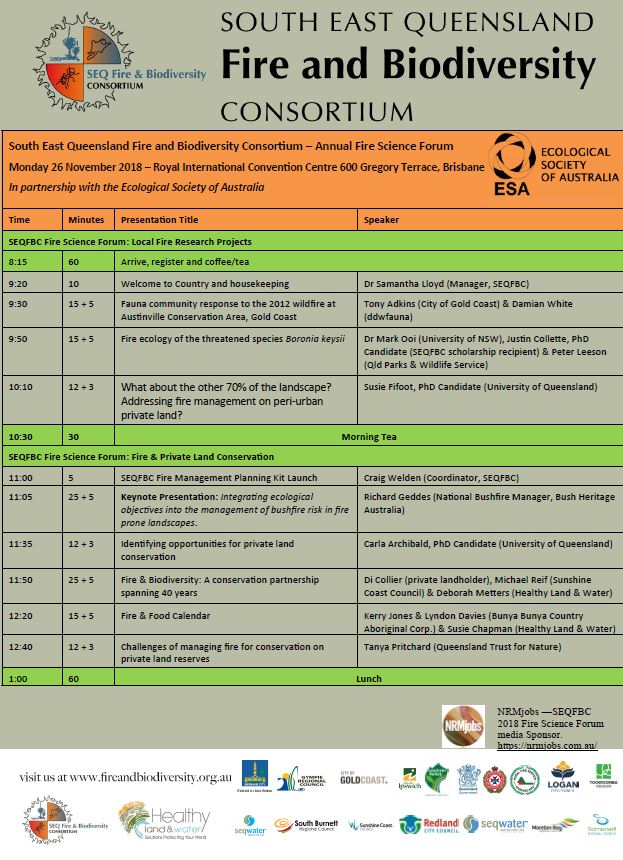 Page 2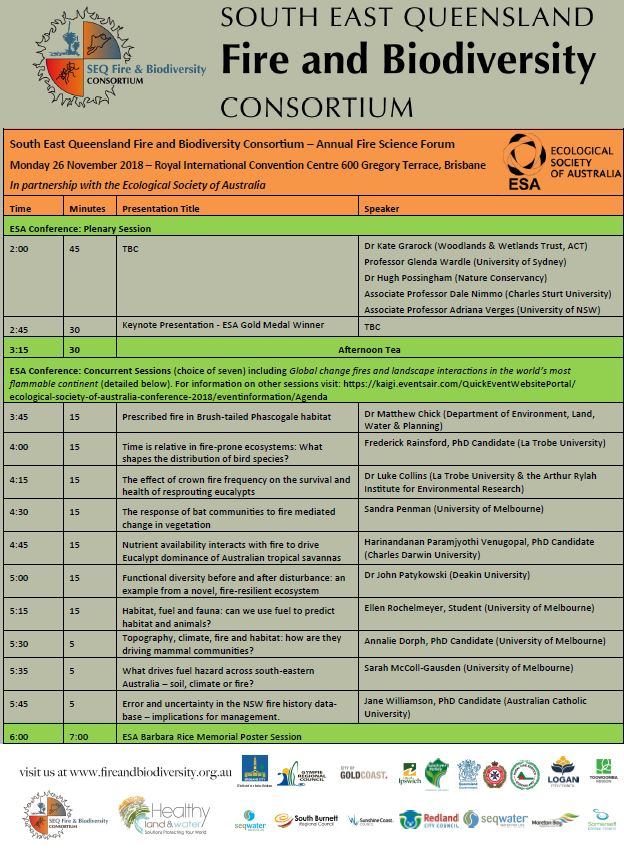 Who Should Attend?
Anyone interested in the role of fire in the Australian landscape, fire as a land management tool, fire ecology &/or fire management, especially those interested in private land conservation & cross-agency collaborations. Presenters are encouraged to showcase local fire research projects & innovative & successful partnerships.
ESA conferences typically attract 500 – 600 attendees from a range of ecological, research, government & land management sectors & disciplines. The SEQFBC consider this to be a highly valuable opportunity & are pleased to be able to offer it to our partners & networks. The day will conclude at 5:45pm, but attendees are encouraged to also register for the hugely popular ESA Barbara Rice Memorial Poster evening (6 – 7:30pm). This event is a fantastic way to network & will ensure you learn from & interact with poster authors.

How to register
Via our Eventbrite page: https://seqfbc_esa18_fire_science_forum.eventbrite.com.au/
- Concession 1 - SEQFBC Partner Organisations $66.00* (incl. GST)
- Concession 2 - Students and traditional owners $88.00* (incl. GST)
- Full Ticket – Non-SEQFBC partners $176.00* (incl. GST)
- ESA Barbara Rice Memorial Poster Session (6 – 7:30pm) $35.00* (incl. GST)
*Excludes Eventbrite registration and credit card fees

We would encourage you to book the Barbara Rice Memiorial Poster Session which starts at 6pm and finishes at 7.30pm. You will have a chance to network with others & talk to the poster presenters about their current work. Some of the poster topics include:
Do patchy prescribed burns improve the persistence of small mammals post-fire?,Ms Katharine Senior;
Fire in fragmented landscapes: Comparing and contrasting the impacts on threatened species and biodiversity, Simeon Zylinski;
How can Government address climate change adaptation challenges in biodiversity conservation Miss Polly Mitchell;
Triodia-dependent fauna do not follow the Triodia cover fire-response: Are we measuring Triodia structure correctly?Mr Simon Verdon;
Multivariate drivers of diversity in temperate Australian native grasslands, Dr Jodi Price;
Grass species microclimatic impacts affect germination and vegetation structure in an Australian montane grassland (Bunya Mountains), Mr Jed Brown;
Microbat diversity and connectivity in fire-prone fragmented landscapes, Ms Amanda Lo Cascio;
Using fire to shift the trajectory of a critically endangered wetland community: Fleurieu Swamps, SA,

Ms Rebecca Duffield;
This registration does NOT provide access to the ESA Plenary Session 1 on the Monday morning.
Media partner: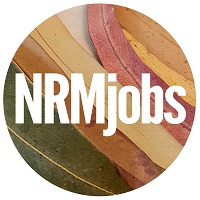 SEQFBC are pleased to have NRMJobs as a Media Partner of the SEQFBC Fire Science Forum 2018
What are my transport/parking options getting to the event?
By Car and parking- please follow the directions given on the Royal International Convention Centre website.

By Bus - For more information please visit Translnk or call 13 12 30
By Bike - bicycle paths via Google Maps and Cycling Brisbane Route Planner
Accomodation options
Please view the options on the ESA18 website - http://esa2018.org.au/registration-information/accommodation/
What is the refund policy?
Refunds are available up to the RSVP date. No refunds will be allowed past the RSVP date.
The name on the registration/ticket doesn't match the attendee. Is that okay?
Please add the name of each attendee. Name tags are printed from the registation details.
Can you cater for my Dietary requirements?
Special dietary choices have been provided. In your registration process please ensure you choose the most appropriate for your needs. While we have created some choices we can not however cater for people with severe food allergies.
People with severe food allergies can react to tiny traces of certain food types inadvertently present in ingredients or on cooking utensils.
Light meals, morning and afternoon teas are prepared by various caterers and each sources food and ingredients from many different suppliers. It is not feasible to test or control every ingredient and utensil used in preparing every meal to the level of being able to guarantee there will be no traces of an allergen substance present.
We do have a selection of special meal options available, however please note that we are not able to cater for individual requests for specific food items (outside of those listed in the registration page) to be included or excluded from any of our meals.
Self catering
If you require absolute certainty of an allergen-free meal, you're welcome to bring your own meal to the Event. However, because of limited facilities, we are not able to heat meals that you bring with you, nor are we able to refrigerate your meal in case the container should become contaminated with other food in the event kitchen.
Organisers
Dr Samantha Lloyd – Samantha.L@hlw.org.au , Manager, SEQ Fire and Biodiversity Consortium
Craig Welden – Craig.W@hlw.org.au , Coordinator, SEQ Fire and Biodiversity Consortium
Contact Craig on 0437 726 279 if you have any questions.