Description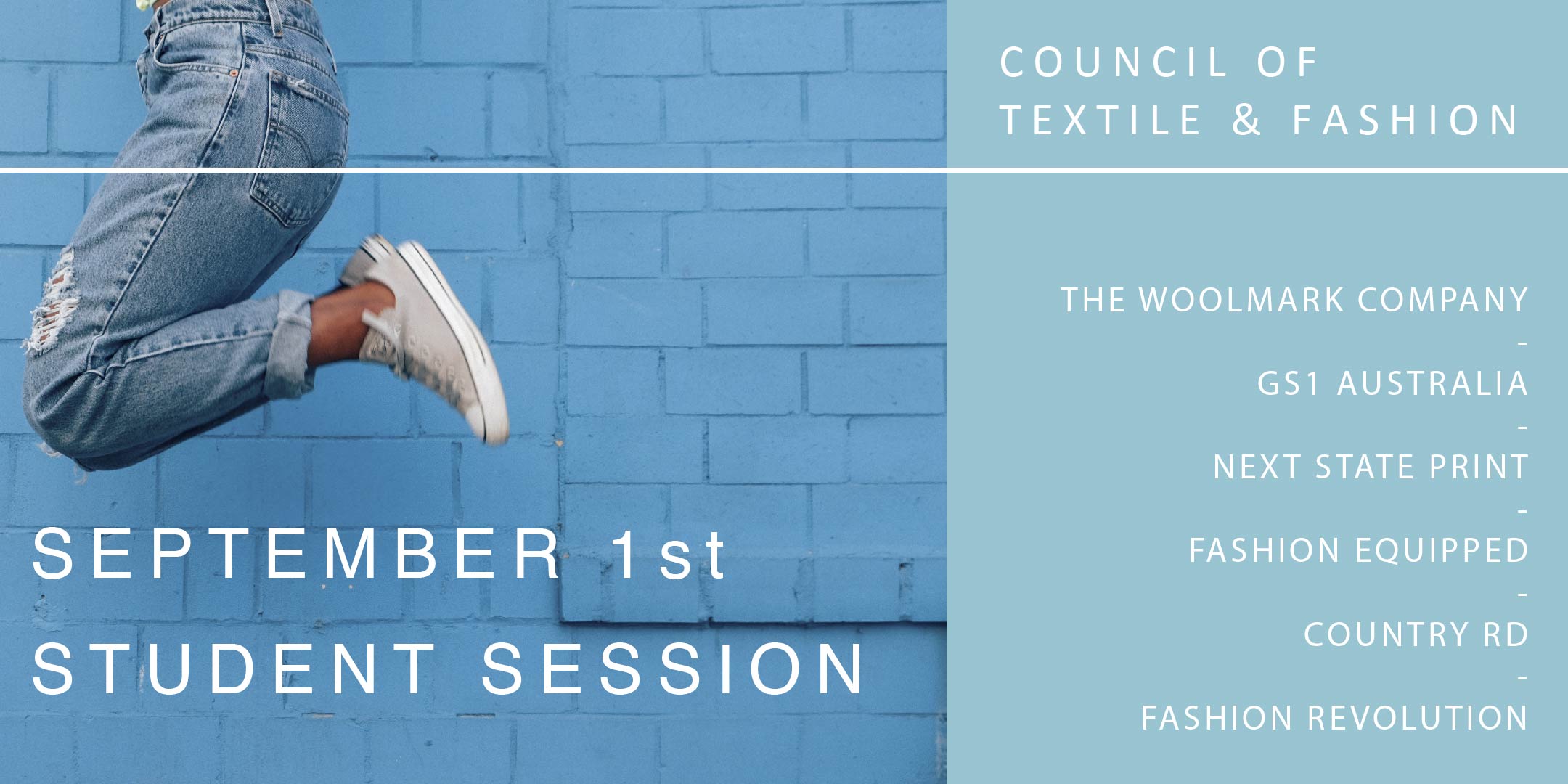 HEY THERE FASHION STUDENTS - THIS ONE IS JUST FOR YOU!
We are excited to announce our September 1st Student Seminar Session, an initiative that kicked off after discussions with Open Colleges Australia, in an effort to engage Fashion Students with Industry Experts.
The day will see a panel discussion around working in the Industry with members from accross the Fashion & Textile value chain; Chole Kerr of Next State Print, Carla Woidt of Country Rd, Elizabeth Formosa from Fashion Equipped, and our CEO, David Giles Kaye. Following, we have presentations from Sean Sloan of GS1 Australia, Carol Stubbs from The Woolmark Company, and Melinda Tually of Fashion Revolution AU/NZ and NDLESS.
We look forward to seeing you there!
FIND OUT MORE AND MEET THE PRESENTERS HERE >>>
WHAT | STUDENT SEMINAR SESSION
WHEN | SEPTEMBER 1ST 10.30 AM – 3.00PM
WHERE | Textile & Fashion Hub, Building F, 85 Cremorne St, Richmond VIC 3121 (MAP >>>)
TICKETS | $20 Via Eventbrite* on sale 19th August
*If you have a Student Membership with the Council of Textile and Fashion it's FREE - just register via info@tfia.com.au though places are limited so get in quick!
---


THE LINE UP
I PANEL DISCUSSION | Want a Job in Fashion? | 10.30AM – 12.00PM
Hear from a panel of local Industry experts; learn their stories of how they got started in industry and their advice for graduates and emerging designers.
David Giles-Kaye - Council of Textile & Fashion, Carla Woidt - Country Road, Elizabeth Formosa - Fashion Equipped, Chole Kerr - Next State Print
II PRESENTATION | GS1 Australia: Barcodes are ugly, but…. | 12.00PM – 12.30PM
Sean Sloan - Manager, Omni-Channel & RFID, GS1 Australia
III PRESENTATION | The Woolmark Company | 1.00PM – 2.00PM
Carol Stubbs - The Wool Lab Consultant, Australian Wool Innovation Limited, The Woolmark Company
IV PRESENTATION | Fashion Revolution: Who Made Your Clothes? | 2.00PM - 3.00PM
Melinda Tually - Director, NDLESS: The New Normal and Co-ordinator, Fashion Revolution Australia and New Zealand
---
FIND OUT MORE AND MEET THE PRESENTERS HERE >>>