Supporting your small business , to drive more traffic to your website and boost sales.
About this event
More than ever, people are searching online for the products and services you offer. So it makes sense to do what you can to show up in the Google results.
This workshop will get you started with Search Engine Optimisation (SEO), and teach you how to drive more traffic to your website and boost sales.
What's Covered?
• The Three Core Elements of good SEO
• Simple changes that make the biggest impact
• Why Keyword Research is vital for SEO success
• How to be easily found in any local search
• Tools to help implement and measure your SEO
Don't waste another day being invisible online.
Get started now.
WORKSHOP Event:
3 Gollan Street
Ulverstone
When? Monday, 07th MARCH 2022
6pm-8pm
When you join up for our DIGITAL SOLUTIONS program, you will receive...
A digital needs assessment
1:1 digital mentoring session
Statewide Workshops
Online learning
**For YOUR Small Business to be eligible for this Digital Solutions Program, you must be For Profit, have a current ABN and employee 19 employees or less.... JOIN TODAY HERE!**
Find Switch Tasmania on Facebook, check out our website www.switchtasmania.com.au or call 6408 7005 for more information .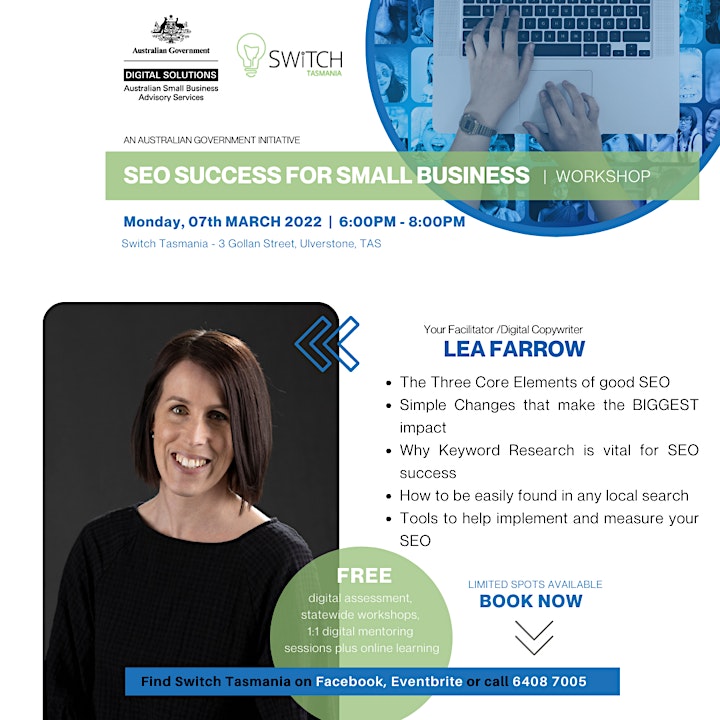 Organiser of SEO SUCCESS FOR SMALL BUSINESS
Switch Tasmania has the contract for ASBAS Digital an Australian Government program that is providing direct education and mentorship to assist Australian small businesses to build their digital capability.
Through the program you can access: A series of workshops in your local area, Two hours of tailored mentoring and Webinars & online materials.
An Australian Business Number (ABN) is required to attend.