Seniors Month Light Lunch and Talk with 2021 Senior Australian of the Year
Guest Speaker Dr Miriam-Rose Ungunmerr Baumann AM. Light Lunch and Talk hosted by Lia Finocchiaro MLA and Jo Hersey MLA
About this event
Join Leader of the Opposition Lia Finocchiaro MLA and Mrs Jo Hersey MLA Shadow minister for seniors, for a light lunch.
Guest speaker will be 2021 Senior Australian of the Year, Dr Miriam-Rose Ungunmerr Baumann AM an Aboriginal elder and renowned artist, activist, writer and public speaker.
Miriam-Rose was the Territory's first fully qualified Aboriginal teacher. As an art consultant for the Department of Education, she advocated strongly for the inclusion of visual art as part of every child's education.
In 2013, Miriam-Rose established the Miriam Rose Foundation, to bridge the divide between Aboriginal culture and mainstream society, driving reconciliation at a grassroots level. Through her professional and creative life, she has remained dedicated to maintaining the cultural independence of her people.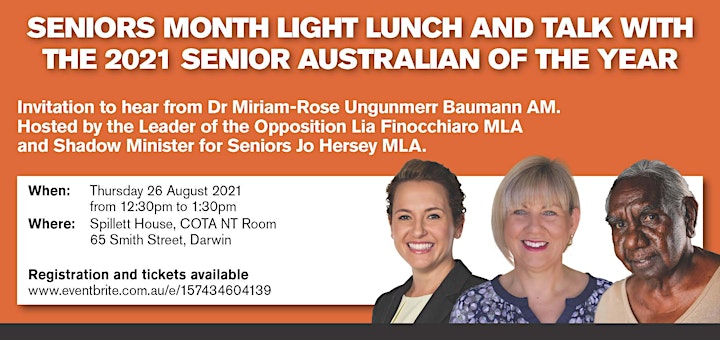 Organiser of Seniors Month Light Lunch and Talk with 2021 Senior Australian of the Year