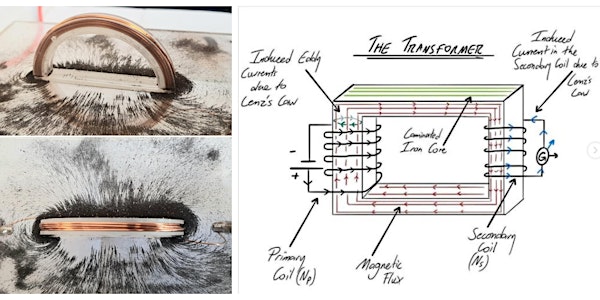 Senior Physics: Electromagnetism Workshop ~ Experiments and Investigations
In this hands-on workshop teachers learn practical ways to engage their students in Electromagnetism using the supplied equipment pack.
About this event
Join Matt to learn about all things Electromagnetism as it relates to the syllabus outcomes. This workshop is practical in nature, and requires the use of a laptop with Microsoft Excel for data collection and analysis as well as a reliable internet for Zoom.
Teachers begin by undertaking an investigation into the strength of a magnet at various distances, as it forms one of the mandatory practicals of the syllabus.
Teachers will then explore the properties of Magnetic Fields around Current Carrying Wires such as loops and solenoids. Next we examine Forces on Current Carrying Wires and Charged Particles within Magnetic Fields as this also forms one of the key mandatory practicals.
The fun continues with electromagnetic induction utilising the supplied materials to demonstrate both Faraday's Law of Electromagnetic Induction and Lenz's Law. These investigations also link Lenz's Law to the principle of conservation of energy.
Then we move on to all things Transformers. We will explore the working principals of Transformers through a variety of practical experiments.
As a final hands-on activity teachers will build a working DC Motor. This particular activity consolidates many of the outcomes taught during the workshop from the force on a current carrying conductor within a magnetic field, to Faraday's Law of electromagnetic induction.
The workshop price includes the equipment listed below in the ticket price. The included resource pack will be sent to the attending teachers to be used on the day via Zoom. This includes:
Lenz's Law Copper Pipe Set
300 Turn Transformer Coil
DC Motor Kit