Description
The hugely popular Bizruption event by NetStripes which has been inspiring thousands of Small Businesses and Start up owners with Digital Readiness and Innovation is being brought to regional & metropolitan NSW by the new Business Connect program of the NSW Government with a aim to inspire and educate small businesses and start ups in NSW.
Technology is disrupting every industry around the globe. As business owners, how do we be the agents of change as opposed to being the victims of disruption in our industries?
We believe small business owners understand their industries intimately and are in the best position to create change, innovate and grow their business.
• You will learn and be inspired by a leading authority on digital readiness and innovation for small business.
• What is digital readiness for small business and why is it so important.
• Important aspects of digital readiness
• The six traps small businesses must avoid if to achieve digital readiness.
• The 4 Steps in achieving digital engagement of your prospective customers.
• How to build a road map to achieve digital readiness.
KEYNOTE PRESENTER - Dinesh De Silva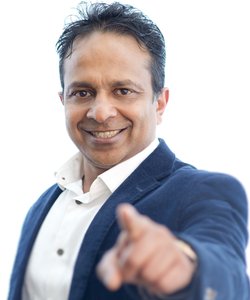 Dinesh is the founder of NetStripes and a leading authority on Small Business Innovation and Digital Readiness.
His current passion is to help small businesses throughout Australia grow their businesses by conquering the world of innovation and digital strategy which he believes can change the course of small business in this country.
As a thought leader on innovation & digital readiness he is regularly called upon as a speaker Founder of NetStripes and panelist and addresses several thousand businesses each year. Recent media appearances include ABC News, Sky Business, BRW, AFR.
Dinesh counts over 15 years of providing strategic direction & visionary leadership from tech start-ups to public listed businesses in the Australian and Asia Pacific region.
He has functioned as a board director of several businesses. An MBA and a Bachelors Degree in Computing underpin a solid foundation of what's required in growing businesses and people.