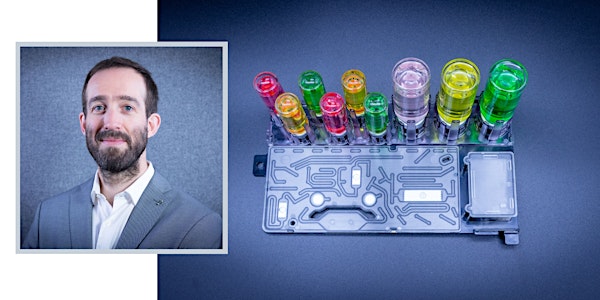 SEMINAR: Automated production of PET radiotracers for personalised medicine
Nuclear medicine is rapidly changing, especially with the onset of theranostics and personalised medicine.
About this event
Registration is essential
Online: https://unsw.zoom.us/j/89425275648
In-person location: K-E12-115 - UNSW Business School 115 | Learning Environments | UNSW Sydney
About the presenter
Dr Laurent Tanguy from PMB-Alcen manages partnerships in iMiGiNE systems. Dr Tanguy has worked at PMB-Alcen since 2013 on this project and started as a microfluidic engineer in charge of the overall radiochemistry project development.
Dr Tanguy trained in aeronautic engineering and quantum chemistry and obtained his PhD on microsystems and microfluidics in 2009. Since then he has worked in France, Germany and Finland on R&D projects revolving around microfluidics for healthcare and in-vitro diagnostics.
About the seminar
To fully benefit from theranostics, medical centres need access to an ever-growing variety of specific tracers, in small quantities, creating a need for onsite production.
iMiGiNE is a product family that has been designed to facilitate access to a wide range of radiopharmaceuticals that molecular imaging and theranostics could benefit from. It facilitates drug development for the R&D centres by using novel development methods, based on universal microfluidic functions. It facilitates multi-centric clinical studies by offering process control and reproducibility across the various centres, and because it is remarkably compact and fully automated, it makes onsite GMP production reliable and easy. This allows clinical centres to get access to a variety of tracers, otherwise hardly available, to ultimately deliver better patient treatment.
iMiDEV is a microfluidic synthesizer. It has been designed with R&D, and preclinical phases in mind. It also is recommended for onsite production of small quantities of radiopharmaceutical.
iMiLAB uses the same technology as iMiDEV and brings it to another level. Within 12 sqm, it produces many different radiopharmaceuticals within the same day, in a fully automated, GMP-compliant manner.
For PET tracers production, iMiLAB can be combined to our 12 MeV cyclotron, iMiTRACE. This forms iMiGiNE, a fully automated radiopharmacy, designed for the onsite production of the variety of radiopharmaceuticals that nuclear medicine could benefit from.
iMiGiNE and iMiDEV both use a unique microfluidic cassette to produce many different radiopharmaceuticals, whether for PET imaging, or therapeutic treatment. Because the cassette remains the same, whatever the molecules, R&D efforts are simplified. Once the process is established, the transfer and scale-up towards clinical studies and practice is immediate.