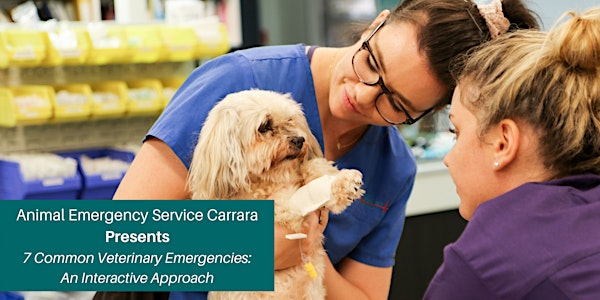 SEMINAR: 7 Common Veterinary Emergencies: An Interactive Approach (Carrara)
Location
Animal Emergency Service
104 Eastlake Street
Carrara, QLD 4211
Australia
On behalf of Animal Emergency Service Carrara, we would like to invite you and your vet and nurse teams to join us for our seminar.
About this event
Emergency patients can be overwhelming, in this interactive seminar our vets will demonstrate emergency mock situations, showcasing real-life patient emergencies that have walked through our hospital doors.
In this seminar we'll be taking you through intro to triage, aspiration pneumonia, pyothorax, thyroid storm, haemoabdomen, anaphylaxis, seizure, and motor vehicle accident. Our team of veterinarians will guide you through the steps in triaging, diagnosing, and treating each of these cases.
There will be ample time to ask questions at this interactive and highly informative seminar designed to increase your confidence in dealing with veterinary emergencies.
Nibbles and drinks will be provided, courtesy of our sponsor VetPay.