A practical hands-on tutorial to learn a fresh way of working with Helen Palmer. Focusing on one activity from the Self unLtd collection.
About this event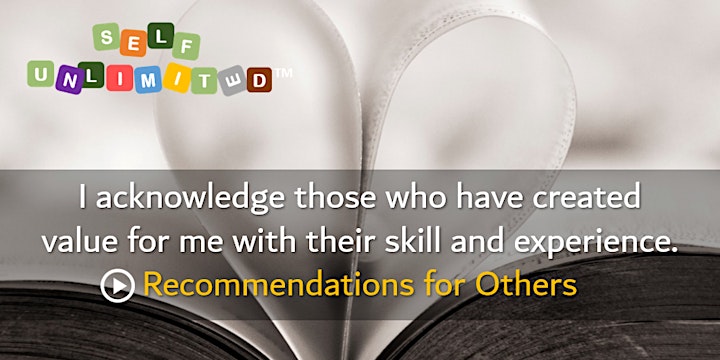 In the Self unLimited collection, there are many Activities you can do, to learn a new way of working. These Activities are very practical and focus on one aspect of habit or behaviour to help you be better at work.
In a limited tutorial series, Self unLimited creator and author Helen Palmer, will be your guide in doing hands-on activity. Learn about the new way and how to do it.
Tutorial #3 is on the Recommendations for Others activity. This technique helps you turn your gratitude and appreciation for a professional relationship and the impact on your life, into something tangible like a written recommendation.
Instructions for the activity are available here. You are welcome to look them over and give them a go before the session - then bring questions to the session. Or simply wait until the session for guided advice from Helen.
Important bits of information:
Session is 45 min in duration, and will start on time. Be sure to sign in at least 5 minutes before start-time.
Sessions will be in Zoom Meeting Room - link to be provided to registered participants a few days before the session.
Session is not recorded; this is a live activity.
The instructions for the activity can be found here.
Sessions are informal so bring a relaxed mind and your beverage/nibbles of choice to fuel your mind.
Group size is limited to 10.
We understand that sometimes all the best laid plans go awry. If you need to cancel, we'll be sorry and be happy to accept a substitution in your place. Sorry no refunds.
Date and time
Location
Refund policy