Self Love Series - Melbourne

Saturday, 30 May 2015 from 9:00 am to 4:00 pm (AEST)
Event Details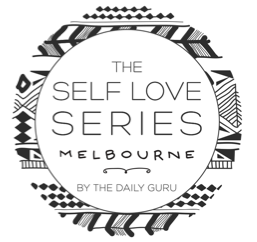 A full day of powerful sessions that tackle the subjects of self-love and self worth from many different angles.
Our four industry Gurus will share their own powerful content throughout the day, in a program spanning a range of nourishing, nurturing — and transformational —workshops.
The Self Love Series is a unique opportunity to get up close and personal with the industry's very best coaches, therapists and authors in just one event. Our Gurus will be wholly focused on helping our Daily Guru tribe overcome its challenges and learn to thrive.
The Self Love Series will not only have you set for success in 2015, but will also enable you to ensure every other year, from here on in, will be just as fabulous as the last.
It all begins with mastering your own self worth — so join us!     

THE ONE DAY WORKSHOP PROGRAM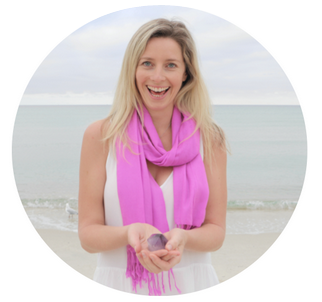 SESSION ONE: The Unravelling & Setting The Foundations, with Stephanie Demetrious  
Drawing a line in the sand & beginning with: 
Exploring where you are at and why/how you have created your current life circumstances (whether you meant to or not!)

Learning why it can be so difficult to change ("time to say au revoir, self-sabotage!")

Discover how your limiting self-talk and beliefs are holding you back

Identify the values, habits, routines and rituals you must implement to create the life you love

Dive into your heart-based intuitive desires, aspirations and goals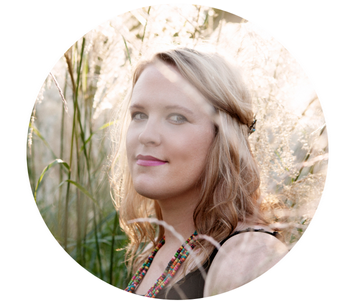 SESSION TWO: Meeting Your Unique & Luminous Self Through Meditation, with Sara Brooke  
A transformative and powerful session, exploring:   
Mastering self healing & self love rituals through the practice of mediation & reiki 

Understand how the past affects the present (so you can change your future) 

Find and claim your true self through meditation and discover how to use your body as a gateway to your Soul

The Importance of Feeling your Feelings and using them as part of your inner compass. 

How to energetically increase our vibration and feelings of self worth by claiming your personal power.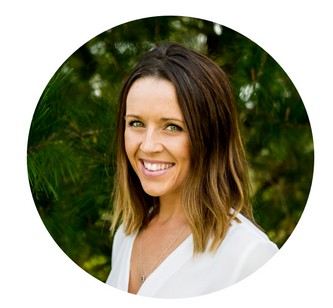 SESSION THREE: Surrendering & Embracing Vulnerability To Allow Love In, with Amelia Williams  
Diving into a powerful session on: 
T

he importance of letting yourself be vulnerable in order to move past different emotions, feelings and situations

Exploring and learning how to listen to your intuitive abilities

Understanding how vulnerability leads to loving & accepting all of who we are

Connecting with the body and mind to create a path of least resistance and intentional flow.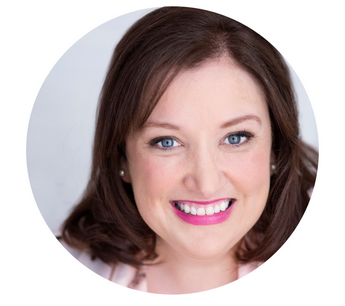 SESSION FOUR: Discovering Your Hearts True Desire & Purpose, with Julie Parker  
This session will explore:  
Truly owning your hearts desire & purpose & why it is your life's work to do so

Why our discovery of purpose is so closely-linked to our self worth

How giving up what others think of you will be your greatest life and hearts liberator

How growing your self-love and self-compassion is the key to you living out your hearts desire

How to learn to befriend and even love what's been stopping you from following your hearts true desires so you can harness their power for positive good

 

WHAT'S INCLUDED IN THE SELF LOVE SERIES WORKSHOP?
Pre-course preparation

One-day workshop held at the beautiful Royal South Yarra Lawn Tennis Club

Access to the exclusive and magical Self Love Markets, where you can explore a variety of products to help you feel great — inside and out

Music, morning and afternoon tea

Connection and education with many of Australia's leading coaches, therapists and authors in the personal development industry

Helpful links, resources, book recommendations and educational tools from our wonderful speakers

Peer group connection and networking with other like-minded souls

A safe and supportive environment to explore, divulge, embrace, nurture and grow – if you choose

Access to our private Self Love Series Facebook Group to you connect, chat, share and ask questions with the SLS community and DG team

TICKET PRICES & INCLUSIONS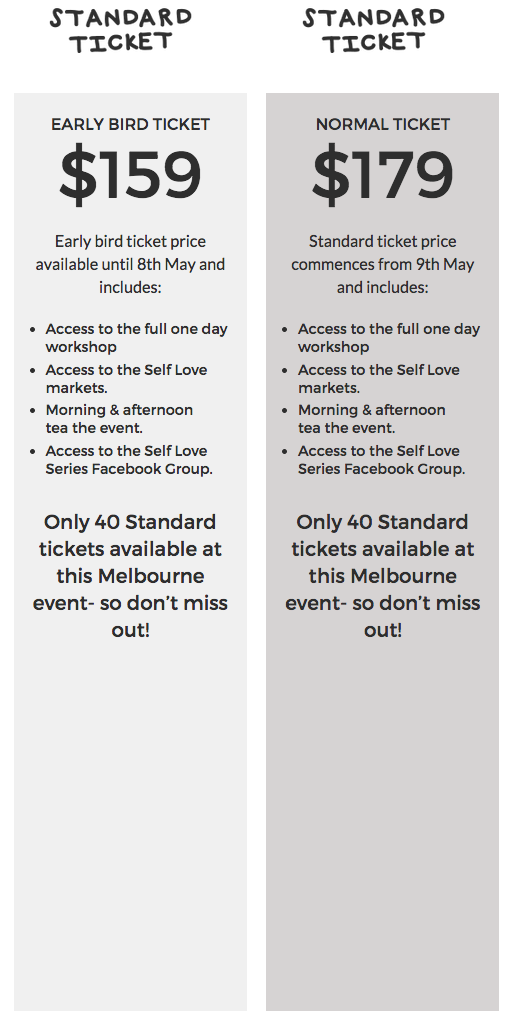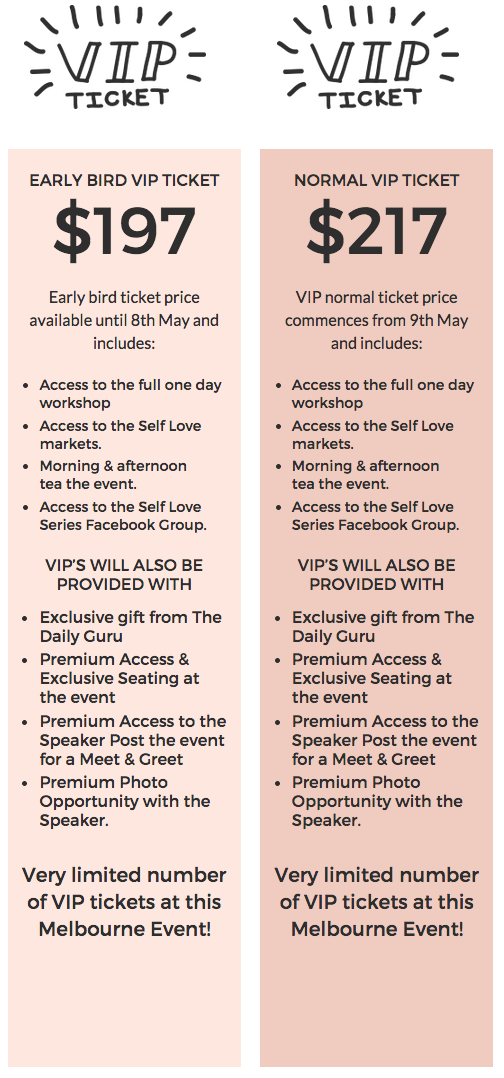 We believe in creating beautiful & unique experiences for our community, as well as creating a platform for our Gurus to shine. We look forward to sharing this journey with you all
THE DAILY GURU TEAM 
When & Where

Royal South Yarra Lawn Tennis Club
310 Williams Road North
Toorak, VIC 3142
Australia

Saturday, 30 May 2015 from 9:00 am to 4:00 pm (AEST)
Add to my calendar
Organiser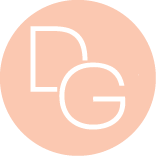 The Daily Guru is the online publication for the personal development and wellbeing industry. We discuss, research and explore subjects within professional, personal, emotional & spiritual development
Our publication provides educated and practical information, as well as useful tips, differing view points, inspirational stories and easy to follow advice for aspiring women
Ultimately The Daily Guru encourages women to educate themselves into making better decisions and provides the tools to allow them to create the life they want.
This publication brings the Gurus of the industry to our community, offering their expert advise and insights.
The Daily Guru also creates live Events and Courses which are based on highly engaged content though our online publication. These events are hosted by The Daily Guru and showcase experts from the industry.