Self Love Seminars Presents: You Were Not Born To Suffer - A One Day Life Changing Workshop with Author, Teacher and Healer Blake D. Bauer

Sunday, 25 August 2013 from 10:00 am to 5:00 pm
Event Details
Welcome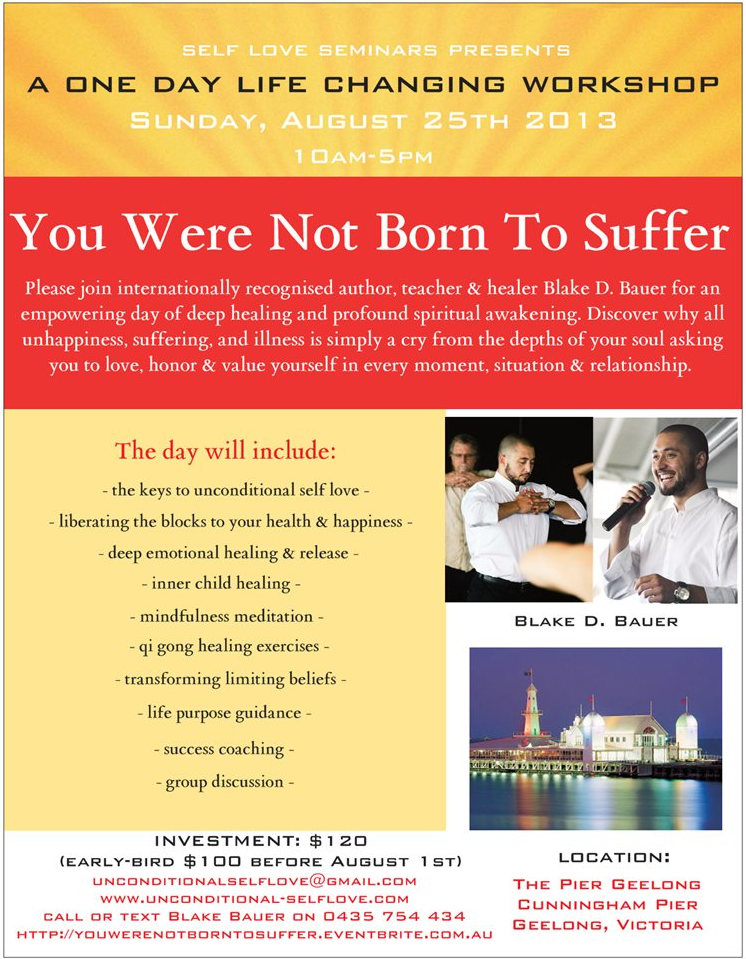 Client & Past Event Testimonials
 If you have any questions or need additional info, please visit:
www.unconditional-selflove.com
or, contact Blake Bauer on:
+61 0435 754 434
unconditionalselflove@gmail.com
For Bank Transfers, please use the following details. Thank you very much in advance.
Bank of Queensland
Account Name: Self Love Seminars
Account BSB: 123625
Account Number: 21981314
For clarity, please use your FIRST & LAST NAMES and the word SEMINAR as references for your payment.
Thank you, again, in advance.
Please check out Blake D. Bauer's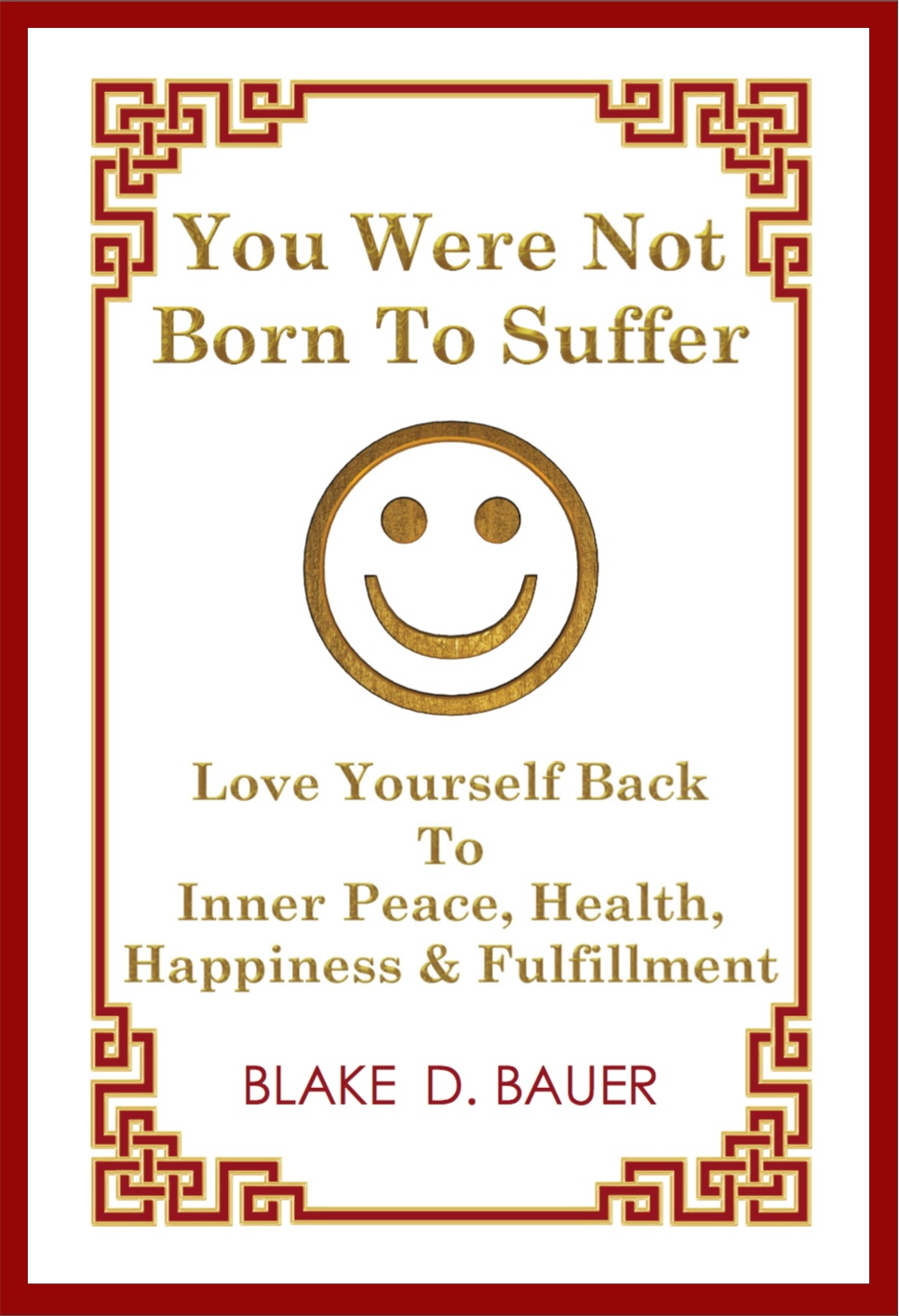 Discover why all suffering, illness, and unhappiness are simply cries from the depths of your soul asking you to love, honor, and value yourself in every moment, situation, and relationship. 

Born out of Blake D. Bauer's personal healing and spiritual journey, as well as his professional counseling, coaching, and healing success with over two thousand people internationally to date (2012), You Were Not Born to Suffer offers a unique combination of deep insight and practical guidance that will empower you to transform your suffering in the present and move forward immediately in creating what you want and need most in your life right now. Written in heart-centered, easy-to-read language, You Were Not Born to Suffer will guide you through the most challenging obstacles and lessons you'll face in your quest for healing, purpose, success, and overall freedom. Above all else, this book will enable you to relate to yourself with unconditional love, kindness, and compassion, which will help you transform the core psychological, emotional, and physical blocks currently sabotaging your health, happiness, and overall well-being. 

You Were Not Born to Suffer offers a refreshing integration of ancient and timeless wisdom, synthesized from various spiritual and medical traditions, that goes straight to the heart of our deepest wounds, needs, desires, and dreams. Once there, it inspires unconditional love, respect, acceptance, and forgiveness in the places that are universally the most difficult for us to embrace. At the same time, it also clarifies how to effectively direct your thoughts, words, and actions toward creating and achieving the "best" in every aspect of your personal and professional life. If you are indeed serious about improving the quality of your health, your relationships, your finances, and your career right now, then this book will support you to take your life, your power, and your destiny back into your own hands, so you can do just that.
Have questions about Self Love Seminars Presents: You Were Not Born To Suffer - A One Day Life Changing Workshop with Author, Teacher and Healer Blake D. Bauer?
Contact Blake Bauer Teachings
When & Where

The Pier Geelong
Cunningham Pier
Geelong, Victoria 3220
Australia

Sunday, 25 August 2013 from 10:00 am to 5:00 pm
Add to my calendar
Organiser
Blake D. Bauer is an international bestselling author, counsellor, and alternative medicine practitioner. He is considered my many to be a modern mindfulness, meditation and Qi Gong master. Blake's work has helped thousands of people to improve the quality of their life, health and relationships - many of whom could not find lasting solutions from conventional medicine, psychiatry or religion.
Based on his training with spiritual teachers, healers, and masters from all over the world, Blake practices and teaches various forms of meditation, qi gong, qi gong energy medicine, and dao yin (a health and longevity yoga). Blake's formal education also includes traditional Chinese medicine, five-element Chinese medicine, nutritional medicine, herbal healing, psychology, past life regression therapy-hypnosis, and various other forms of traditional healing and alternative medicine.
Bringing together the most effective spiritual practices and holistic approaches to health and wellbeing, Blake's work and teachings have successfully guided thousands of people internationally toward greater happiness and freedom.