Event Information
Refund policy
Refunds up to 7 days before event
Eventbrite's fee is nonrefundable.
Live Interactive Webinar presenting many easy tools to reduce stress in the workplace based on mindfulness and self-compassion.
About this event
Online Self-Compassion for Health Care Professionals (6-week)
Increasingly we are aware that Health Care Professionals in the workplace, are vulnerable to stress burnout and empathy-compassion fatigue due to an emotionally demanding environment. Self-compassion for Health Professionals is a new course that aims to teach powerful practices to promote resilience, to reduce stress and burnout in the workplace.
Health professionals focus on others who need help to deal with mental or physical illness, who work in challenging circumstances, working long hours and are often under-resourced. They do not necessarily have the time or ability to process the difficult emotions that arise in response to caring for people who are suffering, who may be traumatised or in pain, and where, in addition, there may be a need to navigate complex organisations. Developing self-compassion means that we protect and support ourselves: we acquire an attitude of goodwill so we can skilfully attend to our self, when times are tough, to function and carry on in a competent, effective manner while being compassionate.
Self-Compassion for Health Professionals integrates concepts and practices from Mindful Self-Compassion (Kristin Neff and Chris Germer) as well as Compassion-Focused Therapy/Compassion Mind Training (Paul Gilbert). It is designed for busy people, who may have time constraints, and yet wants to learn ways to build their emotional resources. Self-Compassion shows us how to respond to difficult moments with kindness, understanding as well as resilience. The practices included in this course are simple, quick and easy, that you can use anywhere, anytime, when you need them. We present additional tools to promote mindfulness and to strengthen engagement in the workplace.
This program is suitable for health professionals who wish to begin to use self-compassion in their work as well as others who have previously attended a mindfulness or self-compassion programs who wish to refresh or deepen their practice as well as learn additional quick simple tools to use in the moment to ease stress and promote resilience.
In this live interactive webinar you will be presented with evidence-based strategies to manage stress, anxiety,  burnout as well as powerful micro self-care practices, to refresh and revitalise your professional work. The Self-Compassion for health worker program is based on empirically validated approaches (Krista Gregory, 2019). Numerous research have shown that this training in self-compassion can lead to a reduction in stress, depression, secondary traumatic stress and burnout, as well as an increase in compassion, mindfulness, and job satisfaction in healthcare workers (K. Neff to be published).
Targeting Health and Helping Professionals: This Self-Compassion training program is targeted at professionals who focus on providing a service to others and would like to feel more calm, vibrant and compassionate from the inside out.  As professionals, we know the power of compassion.  We use it every day when we care for others. It contains what we all yearn for… feelings of acceptance, comfort, kindness and love. But what would happen if we turn this power onto ourselves?
Training objectives
After participating in this workshop, you'll be able to:       
  Practice mindfulness and self-compassion in daily life     
Become more aware and able to attend skilfully to your needs and the needs of others     
Act on core values and intention     
Motivate yourself and others with encouragement rather than harsh self-criticism     
Handle difficult emotions with resilience
Cultivate a Compassionate Voice/Self     
Manage stress and burnout     
Teach simple self-compassion practices
Program content
Session 1: What is self-compassion and three exercises
Session 2: Practicing self-compassion and mindfulness with four  informal practices
Session 3: Discovering your compassionate voice/self and motivating yourself with compassion
Session 4: Self-compassion and resilience with three strategies for meeting difficult emotions
Session 5: Self-compassion and burnout with an informal practice on compassion with equanimity
Session 6: Making it count: exploring core values and setting an intention with two informal practices 
Continued Professional Development(CPD) A Continuing Professional Development (CPD) certificate providing 10 hours will be given to everyone.
Who is it for The course is targeting health professionals (psychologists, social workers, nurses, medical practitioners, occupational therapists, physiotherapists, counsellors). However, other helping professionals would also find it very helpful, who are working in the educational, legal, welfare, emergency, wellness, business, defence or environmental sectors such as school teachers, lawyers, mindfulness/yoga teachers, coaches, managers, students and so on.
This course is promoted on the Australian Psychological Society (APS) and the Australian Association of Social Workers (AASW) on their calendar of events.
For more information please email marie@bloomfieldpsychology.com.au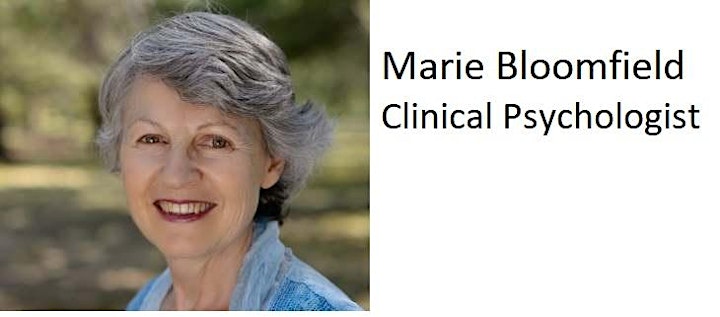 Date and time
Location
Refund policy
Refunds up to 7 days before event
Eventbrite's fee is nonrefundable.