SELF CARE & ART THERAPY for PROFESSIONALS - New Year Vision Workshop
Sales Have Ended
Ticket sales have ended
Thank you for your ticket order and we look forward to seeing you at the event Kerryn Knight - Kindred Art Space
Sales Have Ended
Ticket sales have ended
Thank you for your ticket order and we look forward to seeing you at the event Kerryn Knight - Kindred Art Space
Description
This workshop is one in a series of SELF CARE for PROFESSIONALS Creative Experiential Workshops.
This special 'New Year Vision' four hour workshop will provide you with essential self-care and a chance to focus on a 2020 vision for you and your practice.
Kerryn Knight is a Transpersonal Art Therapist, Counsellor, Supervisor, founder of Kindred Art Space and seasoned presenter.
With this experience Kerryn leads you on a journey of Self-Care and Professional Development. She provides you with take-away items that you can use with your clients.
Set in a unique, creative and nurturing venue - Kindred Art Space, you an invited to walk the mosaic Labyrinth in the Meditation and Healing Garden to further ground the insight gained from the workshop.
ALL MATERIALS SUPPLIED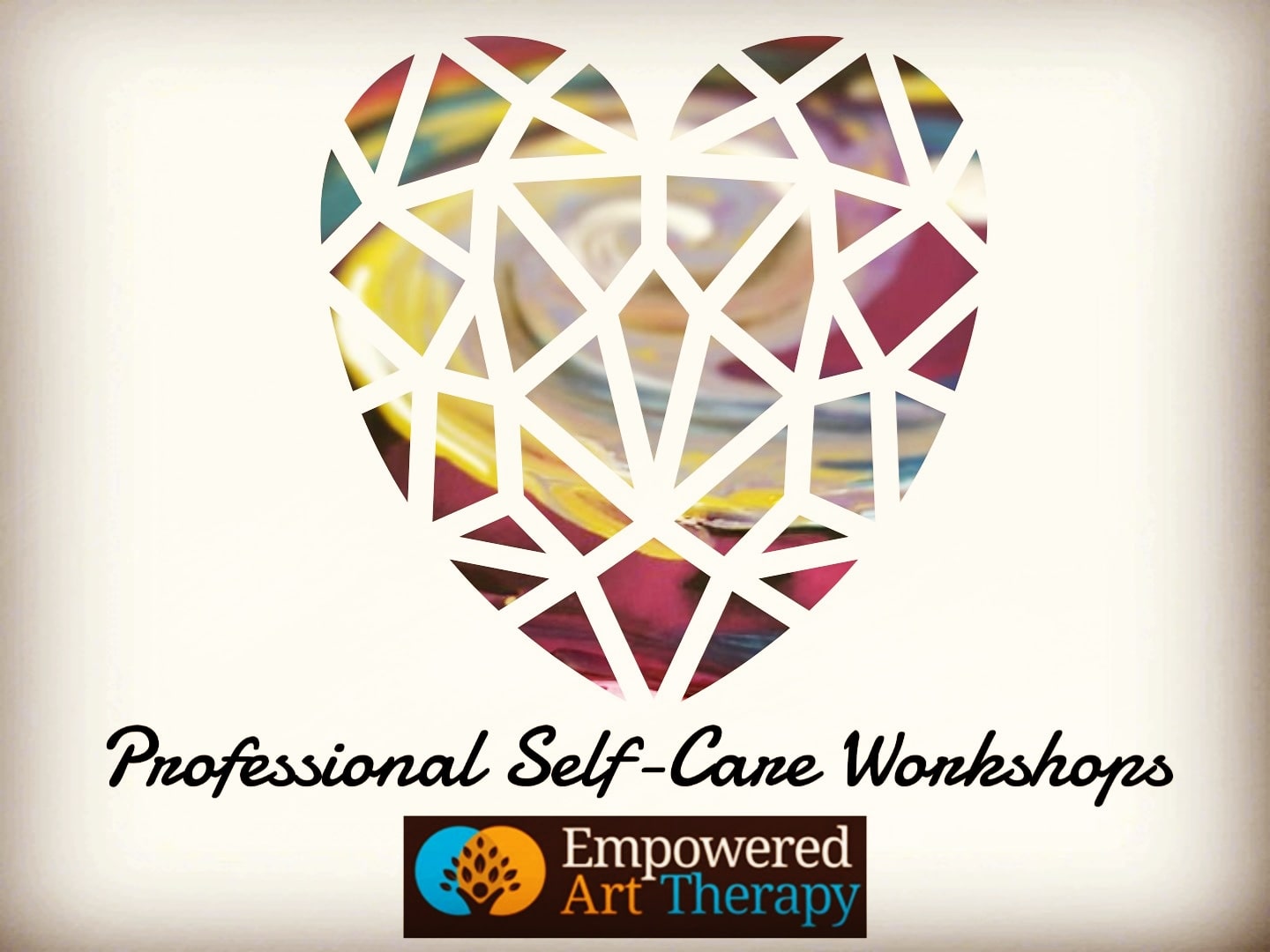 ---
Who Should Attend? These workshops are open for those who are seeking self-care, personal and professional development. If you are a student or professional Art Therapist, Counsellor, Social Worker, Teacher, Psychologist or Mental Health Worker these SELF CARE & ART THERAPY for PROFESSIONALS workshops are perfect to provide you with essential self-care, learn techniques to use with your clients and network with other professionals in a small group setting.
Strictly Limited to 12



Recognised by the Australian Counselling Association (ACA), when attending this workshop you receive 5 Professional Development points towards your annual OPD requirements.
#arttherapy #selfcare #therapeuticarts #guidedimagery #meditation #personaldevelopment #professionaldevelopment #sandplay #sandplaytherapy #personalsymbols #personalarchetypes
---
MORE ABOUT THIS WORKSHOP:
SELF CARE & ART THERAPY Workshop - 'New Year Vision'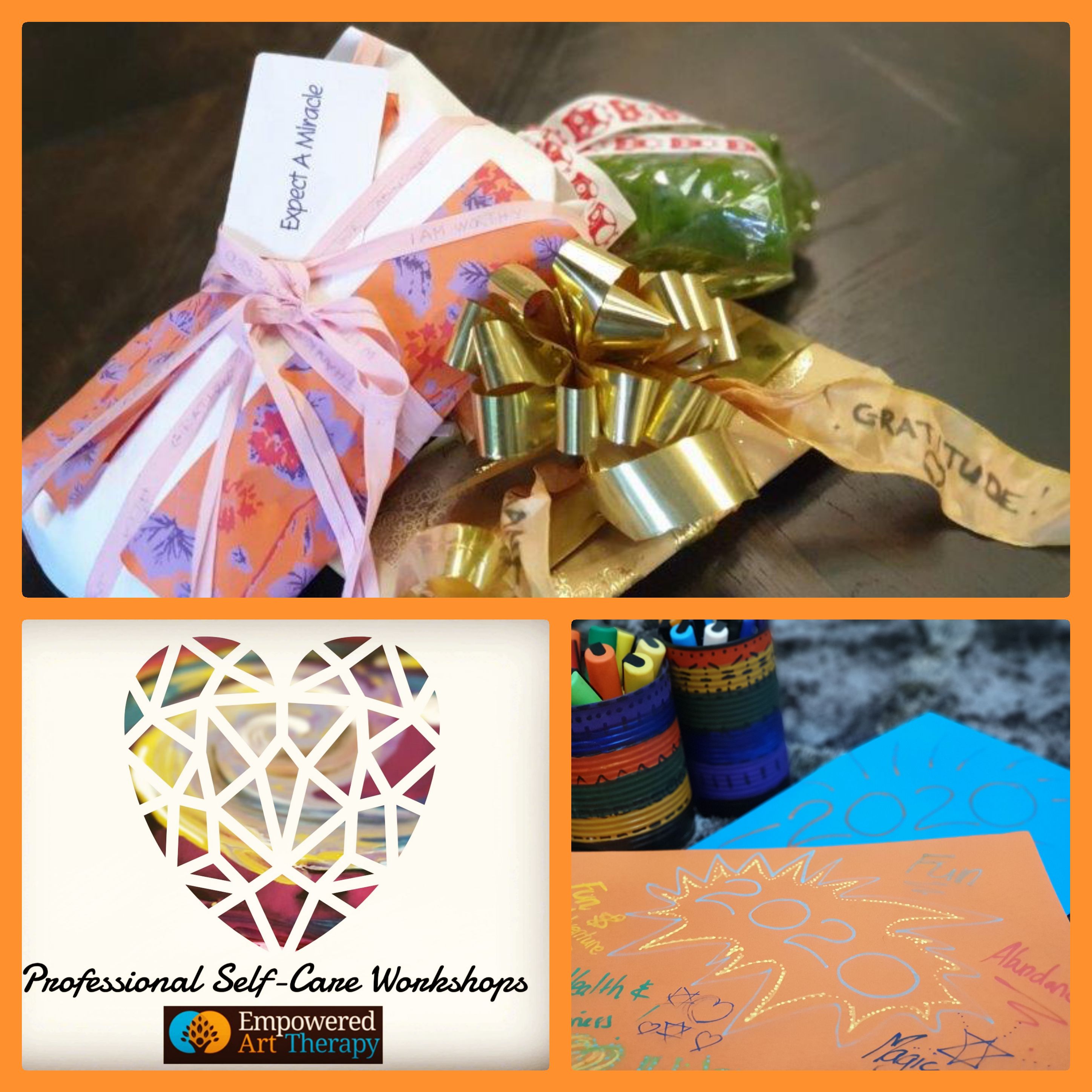 What's your vision for 2020 ?
Facilitated by Transpersonal Art Therapist, Kerry Knight, this 4 hour workshop allows you to meditate on and then create a parcel that symbolically represents your dreams and desires for 2020. Traditionally a South American ceremony, the Despacho literally means "dispatch or shipment".

The Power of Intention
This creative therapeutic workshop allows you to ritually prepare a bundle of meaningful objects of symbolic significance imbued with your prayers. You could perhaps think of it as way to dispatch or ship your prayers off to the 'powers that be'. Like a 3 dimensional version of a Vision Board.

The Despacho workshop is an opportunity to give gratitude for the things you already have, no matter how big or small and then focus on an area of your life or practice where you feel you need support or grace. Its a powerful way to set your intentions with faith that good things will return to you.!
"Ultimately, grace can never be earned. Like all gifts it can only be received, requiring that I simply open my hands and trust." Mark Yaconelli


Using various mediums, this ritual based on a South American 'despacho' process allows you to choose and wrap a series of affirmations for your vision of 2020. This process can be done on behalf of yourself, your practice or your community.
Beginning with a guided meditation, you are then invited create your despacho parcel. The despacho is then taken by you through the mosaic labyrinth at Kindred Art Space on a symbolic journey to your centre. Once at the centre, your are invited to light a candle for your 2020 vision.
The 'New Year Vision' workshop will provide you with:
Mindfulness techniques for daily self-care
Guided Imagery process for relaxation
Creative expression for goal setting
South American 'Despacho' gratitude ceremony
Learn creative techniques for you to use with clients
Labyrinth walk
Sharing Circle
Take-away items include the art making you create during the workshop
---
More about Mindfulness processes & Guided Imagery:
Kerryn leads you on a journey through Meditation to relax the Mind and Body, followed by Creative Expression using the healing arts in various creative processes. Kerryn includes a range of meditation techniques and topics to focus on including building your practice; letting go of old habits or simply just to connect with yourself and gain insight for personal and professional development.
More about the Labyrinth & Sharing Circle:
A Labyrinth, or symbolic spiral has been created as a mosaic in the Meditation & Healing Garden at Kindred Art Space for you to walk along carrying your creative processes you have made during the workshop. Labyrinth's are designed for spiritual healing and also to set your intention at a deep symbolic level. It helps ground the wisdom you have gained by the therapeutic processes of the workshop and bring this into your daily life and into your practice.
Mosaic Spiral Labyrinth at Kindred Art Space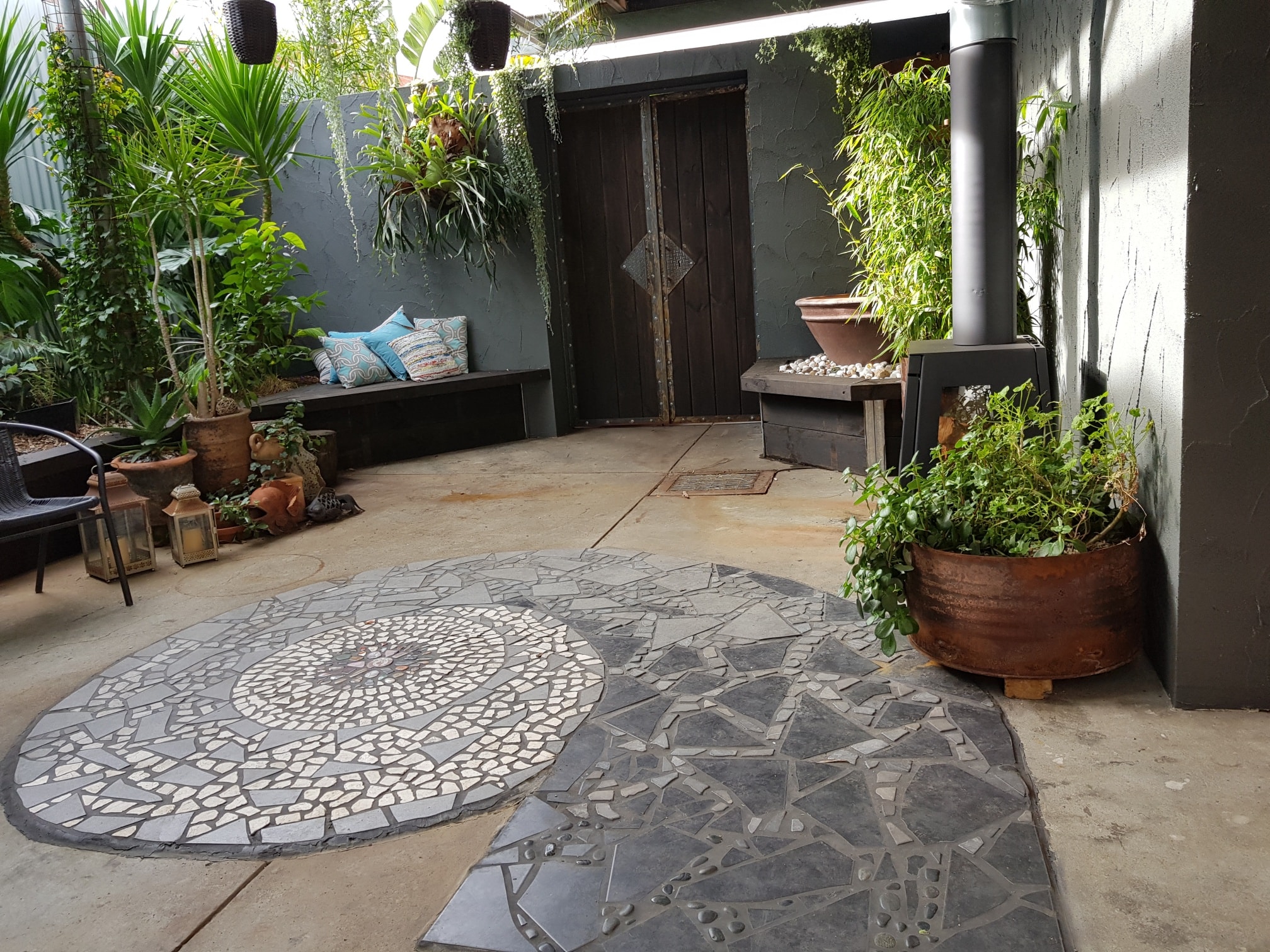 The Workshop Space at Kindred Art Space: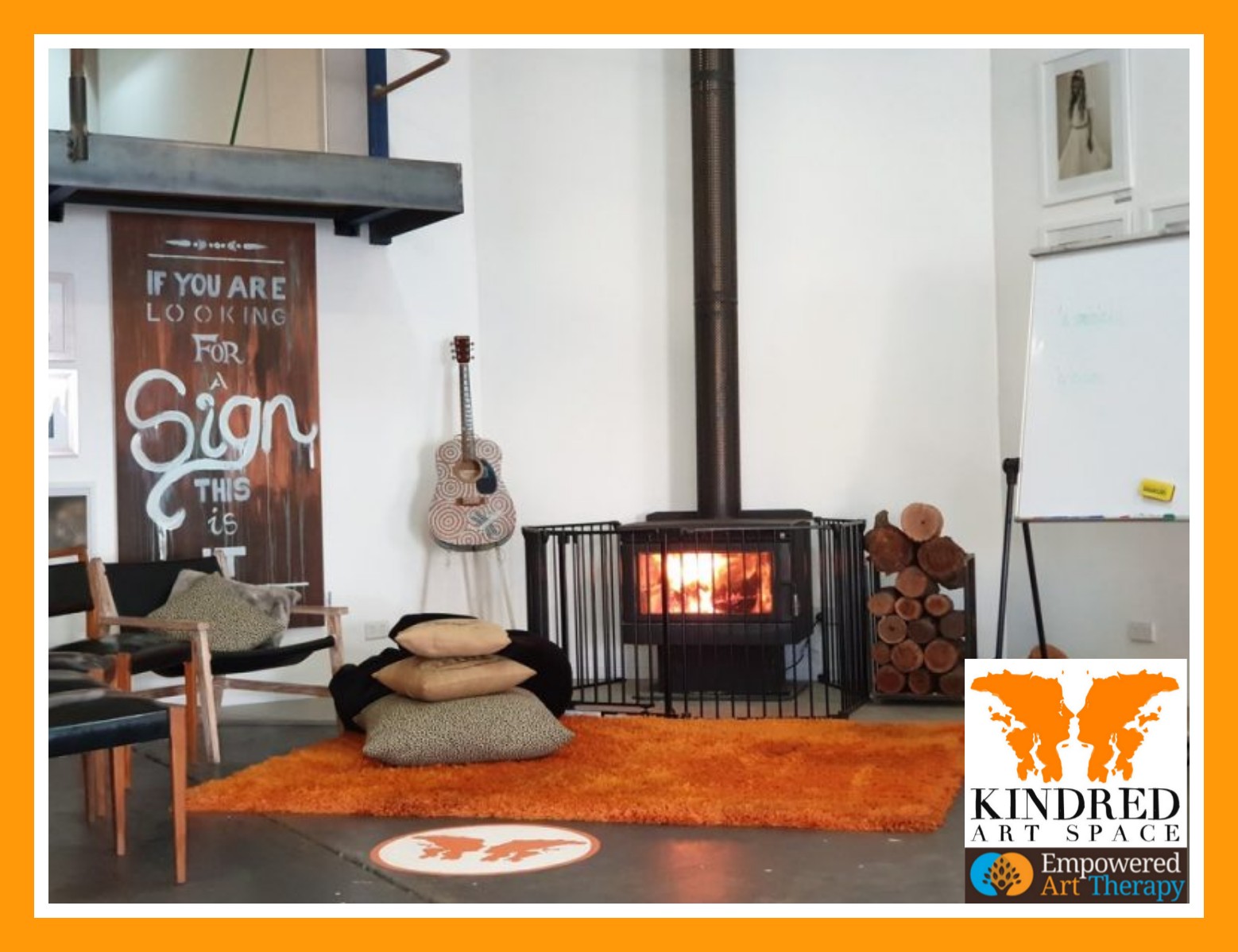 Benefits of Meditation & Art Therapy:
release melatonin and seratonin into the body- the body's natural calming and happiness hormones

assist in the body's natural rejuvenation process

better control attention, manage emotions and assist with mindful decisions

release mental and emotional blockages

help bring balance and clarity to your day.
Small Friendly Groups
ALL MATERIALS & TAKE AWAY ITEMS INCLUDED
---
More about your facilitator:
Kerryn Knight is a registered supervisor and member of the ACA College of Supervisors, a registered Level 2 Counsellor with the Australian Counselling Association (ACA), Sand Play Therapy Master Practitioner and Transpersonal Art Therapist.
Kerryn's formal qualifications include Diploma of Transpersonal Art Therapy, Adv. Diploma of Business (Accounting), Certificate of Supervision; Certificate IV Workplace Training and Assessment and she is currently studying Masters of Arts in Therapeutic Practice.
Before commencing her Counselling & Art Therapy private practice in 2008, Kerryn became an accidental counsellor in her retail jewellery business some 20 years prior where her passion for the therapeutic relationship began. She has also held management positions in the marketing industry and project management and staff training in the not-for-profit sector. In 2016 Kerryn founded Kindred Art Space. This nurturing, welcoming creative warehouse conversion is a gallery and workshop space encircled by beautifully furnished consulting rooms, complete with a unique meditation garden and atrium rooftop garden. Kerryn's busy schedule of seeing clients and attending to the Practice Management of her centre has led her to create a series of self-care processes essential for her to run her successful practice.
Kerryn's unique background enables her to provide you with an introduction to art therapy techniques for your professional development; techniques to use for your self-care and techniques to use with your clients of all ages. For more details about Kerryn Knight, her SELF CARE for PROFESSIONALS Art Therapy Workshop services and Kindred Art Space visit: https://www.empoweredart.com.au/workshops/
---
FAQs
What are my transport/parking options for getting to and from the event?
Free Parking on site and street parking
What can I bring into the event?
All materials supplied along with Morning Tea, Hot chocoloate, Coffee or Tea. You may wish to wear something comfortable and a journal to record any notes.
How can I contact the organiser with any questions?
You can contact Kerryn on 0450 253 990 or email info@kindredartspace.com.au
What's the refund policy?
Full refunds provided up to 1 week prior to event or in the unlikey event that it is cancelled due to unforeseen circumstances.