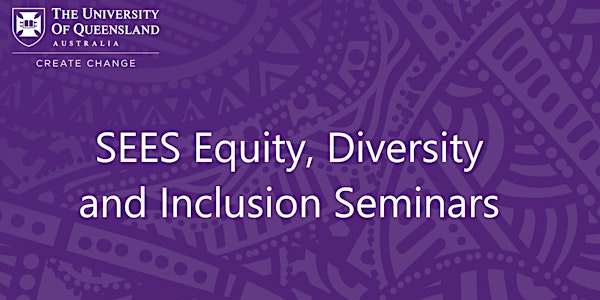 SEES EDI Seminar - "Women at Work: Barriers and Challenges"
Location
Collaborative Room, Steele Building, Level 3 (03-329)
Staff Road
Saint Lucia, QLD 4067
Australia
This is the first in a series of SEES Equity, Diversity and inclusion Seminars with the first topic being 'Women at Work".
About this event
This seminar will explore current barriers and challenges for women at work - nationally, internationally and closer to home at UQ. It will also discuss and explore initiatives being implemented to mitigate the barriers and challenges faced by women at work.
Nicole Barton is a member of the UQ Workplace Diversity and Inclusion team and the Secretariat for the UQ Gender Steering Committee. Nicole is the lead for the SAGE Athena SWAN program at UQ and is responsible for the development and implementation of strategies and programs to improve the representation of women (and men) in under-represented areas within the University of Queensland.
Note: Please when attending keep physical distance in mind.