Sales Have Ended
Registrations are closed
Thank you for registering. You will receive details closer to the event. Should you have any questions please contact us at dem.events@sa.gov.au
Sales Have Ended
Registrations are closed
Thank you for registering. You will receive details closer to the event. Should you have any questions please contact us at dem.events@sa.gov.au
A one-day workshop to discuss sedimentary-hosted copper systems in South Australia with a focus on the Stuart Shelf
About this event
Wednesday 24th November 2021: Workshop
See program below.
Tuesday 23rd November 2021: Core viewing session
Register separately for this session here.
Venue
South Australia Drill Core Reference Library or Online
Workshop
The Geological Survey of South Australia (GSSA) and CSIRO are hosting a one-day workshop to discuss sedimentary-hosted copper systems in South Australia with a focus on the Stuart Shelf.
Sedimentary-hosted copper deposits are the second most important source of copper in the world. The Neoproterozoic sedimentary succession of the Adelaide Rift Complex and Stuart Shelf has long been considered as having considerable potential for sedimentary-hosted copper resources, and has in recent times seen many exploration companies pursuing sediment-hosted copper mineralisation in South Australia.
In this workshop, we will review the state of current knowledge on sedimentary copper mineral systems and discuss new insights from recent investigations on the Stuart Shelf by GSSA, CSIRO, industry, researchers and Geoscience Australia.
Presentations will include:
• Review of sedimentary copper mineral systems in SA and global context
• Stratigraphy and lithofacies of the Stuart Shelf
• Basin analysis: providing a framework for discovery
• Potential source rocks in the Stuart Shelf
• Various presentations by companies on their current projects exploring the Stuart Shelf and adjacent areas.
A core display will accompany the workshop. This is a chance to examine an N-S transect across the main basin and basement units of the Stuart Shelf.
General Information
Attire
Participants need to wear closed-toed shoes.
Catering
Morning and afternoon teas and a light lunch will be provided. Please indicate any dietary requirements during registration.
Venue and parking
The workshop will take place at the South Australia Drill Core Reference Library, which is located at 5 Tonsley Boulevard, Clovelly Park. You can find a map of the Tonsley Innovation District here.
Core viewing session
An additional core viewing option will be available a day prior to the workshop on Tuesday 23 November 2021 from 10 am-2 pm (ACDT). You must register separately for this event here.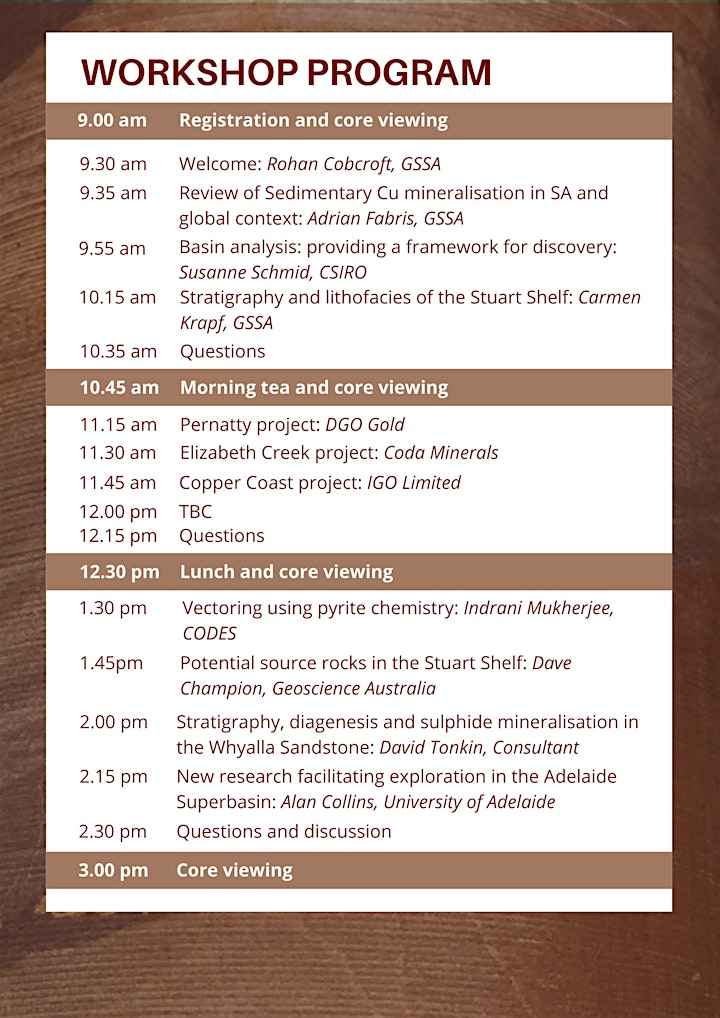 Organiser of Sedimentary Copper mineral systems in the Stuart Shelf workshop