Description
The last decade has been a period of rapid change for the utilities industry. Metering technology is becoming mainstream, renewable energy is shaking up the energy sector, and customers are demanding more control and insight over their utility usage.
We now operate networks that are enlightened, giving utilities access to the kind of data that allows them to manage their networks with greater precision than ever before. But with the great privilege that comes with access to all of this information, there also comes great responsibility.
Collecting billions of data points every year gives rise to many critical questions:
How can we protect our digital assets?
How do we keep this data safe?
Where is our data going?
How do we ensure this data stays in the right hands?
Whose data is it anyway?
How do we ensure that this data is only used to benefit utilities and their customers?
Where is the vulnerability in our networks?
These are the questions utilities around the world are currently grappling with.
These are the questions we'll be answering at Secure Utilities.
At Secure Utilities you'll hear from speakers from the following organisations
Oceania Cyber Security Centre

PwC Australia

South East Water

ANZ Bank

United Energy

The eVestigator

Enex Carbon

WSAA
Five reasons why you need to attend Secure Utilities:
Hear first hand case studies from industry academics, experts and C-level employees about how they keep the data deluge secure

Watch industry leaders debate the key issues surrounding utility security

Develop strategies to ensure your utility is a leader in managing data to your best advantage

Stay up to date with the latest technology available to your utility in your data security journey

Network with clients, colleagues and customers
At Secure Utilities, you'll learn about the latest developments that will help keep your data - and your utility - protected in an intimate, classroom style room, which creates the perfect environment for in depth learning.
Event Schedule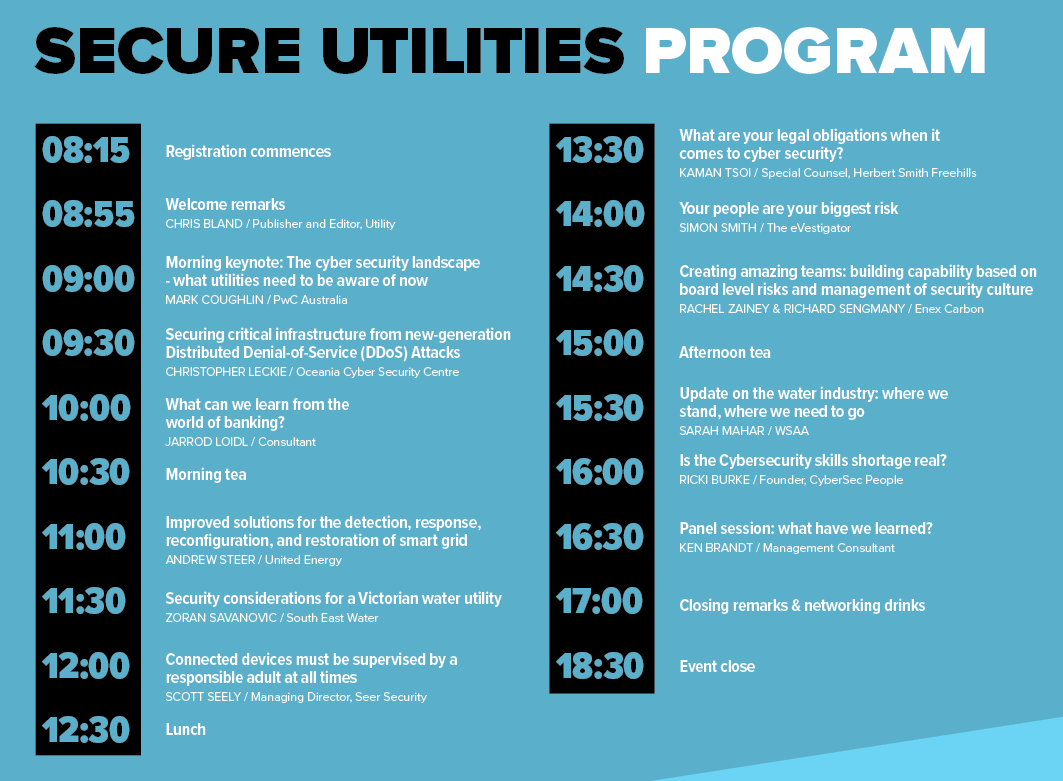 Tickets on sale now
Buy 5, pay for 3!
Our focus in organising Secure Utilities is on ensuring the industry can benefit from this intensive learning experience. We believe that learning happens better in teams - when there's more of your colleagues in the room, there's more of you to bounce ideas around with post event.
That's why we're offering a massive group discount, allowing utilities to send five employees to Secure Utilities for the price of three.
Every attendee will take away different learnings from this event - having a group of employees attend Secure Utilities ensures you will gain maximum value from your investment.
Have more than five attendees?
Contact Monkey Media on 03 9988 4950 to discuss the best group booking option for you.
SCOTT CEELY

SEER SECURITY

MANAGING DIRECTOR

MARK COUGHLIN

PWC AUSTRALIA

ENERGY UTILITIES AND MINING LEADER

KAMAN TSOI

CHRIS LECKIE

THE UNIVERSITY OF MELBOURNE

PROFESSOR, COMPUTING AND INFORMATION SYSTEMS

JARROD LOIDL

ANZ BANK

DOMAIN LEAD, SECURITY ENABLEMENT PROGRAM

SARAH MAHAR

WSAA

ASSET MANAGEMENT PROGRAM COORDINATOR

ZORAN SAVANOVIC

SOUTH EAST WATER

BUSINESS TECHNOLOGY SERVICES OPERATIONS MANAGER

RICHARD SENGMANY

ENEX CARBON

PRINCIPAL CONSULTANT - GOVERNANCE RISK AND COMPLIANCE

SIMON SMITH

The EVESTIGATOR

CHIEF EXECUTIVE OFFICER

ANDREW STEER

UNITED ENERGY

NCC SUPPORT MANAGER

RACHEL ZAINEY

ENEX CARBON

PRINCIPAL CONSULTANT - GOVERNANCE RISK AND COMPLIANCE

KEN BRANDT




MANAGEMENT CONSULTANT
KEN BRANDT




MANAGEMENT CONSULTANT

SCOTT CEELY

SEER SECURITY

MANAGING DIRECTOR

MARK COUGHLIN

PWC AUSTRALIA

ENERGY UTILITIES AND MINING LEADER

RACHAEL FALK

AUDA

DIRECTOR TECHNOLOGY, SECURITY & STRATEGY

CHRIS LECKIE

THE UNIVERSITY OF MELBOURNE

PROFESSOR, COMPUTING AND INFORMATION SYSTEMS

JARROD LOIDL

ANZ BANK

DOMAIN LEAD, SECURITY ENABLEMENT PROGRAM

SARAH MAHAR

WSAA

ASSET MANAGEMENT PROGRAM COORDINATOR

ZORAN SAVANOVIC

SOUTH EAST WATER

BUSINESS TECHNOLOGY SERVICES OPERATIONS MANAGER

RICHARD SENGMANY

ENEX CARBON

PRINCIPAL CONSULTANT - GOVERNANCE RISK AND COMPLIANCE

SIMON SMITH

The EVESTIGATOR

CHIEF EXECUTIVE OFFICER

ANDREW STEER

UNITED ENERGY

NCC SUPPORT MANAGER

RACHEL ZAINEY

ENEX CARBON

PRINCIPAL CONSULTANT - GOVERNANCE RISK AND COMPLIANCE