SECRET KEYS TO INTUITIVE COMMUNICATION AND AWARENESS – WITH MICHELE HANSEN
Description
ICG VIC COACH AND CONNECT: SEPTEMBER 18TH 2018
SECRET KEYS TO INTUITIVE COMMUNICATION AND AWARENESS - WITH MICHELE HANSEN
We have an incredible speaker for you in Sensational September. Michele Hansen, Australia's top intuitive expert will be sharing her passion and purpose, by exploring with us how to enhance our ability to connect on a whole new level, through intuitive communication and awareness.
Introducing Michele Hansen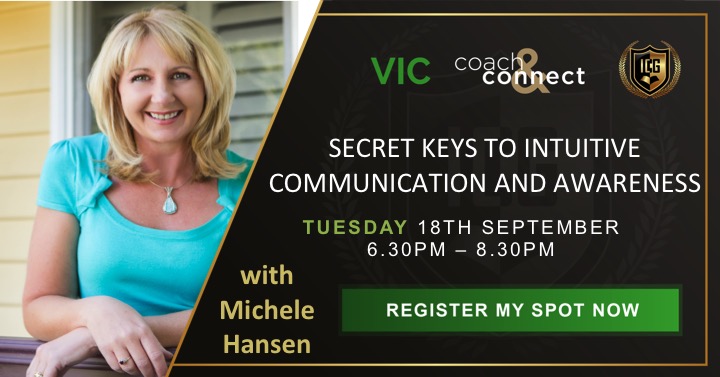 Michele Hansen is the founder of Intuitive Communication Australia and has over 20 years' Clinical experience as a Holistic Medicine Practitioner, Speaker and Presenter. Her expertise in Intuitive Communication stems from experience as a Naturopath, Kinesiologist, Medical Intuition Practitioner, Pilates, and Facilitator of many modalities, as well as presenting throughout Australia.
By combining multi modalities of holistic practices and medical intuition, Michele has helped thousands of clients safely and effectively restore their mental, emotional, physical and spiritual health and recuperate from dis-ease.
Intuitive Communication is a safe and effective therapy for adults, teenagers and children alike, and will assist with transformation. It is truly a personal discovery enhancing clarity, self-realisation, connection back to heart, which enhances growth to a whole other dimension.
Michele hosts regular events and workshops throughout Australia and you can connect with her at Sanctuary of the Heart, Melbourne, https://www.sanctuaryoftheheart.com.au/
_______________________________________________________________
As Australia's top Intuitive expert Michele Hansen will reveal incredible keys drawn from 20 years as a Professional Holistic Medicine Practitioner and Speaker. Her extensive clinical experience as a Naturopath, Kinesiology, Medical Intuitive, Educator/Facilitator, as well as presenting Intuitive Communication Nationally.
Michele will be sharing with us:
ü Brain Integration and how to switch it on
ü Learn Innate Face Traits and Hand Traits, used in other cultures
ü The little-known secret to increasing your leads, sales & conversions using INTUITION.
ü How to attract more customers effortlessly and gain credibility with Awareness.
ü How to enhance your confidence & pride in yourself, your clients and your team.
Who is excited to be in the room? I know I am.
Register NOW
When: Tuesday 21st AUGUST 2018
Time: Registration 6.30pm for a 7pm start
Where: TCI HQ, 40/37-39 Albert Road, Melbourne VIC 3004

---
To make sure you never miss an upcoming event and check out everything ICG head over and join in the conversation by CLICKING RIGHT HERE

And remember, all ICG Coach and Connect events are open to you sharing amongst your networks with anyone you believe will gain value from being in the room.

See you there.
Jane Cann
Victorian ICG Coach and Connect Leader