Description
Biomedical research in Australia has a distinguished history with our universities, medical research institutes and hospitals ensuring we enjoy high standards of health and care. Our contribution to health and well-being is recognized internationally: half of Australia's sixteen Nobel Prize recipients received the award for either Physiology or Medicine.
Australia's biomedical research community is the envy of many countries. But we cannot be complacent. Biomedical research in Australia faces a number of challenges. Real funding for research has been falling over time. And a cascade of issues confront the community today. These include, but are not limited to, problems with gender equity, career uncertainty for younger researchers, research translation and reproducibility. Some of our best and brightest see no option but to leave the sector the incentives for those at school to take up the challenge are diminishing, and public trust in the process of translating research into clinical practice is at risk.
A number of the structural and political challenges facing Australian biomedical researchers are local in nature, but many are also shared with our colleagues around the world. Failure to confront these challenges will slow the rate of progress on advances in diagnostics, treatments and therapeutics.
Neglected diseases will probably be starved further of research funding. For millions, the possibility of relief from pain and suffering will recede. As part of National Science Week, the Convergence Science Network is pleased to bring together a distinguished panel for a public conversation about the state of biomedical research in Australia. This is an opportunity to understand the headwinds biomedical research faces and to have a say about how we might respond, to ensure we remain a nation that not only enjoys the benefits of cutting edge health care but contributes to a world where good health is not only the preserve of wealthy nations.
Our Panel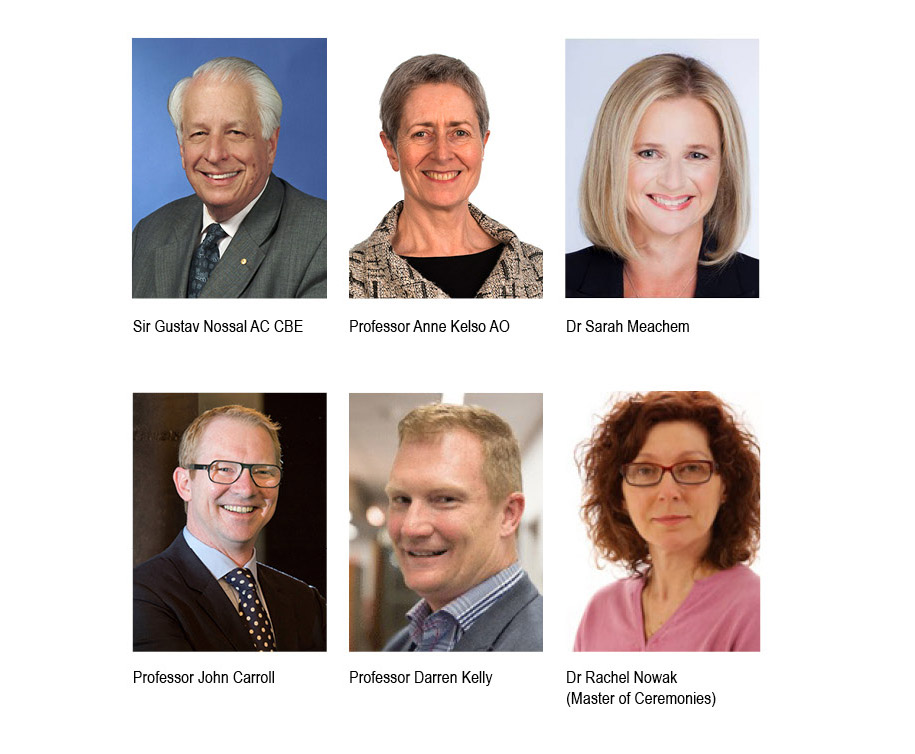 The panel will examine a number of questions including:
What do future funding scenarios for biomedical research mean (including recent changes to the National Health and Medical Research Council's grant program)?
What new approaches do we need to help our young researchers as they attempt to build a viable career in biomedical research?
How will we translate more of our biomedical research into clinical, commercial and economic success?
What does the research community need to do in order continue to win, and hold, the public's trust?
How do we transform public support in to political action?
Joining us on the panel are:
Professor Anne Kelso AO, CEO of the National Health and Medical Research Council (NHMRC);
Sir Gustav Nossal AC CBE, internationally recognised adviser on global health and former Director of the Walter & Eliza Hall Institute (WEHI);
Professor John Carroll, Director of the Monash Biomedicine Discovery Institute.
Professor Darren Kelly, CEO & Managing Director, OccuRx, Associate Dean (Innovation and Commercialisation) Faculty of Medicine, Dentistry and Health Sciences, University of Melbourne, Director Biomedical Research, St Vincent's Hospital.
Dr Sarah Meachem, researcher at the Hudson Institute and former Director of the Australian Society for Medical Research, and
Dr Rachel Nowak, Associate Director, Research, Innovation and Commercialisation, The University of Melbourne (Master of Ceremonies)
Who should attend?
This event will be of interest to:

Academics and researchers, especially early and mid-career researchers in the biomedical and related sciences
Business executives from the biotech, medtech and pharmaceutical industries
Policy makers from the government and non-government sectors
Anyone interested in the future of biomedical research and healthcare.
We are grateful for the support of the Club Melbourne Ambassador Program as the venue sponsor.

More about the panelists:
SIR GUSTAV NOSSAL, AC, CBE, FAA, FRS
University of Melbourne
GUSTAV NOSSAL was born in Bad Ischl, Austria, in 1931, and came to Australia with his family in 1939. He studied Medicine at The University of Sydney and, after two years' residency at Royal Prince Alfred Hospital, moved to Melbourne to work at The Walter and Eliza Hall Institute of Medical Research, where he has spent most of his research career in immunology. He has written seven books and over 530 scientific articles in this and related fields. Nossal has served as President of the Australian Academy of Science, President of the International Union of Immunological Societies, Chairman of the Victorian Health Promotion Foundation, Chairman of the committee overseeing the Global Programme for Vaccines and Immunization of the World Health Organization, Chairman of the Strategic Advisory Council of the Bill and Melinda Gates Foundation's Children's Vaccine Program and Deputy Chairman of the Council for Aboriginal Reconciliation. He was knighted in 1977, made a Companion of the Order of Australia in 1989 and has received numerous honours from 16 countries. In 2000 he was appointed Australian of the Year. He is currently Professor Emeritus, Department of Pathology, The University of Melbourne and a Principal of Foursight Associates Pty Ltd.
Professor Anne Kelso AO
NHMRC
Professor Anne Kelso AO is the Chief Executive Officer of the National Health and Medical Research Council (NHMRC). Before joining NHMRC in April 2015, Professor Kelso spent many years as a biomedical researcher in immunology alongside other roles, most recently as Director of the WHO Collaborating Centre for Reference and Research on Influenza at the Doherty Institute in Melbourne. She is a member of several Government and international committees, including the Australian Medical Research Advisory Board (advising the Minister for Health on the strategy and priorities for the Medical Research Future Fund), the Board of the Global Alliance for Chronic Diseases (chair-elect) and the Human Frontier Science Program Organization.
Professor John Carroll
Monash Biomedical Discovery Institute
Professor John Carroll, Director, Monash Biomedicine Discovery Institute, Professor of Reproductive Biology, Monash University. Professor Carroll's research focus is on the cell biology of the mammalian oocyte with a view to understanding its role in establishing a healthy pregnancy. His current work is directed toward understanding why eggs become less fertile as maternal age increases.
John has spent most of his academic career at University College London (UCL) where he was Head of Department of Physiology before being appointed Associate Dean and Director of the UCL Division of Biosciences.
Professor Carroll joined Monash University in September 2012 where he is Director of the Monash Biomedicine Discovery Institute and Dean of Biomedical and Psychological Sciences. As Director of the Monash BDI, John is a strong advocate for the essential role of fundamental discovery research in the development of the next generation of medicines and therapeutics and in partnering early with industry to ensure the rapid translation and commercialisation of discoveries. John also chairs the Athena SWAN gender equity team at Monash University.
Prof. Darren Kelly,
OccuRx, Australia
Darren is the Company's CEO and Managing Director bringing over 25 years of management and research expertise in the life sciences and biotech sector. Concurrent to his role with OccuRx, Darren is the Associate Dean (Innovation and Commercialisation, MDHS) at The University of Melbourne, and Director Biomedical Research in the Department of Medicine, St Vincent's Hospital Melbourne, where his research expertise lies in progressing pre-clinical novel interventions and developing experimental models of cardiovascular disease. He has published over 200 manuscripts in the field of translational research and novel interventions many of which have had a direct impact on human disease. In 2009, Darren was a recipient of the prestigious TJ Neale award for outstanding contribution to nephrology. In 2015 Darren joined the Medical Research Commercialisation Fund as Venture Partner.

Darren has proven history in translational research. He was previously Founder, CEO and Director of Fibrotech Therapeutics, a company that developed orally active anti-fibrotic inhibitors to treat underlying pathological fibrosis in kidney and heart failure, which was ultimately acquired by Shire Plc for a record 75 million USD upfront including milestone payments up to 600 million USD.

Darren has a PhD in Translational Medicine from the University of Melbourne. He is a current member of the Australian Institute of Company Directors, AusBiotech, BioMelbourne Network and a Fellow of the American Society of Nephrology.
Dr Sarah Meachem
Hudson Institute of Medical Research
Dr Sarah Meachem is an academic researcher and a health and medical research advocate. She completed her PhD at Monash University in 1999 where she studied hormonal control of testis function, at the Hudson Institute of Medical Research and the author of more than 80 publications. She has engaged in numerous leadership and advocacy roles in the broader Health sector in Australia. Sarah is a Director of the Australian Institute of Policy and Science, a Manager for the co-badged PhD International Research Training Program between Germany and Australia (Monash & Giessen Universities) and was a Director and Past President twice of the peak advocacy for health and medical research, The Australian Society for Medical Research, the associate Director of the Children Cancer Institute Australia (NSW), and a Senior Leader at the National Health and Medical Research Council Australia (ACT). She was the fortunate recipient of the Victorian Tall Poppy Awards for research and communication excellence (2007) and ambassador of the program (Australian Institute of Policy and Science) and was awarded the Australian Leadership award for her vision for the nation's health sector in 2011. She has 5 years formal communication training in 'leadership, power and performance' and is dedicated to building a fully integrated health care system and a sustainable career structure for the health and medical research workforce.
Dr Rachel Nowak
University of Melbourne
Dr Nowak is recently appointed as Associate Director, Strategic Communications in the Research, Innovation and Commercialisation portfolio at the University of Melbourne.
Previously, Rachel was founder-director of The Brain Dialogue, a prototype engagement program fostering two-way dialogue between the public and researchers about brain research and where it should take us. The Brain Dialogue is an initiative of the Australian Research Council Centre of Excellence for Integrative Brain Function,
Rachel was also principle at Rachel Nowak and Associates, a consultancy that developed new and existing enterprises to share scientific knowledge for innovation, Responsible Research and Innovation (RRI), improving public health and enriching lives, and to link industry and academia. She has a PhD and two post-docs in circadian physiology, and an MA from the Writing Seminars at Johns Hopkins University in Baltimore.
Rachel has worked for several US science and biotech publications, including Science, as senior writer covering biomedicine. She has taught science writing at Johns Hopkins University, and worked at New Scientist, firstly as Washington Bureau Chief, and then as Australasian Editor.
She is a member of the Gene Technology Ethics and Community Consultative Committee of the Office of the Gene Technology Regulator, Department of Health; a non-Executive Director of COSMOS Media Pty Ltd; and a member of the Advisory Board, ARC Centre of Excellence for All-Sky Astrophysics.
This is a free event but registration is essential.
DATE:
Monday, 14 August 2017

TIME:
6.00 pm – 7.30 pm.
VENUE:
Clarendon Auditorium, Level 2, Melbourne Exhibition Centre,
2 Clarendon Street, South Wharf (Opposite Crown Casino)