Description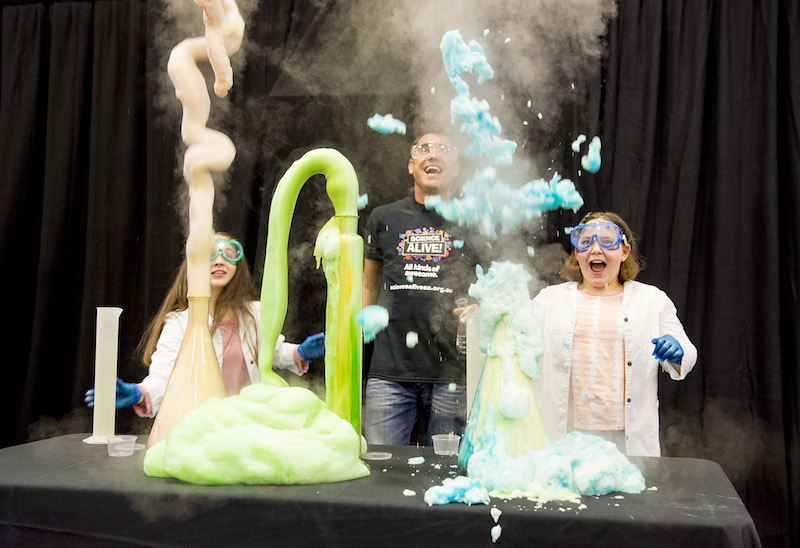 The twelfth edition of Science Alive! will without a doubt be the biggest and best ever!
Key attractions include spectacular Chemistry Shows in the Lockheed Martin Theatre by the Royal Australian Chemical Institute and the University of Adelaide; astronomy experiences in huge Stardomes; native animal shows and displays; and the evergreen science presenters Rob Morrison and Deane Hutton with their special Curiosity Show presentation. Questacon is back with a range of engaging hands-on activities and the CSIRO will have a major display.
New this year will also be many science-related organizations not represented in 2016 with an emphasis on the conservation of our natural environment. Of course there will be many of the old favourites including our three great universities, the Australian Institute of Food Science & Technology, the Astronomical Society, Saab Australia, Nature Foundation SA, SciWorld, Forensic Science SA, bugs n slugs, Animals Anonymous, BAE Systems, the Young Scientists of Australia, the Inventors Association, Hackerspace, the Australian Society for Medical Research, Rising Sun Pictures, the SA Museum and many, many more.
There will also be Daleks! The Australian Dalek Builders' Union will be there again in force, encouraging interest in the technology of Dalek-building and showing off their variety of full-sized Daleks complete with their threats to 'exterminate'.
Every one of the 50+ participating organizations will be offering some form of hands-on activity to engage and delight children and adults of all ages.
Science Alive! is FREE for all those under 18 years of age and costs $15 for adults and $10 for concession card holders plus a small booking fee for online bookings. Tickets purchased at the door will be $20 for adults and $15 for concession so avoid the queues and SAVE by pre-purchasing your tickets online by simply choosing the number of tickets you want and clicking on the Order Now button on this page.
The event will be open from 9am to 5pm on each of Saturday and Sunday 5th and 6th August 2017. See you there!...and visit our Facebook page for the latest on what's on and to win prizes!