Description
Schubert's Octet
Albert Roussel (1869-1937): Divertissement (1906) for flute, oboe, clarinet, horn, bassoon and piano
Madeleine Dring (1923-1977): Trio (1968) for flute, oboe and piano
Mark Grandison (b 1965): Riffraction (2007) for clarinet, strings and piano, 2016 Winner of the Blakeman National Composition Prize UNSW
Franz Schubert (1797-1828): Octet in F major D803 (1824)
Schubert's Octet is irresistible chamber music written on a vast scale. A rich and colourful instrumental palette helps sustain a broad structure which is an offshoot of the eighteenth century serenade tradition and realised with unmistakable Schubertian inflections. In contrast, the rest of the program explores exquisite, smaller-scale structures with Roussel's compact and enchanting Divertissement for winds and piano, as well as the impressionistic delights of English composer Madeline Dring's Trio. We are proud to feature the performance of Mark Grandison's Blakeman Prize-winning work Riffraction in this program. This new artistic initiative was the creation of musical patron Jonathan Blakeman, for which the Australia Ensemble is proud to be a partner.
---

Music has the power to propel us to unimagined places and transport us to many states through myriad emotions. To this end our 2017 season, Voyages, ventures through a diverse array of such musical excursions, establishing a strong sense of place while enjoying the local colours and flavours of music from particular national schools. Our season of voyages moves through Russian folklore,sweeping us on to the New World and delights of America, and delving into the sounds of the cinema screen. We are immersed in Fantasy and Variation with quintets of Vine, Nielsen and Mozart, and the titanic Schubert Octet, concluding our year's travels with a sequence of postcards from exotic destinations, ending back in Europe with Tchaikovsky's Souvenir de Florence.
Join us in setting sail on our exciting musical Voyages in 2017.
---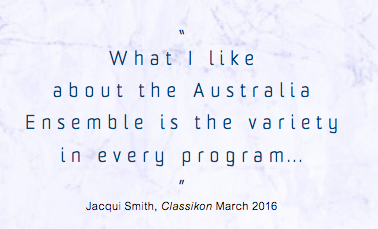 ---




---