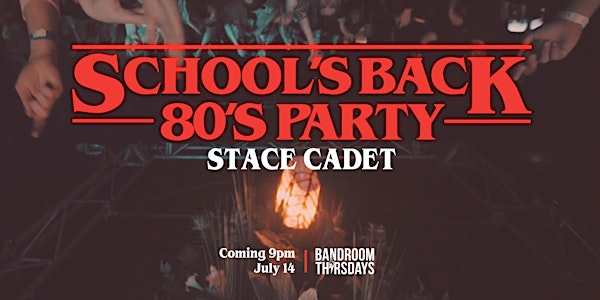 SCHOOL'S BACK - 80's Party ft. Stace Cadet
Location
Geelong Hotel
69 Yarra St
Geelong, VIC 3220
Australia
Enter the Upside Down this July 14th as we bring you a back to school party like no other.
About this event
Bandroom Thursdays & Geelong Bandroom are proud to bring you the annual 'Back to School' Party, featuring powerhouse DJ STACE CADET, along with Stranger Things themed drink specials that will be sure to unleash the Demogorgon within you 😈
Put your 80's outfit on and start your school term off with a bang. Let's dance.
……………………………………………………………
🎒 Annual Back to School Party
🎒 Thursday 14th July
🎒 Stace Cadet
🎒 80's dress up
🎒 9pm - 5am
……………………………………………………………
⚡ Stace Cadet ⚡
Australian producer, DJ, and vocalist Stace Cadet is creating some of the most tempo-raising dance music in the electronic world right now. Born Stasi Kotaras, the Adelaide-based artist has made a name for himself by creating music that promotes a joyous, euphoric experience. He celebrates dance music for what it is at its very core - a collision of music and human movement.
⚡ Safe Space ⚡
Geelong Bandroom is committed to nurturing safer spaces for the queer and POC community, free from discrimination and harassment. Please respect people's boundaries and ask for consent. There will be a designated safety officer present on the night who will help you with any safety concerns.
We acknowledge that we are gathered on the traditional land of the Wadda Wurrung people and honour and pay our respects to their elders past and present.