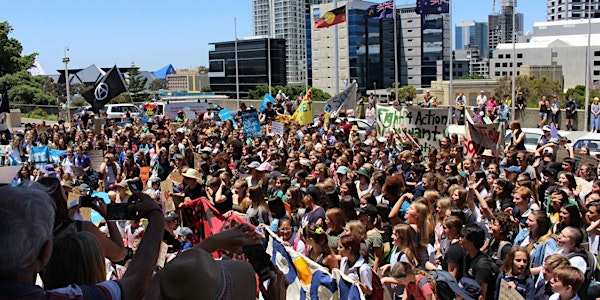 School Strike 4 Climate - Training for creative action!
Location
MUA
2-4 Kwong Alley
North Fremantle, WA 6159
Australia
Description
In the lead up to the Global Climate Strike on March 15, School Strike 4 Climate and CounterAct will be co-hosting a workshop for student organisers and their parents or guardians.

Over the day, we will be exploring:
* People powered nonviolent resistance and how peaceful protest has been part of successful campaigns and social movements worldwide
* Your legal rights & how to do things safely
* How do develop visually stunning, fun, safe and inclusive actions
* How to get your story out there... so you have designed an awesome, creative and colourful action? What are some hot tips for getting media interest and sharing our story out of our usual networks...
Special shout to The West for advertising the training on the front page... this was our quote, "
Ms Paris said CounterAct was providing training that students had requested.
"It's a testament to our education system that such young children are educated about the risks of climate change, have an understanding of civic responsibility, and are taking charge, in the face of government inaction that impacts their future gravely," she said.
The cost of this event is being subsidised by the local community, however we do ask that if you can make a small contribution towards the training, you do so on the day.
Lunch will be provided. Please let us know about any dietary requirements you may have.
This event is aimed at young people between the ages of 12 - 24, as well as parents and guardians. If you are outside of this age range, but would still love to be involved, please get in contact with us at info@counteract.org.au.
We think it's really wonderful that young people are challenging our leaders and demanding real action on climate, but just to be on the safe side, if you're under 18, please make sure that you have a parent or guardians' permission.