School for Social Entrepreneurs Perth Information Night
Description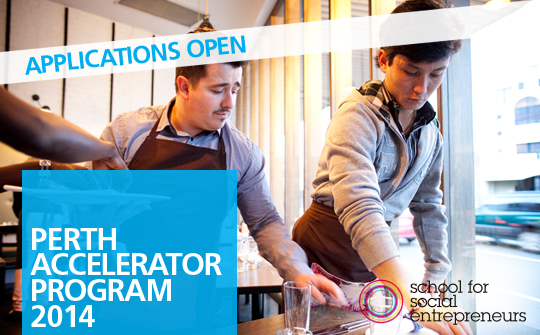 School for Social Entrepreneurs (SSE) Accelerator Program
We are excited to announce that, with the support of local partners and Lotterywest, we're launching our first program in Perth in February 2014.
The 4-month Accelerator Program will be an exciting opportunity for up to 14 exceptional individuals to work collaboratively with a talented team of facilitators, business experts and seasoned entrepreneurs to either launch or grow an innovative social enterprise.
Click here to read about the Program.
Interested? Know someone who would be? Apply now and register to come to our info night.
The info night will give you the opportunity to:
Want more info? Email

Sofiah Mackay

, Accelerator Program Learning Manager or call 0413 286 871.
What past students have said:
"SSE has been a wonderful experience and I have learned much and gained strength and skills as a person and entrepreneur. I believe I am now in a very strong position to continue to support social enterprises happening for Aboriginal women in the Fitzroy Valley Region." - Jen Sharman, Social Enterprise Development Manager, Marninwarntikura Fitzroy Women's Resource Centre, Fitzroy Crossing, 2012 SSE Fellow
"As a result of participation in the SSE Accelerator Program, I have been able to draw on a number of new networks and use them to the advantage of the enterprises growth. I've been able to change the way I see business, money and the things that revolve around it. I'm now far more confident with the boardroom setting, as well as the straight up hard impact questions that occasionally get asked of me on the spot. The Social impact training + Media training was of great aid in helping me describe the exact affect my enterprise will have on the community. Thanks for an amazing journey of learning and self discovery! I wouldn't be where I am with the vision I have without the help of the SSE crew and cohort. The cohort was a perfect match in my eyes, we have all turned into a supportive bunch with such positive intention!" - Jack Stone, Bee One Third, Associate Fellow 2013 Accelerator Program
"The Accelerator Program came at the right time for Food Connect. We'd just completed a 2 year process of restructure, and the course work assisted me to shift my mindset to build on the foundational years and grow and develop the business." - Emma-Kate Rose, General Manager, Food Connect Brisbane, Associate Fellow 2013 Accelerator Program