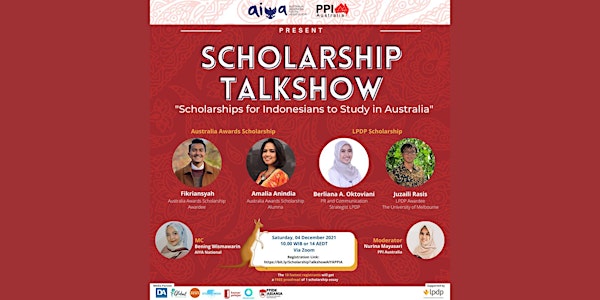 Scholarship Talkshow: Scholarships for Indonesians to Study in Australia
Scholarship Talkshow: Scholarships for Indonesians to Study in Australia
About this event
Ever wanted to study abroad, but didn't know where to start? If this sounds familiar, come and join our Scholarship talk show! In collaboration with the Indonesian Students Association in Australia (PPI Australia), this talk show will give you valuable insight into the scholarship application process, and testimonials from some current and previous recipients!
Whilst obtaining scholarships might seem like a daunting process, our amazing speakers will ensure that achieving your goals is as seamless as possible!
Who are the speakers?
Australia Awards Scholarship
1. Fikriansyah (Australia Awards Scholarship Awardee)
2. Amalia Anindia (Australia Awards Scholarship Alumna)
LPDP Scholarship
1. Berliana A. Oktoviani (PR and Communication Strategist LPDP)
2. Juzaili Rasis (LPDP Awardee, the University of Melbourne)
When will this event start?
Saturday, 04 December 2021
10.00 AM WIB or 14 AEDT
Via Zoom (Zoom link: https://bit.ly/AIYAPPIAScholarshipTalkshow)
Save the zoom link above and do not forget to come!
Organiser of Scholarship Talkshow: Scholarships for Indonesians to Study in Australia