Scaremongering in the tech world—could you lose YOUR R&D claim? [M]
Description
Industry update
What's the changes with the R&D tax rebate?
Why have some tech industry firms been asked to pay back millions?
What can you do to avoid the same fate...
What are the mooted changes to the rules?
Workshop
Start your claim - or - bring the claim you are working on with you
When you leave you will be near completion of an aspect of your claim, so you understand the complexities of the project
Get direct pointers as to what to do
Understand how hard it can be to get a claim right (and therefore not rejected)
Hear from the expert
Learn from Dave Sammut from Access R&D, one of the leading experts in the country. They always assess the risk associated with a potential claim before going ahead with a claim. This results in a very high probability your claim will stand even if audited down the track. That's why we at Catapult always call Dave first!
What happens if the ATO chooses to review your claim?
Will your business pose a red flag to the ATO, or has it already done it...
Do you know you only get three weeks to respond, answering all their questions and providing all the evidence?
You may need to do 3 years of review in just three weeks...
Funding with R&D Tax Incentives
Business is tough enough already! So, if you want to make a claim for the R&D tax rebate you really need to understand whether it's even worthwhile to do so. There are cases where the cost of documenting a claim exceeds the money you may receive - so should you really proceed? What are you taking on if you make a claim? Come along and get the right answers.
Review? Fines? Understand the rules? No time?
Mistakes in DIY submissions for the R&D Tax Incentive or EMDG can land your business in hot water, cause significant headache, or simply take up much more time than you would like. You may also miss out on claiming eligible expenses.
Why you need to be at this session:
So many companies are doing R&D but don't recognise the full extent of their entitlements, and therefore miss out
Some high-profile claims for R&D have been rejected by AusIndustry and the ATO
There are just three simple criteria for R&D claim eligibility, do you know what they are? We will go through these in detail
Do you fully understand what records you need to keep such that it doesn't slow down your business?
You'll get a simple framework you can use to make the most from the incentive, while minimising your risk.
Your presenter & expert

What people say about our events...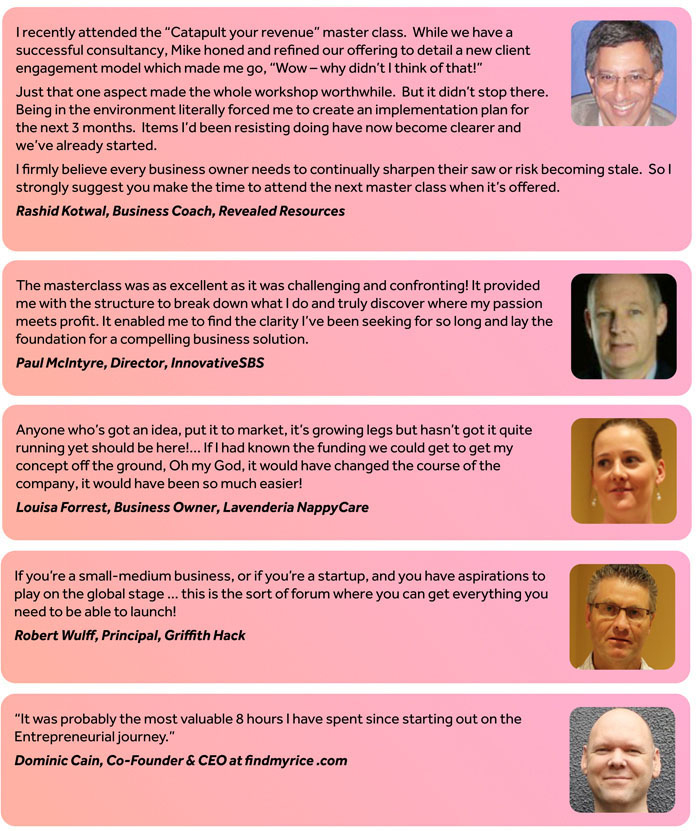 FAQs
What is the refund policy?
You can cancel your booking up to 7 business days before an event and your ticket will be fully refunded. As this is the normal cut-off for organising catering and other event details, no refunds are possible after that point.
Do I have to bring my printed ticket to the event?
You can bring your printed ticket or install the Eventbrite app on your smartphone.
What's the dress code?
Business casual is normal - most people come straight from work.
Should I bring business cards?
Of course! You never know who you'll be meeting at an event like this!