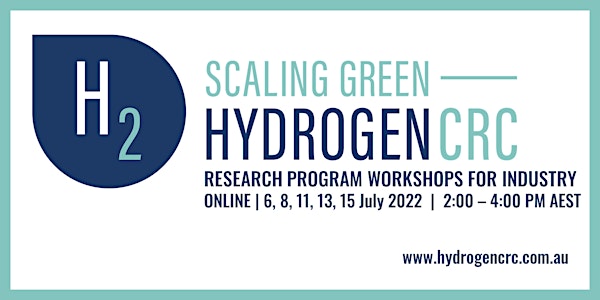 Scaling Green Hydrogen CRC - Research Program Workshops for Industry
The Research Program Workshops are an opportunity for the industry to shape the Scaling Green Hydrogen CRC's research focus.
About this event
Background
There are great expectations for green hydrogen to accelerate the transition from fossil fuels to greener alternatives, achieving crucial net-zero emission targets and protecting our planet and all who inhabit it, now and into the future.
The Scaling Green Hydrogen Cooperative Research Centre (CRC) aims to become the largest single initiative in the country focused on supporting the vital scaling up of the emerging Australian green hydrogen sector to allow us to realise these expectations.
Globally, vast amounts of hydrogen are used every day for purposes such as to make chemicals and produce refined transport fuels. Virtually all this hydrogen comes from fossil fuels and results in significant greenhouse gas emissions. As companies around the world increase their reliance on renewable energy, new challenges are emerging – among them how do we store excess renewable energy like sun and wind and how do we help industries who can't easily transition to these renewable energy sources, such as fertilisers, heavy transport, aviation, and shipping?
Our goal?
Scale-up the green hydrogen industry in Australia from virtually nothing to 1 TW of installed electrolyser capacity at the desired cost of below $2/kg. This extraordinary ramp up will require complex, multisectoral and systemic cooperation. The proposed Scaling Green Hydrogen CRC will bring together the best talent across industry, research and government to realise the industry huge potential.
The CRC will also have a commercialisation focus to build Australia's hydrogen-related manufacturing and services supply chain. We will look to partner with regional hydrogen clusters and hubs to facilitate the growth in capability and capacity of Australia's SMEs and emerging entrepreneurs.
Visit our website hydrogencrc.com.au for further details and to download the flyer.
The Research Program Workshops for Industry
These industry workshops will provide an overview of the Scaling Green Hydrogen CRC's Research Programs and seek industry's inputs and feedback in shaping each research program of the CRC. We welcome participation from industries in one or more workshops that align with your scope of operations and the role you can play in scaling up of the green hydrogen sector.
For more information on the Research Programs (RP), please visit hydrogencrc.com.au/research-programs. The workshops are scheduled as follows:
RP 1 – Production and Storage – 6 July, Wednesday, 2:00 - 4:00 PM AEST
RP 2 – Water – 8 July, Friday, 2:00 - 4:00 PM AEST
RP 3 – Chemicals – 11 July, Monday, 2:00 - 4:00 PM AEST
RP 4 – Mobility – 13 July, Wednesday, 2:00 - 4:00 PM AEST
RP 5 – Enabling - 15 July, Friday, 2:00 - 4:00 PM AEST
Please complete the registration form to indicate the workshops you would like to attend, and we will send you a calendar invite with the meeting link.
About the CRC Program
The Cooperative Research Centre (CRC) Program is an Australian Government program providing grants for up to 10 years. The CRC program aims to improve the competitiveness, productivity and sustainability of Australian industries, especially in government priority areas, use high quality research to solve industry identified problems, and encourage SMEs to take part in collaborative research.
CRCs are industry led collaborations between industry, researchers and the community and focus on research and development that will have commercial uses. With more than 233 CRCs being funded since the program's commencement, the Australian Government has committed more than $4.9B in CRC funding.