Description
ScaleFest-19 is a two-day event at the Melbourne Convention and Exhibition Centre (MCEC) from Friday 21st June - Saturday 22nd June, with a line-up of international and local speakers, entrepreneurs, investors and educators to help people on the Scale–Up journey become truly successful.
Catapult is partnering with the very best organisations to bring the most transformational speakers, thought leaders and experts together for the 2-day event to help companies grow faster and scale smarter.
ScaleFest will combine these inspiring speakers, not heard anywhere else, with interactive workshops for deep learning and networking for real deals. There will be main stages along with workshops, deep dives and mentoring office hours giving attendees the opportunity to really get up close and personal with our speakers and thought leaders.


| What is the event |
---


Every month we see people that come to us that have really struggled in their scale-up journey so far. Simply because they didn't have the right information.
We decided to do something about it. The result is ScaleFest-19.
ScaleFest is an event full of success stories. And what went wrong. Of entrepreneurs who can tell real–life stories. It's an event by entrepreneurs, for entrepreneurs and business owners.
| ScaleFest has two core components... |
---


Day 1 is full of great speakers to inspire and teach
Day 2 is full of workshops to allow you to bring your laptop and start the implementation of the change process in your businesses right there and then.
| A range of top speakers |
---


We have been fortunate to attract a range of top talent from Silicon Valley, Shanghai, Auckland, Singapore and of course Australia.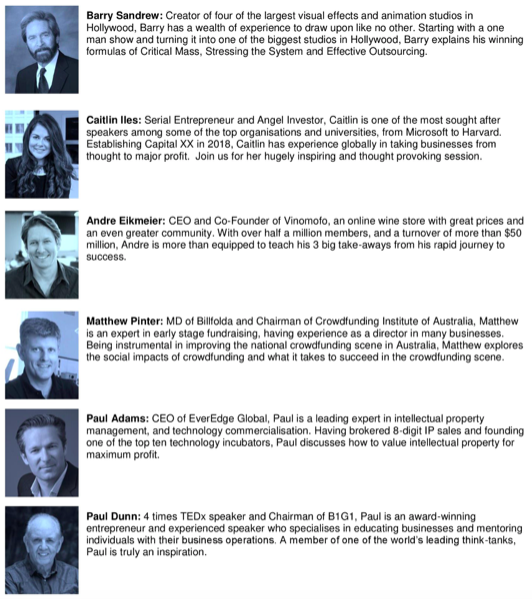 | Why should you be coming to ScaleFest? |
---


There are obviously as many reasons why people will come to ScaleFest-19 as there are people. We're all individual in our journey to success. Here are some of the reasons we have seen already… what's yours?
Practical content

Investor connections

Inspirational content

Identify trends

Meet peers

Meet talent

Grow the revenue

Find a mentor

Meet new customers

Finger on the pulse – be on top of the latest

Make more money

Inspire the team

Learning

How to commercialise a product

Media exposure

Learn about going international

Seek advice
| Testimonials |
---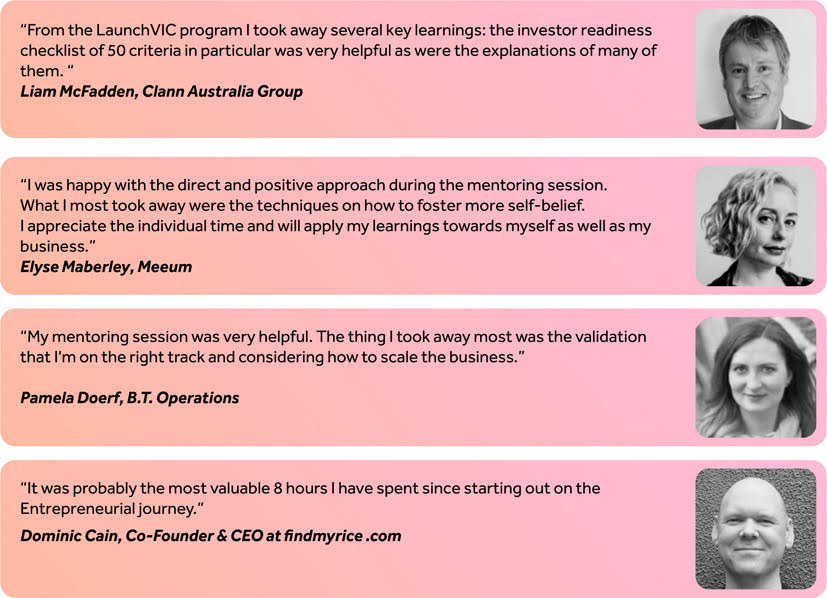 | Special opportunities when you book early... |
---


(because these have very limited availability, not kidding)

Book a mentoring session with a seasoned entrepreneur, included with the ticket, first come first serve
Book a speed date with one or more investors, not just to pitch but to get honest feedback
Register for in–depth workshops (many have limited availability to keep them effective)
Book a Co–Founder ticket so all co–founders and team members can go together (see above).
---
---
---
---