Say Yes To Love WEBINAR by Cimone-Louise, July 18th & August 8th

Multiple Dates
Event Details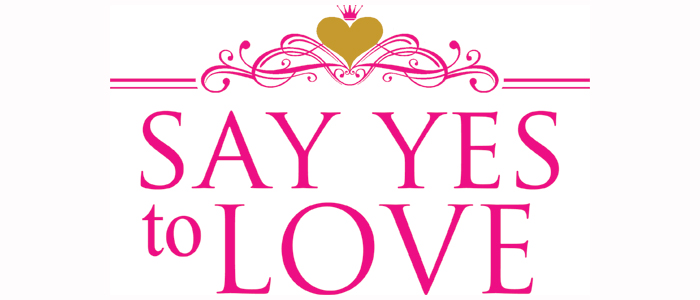 Due to technical difficulties, please click on this link directly to register for this webinar TONIGHT...
https://attendee.gotowebinar.com/rt/2487148430299461632
"Say Yes to Love" Webinar Series - By Cimone-Louise

This practical on-line series is for single ladies who are ready to be in a relationship and would like to be in a relationship by Christmas time.
Do you question you?
"What is wrong with me?"  NOTHING!

" Am I being too fussy?" NO!

" Is it going to take forever?" NO!
Receive inspirational ideas and juicy content from my up-coming book, "Say Yes to Love" -  building an intimate relationship and getting the love you want.
In 2013, I believe it is never a better time to make it your year to have a fulfilling career & a satisfying relationship.
New personal strength in your dating choices

New possibilities to get into the right relationship

Prepare & Plan with 7 easy Steps

Be excited about a future creating lasting memories together as a couple
As we are already half way through the year, isn't it time you claimed that relationship you said you wanted at the beginning of the year?
The "Say Yes to Love" webinar series is going to support your wishes.
I have specifically programmed them 3 weeks apart so you have the opportunity to actually implement the tools I share & have the time in-between to email me & ask q's. I will then share them live at this webinar & You-tube clips (no names will be used).
***The top 3 problems I help you solve are: 
"It's going to take forever" - What happens if it doesn't happen?

"I really want marriage and children" - Have I left it too late?

"I am scared of attracting the same type of guy." What if it happens AGAIN?
In my 20's I used to say all men were a waste of time - my mum kept saying if you keep saying it that is what you will attract. So I STOPPED saying it, thinking it & believing it.
Now 8 years with my partner and mentoring thousands of clients I am here to make finding, attracting & keeping love easier.
This will be 2 x 60-minute interactive webinars that you can see and hear on your computer in the comfort of your own home.
It's live & interactive. If you prefer not to speak that's ok too. A Hint - in a relationship you do need to spark the initiative, if you sit back, he won't find you that way.
DATES: Thur 18th July & Thur 8th August. 
8-8.45pm:
Opportunity to listen to your intuition.

Greater clarity about your ideal relationship.

Confidence & joy about moving forward.

New choices & actions that will work for you.
8.45-9.00pm:
Q & A time for questions, yahh!

Do you want clarification on what has been said? This is the time to ask.

What parts did you like? You're welcome to share.
You do need to pre-register to receive your fun sheet and to email me your top love questions. 
YES, this is a free webinar series from my heart to yours.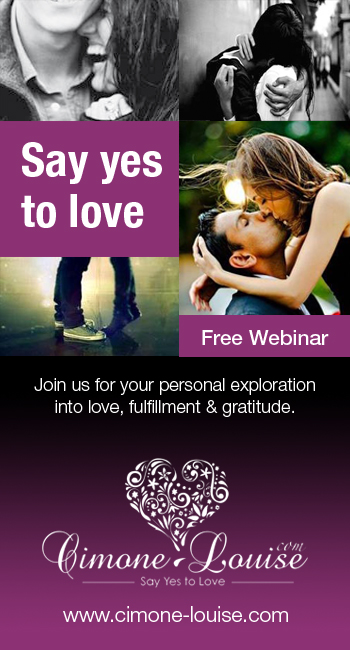 Please note: I deeply respect and value your time. You will be getting my full attention, care and expertise. If you are genuinely eager and ready to be in your  ideal relationship in 2013, please join me and register today.  
Booking procedure: To register for this Say Yes to Love webinar, there will be a refundable payment of $49 to hold your place. Please click on the Links to Register. 
Reversed payment: Guaranteed money will be refunded once registered & attended the very next day.
*** This is a FREE event, full payment will be refunded upon attendance ***
Looking forward to helping you Discover Love in 2013.
IN Joy, Cimone-Louise
Have questions about Say Yes To Love WEBINAR by Cimone-Louise, July 18th & August 8th?
Contact Cimone-Louise
Organizer
Cimone-Louise is a Certified International Wish Teacher having trained with Louise Laffey, the creator of The Wish, and she has a world-wide client base in Australia, USA, Canada, UK, France, & Sweden.
"I've worked with energy & read for thousands of clients over the past 10 years. Now by combining that experience with the life-changing tools that the Wish offers, I can facilitate phenomenal personal transformation".